Young Musician Competition 2021/22
The Preliminary Round for the Basingstoke area will take place on Friday 14 January 2022 at Queen Mary's College, Cliddesden Road, Basingstoke, RG21 3HF. The aim of the Competition is to offer young people the experience of performing on a public stage and the opportunity of showcasing their musical talent and skills. The young people compete in two Categories - Solo Instrumental and Solo Vocal - with 3 age groups in each category.
For an Entry Form please click here- For details and rules of the Competition click here
For a brief video clip of some of the performances in 2018 please click here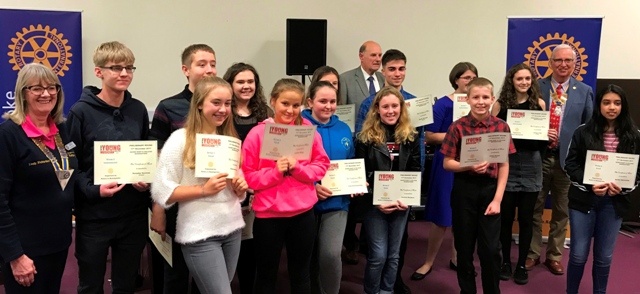 Some of the competitors in 2018 receiving their certificates at the end of the evening together with the Presidents of the Rotary Clubs in Basingstoke.
Rotary Schools Debating Competition
A Debating Competition was held at Brighton Hill School in June 2017. Teams were able to choose from a range of topics Six teams took part and the winners in the Junior category came from Brighton Hill School and in the Intermediate category from The Hurst School.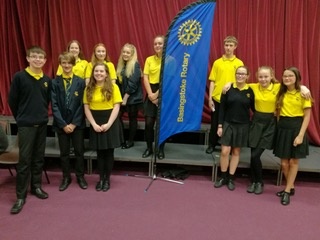 Kids Out
We have supported this event for a number of years sponsoring a group of disabled children for a day out at Paulton's Park. In 2016 we took a group of visually impaired children from Great Binfields School to Marwell Zoo
Rotary Youth Leadership Awards
We sponsored two places on this programme in 2016. The candidates were chosen from the Spotlight UK organisation at Popley.
Rotary Youth Leadership Awards (RYLA) is a training programme for leaders and potential leaders and is one of the most successful Rotary programmes run by Rotary clubs around the world. RYLAs are designed for young adults with proven leadership ability. Whether you are a secondary school or college student, RYLA will help you discover your potential and develop the skills needed to be a leader in your community, career and everyday life.
PeaceJam Conference
We will be sponsoring places for students from Richard Aldworth School to go on this event which takes place at Winchester University in 3rd & 4th March 2018. For details of what the Conference will be about CLICK HERE
Other Rotary Youth Opportunities
For Details of Rotary's Basingstoke Youth Service Activities click here
Rotary and Polio Eradication in the World
Worldwide, Rotary is raising $200million at this time, help us to finish this job. See how we are getting on here
There is a fascinating video, featuring Dr. Bruce Aylward, of the World Health Organisation, on the Rotary GB&I website in the 'news' area. It gives an excellent overview of the 20+ years battle against polio and where we are currently, undertaking the all-important 'final inch' to eradicate this devastating disease. A must-see for all Rotarians, whose 'heroic' efforts are acknowledged in the video.
Technology Tournament
This popular event run by the Basingstoke Loddon Rotary Club will take place again in March 2018. Further details shortly