Protecting the Environment is Rotary's newest 'Area of Focus'. It presents a vital challenge for every single one of our clubs to respond at four very different levels: local, regional, national, and international.
Protecting the Environment means the following:
· The protection and restoration of land, coastal, ocean and freshwater resources
· Helping communities to manage and conserve natural resources
· Supporting sustainable agriculture, fishing and aquaculture practices
· Strengthening ecosystems and communities affected by climate change
· Addressing the causes of climate change by reducing greenhouse gases entering the earth's atmosphere
· Supporting education initiatives which promote behaviour changes that protect the atmosphere
· Advocating sustainable consumption to build economies that use resources more efficiently
· Finding just and fair solutions while solving environmental and economic problems
Club Environment Lead
Many active Rotary Clubs have already appointed a Club Environmental Lead or champion; someone who is interested in the environment and is willing to organise environmental projects within the local community and be a local advocate for all things Protecting The Environment.
ESRAG – Environmental Sustainability Rotarian Action Group
Rotary's Environmental Sustainability Action Group (ESRAG) strongly endorses Project DRAWDOWN, a massive independent collaborative research project initially carried out between 2013 and 2017.
Despite high-sounding international political resolutions to unite and do something about it, the rate of climate change is still accelerating exponentially. Project DRAWDOWN shows how the 80 most attractive proven solutions it has identified in its report* will actually be able to halt runaway global warming by 2050, and then bring it back down to zero by the end of the century. There is now no wriggle-room left to continue fudging the issues. All the known solutions share the same direction of travel, and all are inter-dependent.
With unreserved goodwill, and if work on them is rapidly ramped up, these solutions will yield major economic and social benefits for all, redressing wealth, health, education and security inequalities along the way.
The North East District of Rotary is very diverse, from coast to dales, industry to rural...
Everyone can do something - "If not US, then WHO?" - "If not NOW then WHEN?"
Environmental issues concern all ages and all walks of life, from school children to grandparents, giving a big opportunity for Rotary to engage with other local groups, schools, businesses, and charities. In all our projects, we try to seek out the 'environmental' benefit and always be an advocate for 'Protecting the Environment'.
There is huge scope for new types of projects, both big and small, as illustrated in the club environmental guidelines from Rotary Great Britain and Ireland. Click here to read the statement.
Rotarians are doers. Rotary members are tackling environmental issues the way they always do: coming up with projects, using their connections to change policy and planning for the future.

At the National and International level
Rotary has been gaining a very high environmental profile, even having its own official delegation to the recent COP26 UN Climate Change conference in Glasgow. Click here for a full copy of this transcript (from a report given on zoom to ESRAG by Rotary's delegation leader).
The Rotary Foundation is now financially supporting environmental protection projects worldwide with grants, for example major mangrove planting schemes. These aim to restore and protect coastal soil erosion, and loss of fresh and saltwater coastal habitats, widely threatened by rising sea levels and intensifying hurricanes. Mangrove forests retain and 'lock in' significantly more carbon dioxide than most other species of trees.
At the Community level
In the North east of England, Rotary has 50 affiliated clubs. Environmentally, these clubs are involved in: planting trees, growing oak seedlings for ancient forests, planting flowers, bulbs, seeds and re-wilding with pollinating, carbon-capturing plants and grasses. They turn out to pick up litter in rivers, beaches and towns. They re-cycle computers, overcoats, school uniforms, tools, and spectacles; and refurbish pre-loved toys at Christmas....just to mention a few of our clubs' activities. Practical environment activities like these, as well as forest studies and bio-diversity projects have become hot topics in many of our schools.
At the Youth level
Rotary North East has 26 RotaKids clubs in junior schools, 10 Interact clubs in secondary schools and 3 Roteract clubs for 18-30's. They all get enthusiastically involved in environmental activiies within their school, youth groups and communities. Every year, young people of all ages are invited to submit their projects for The Rotary Young Environmentalist Award giving them a chance to show case their skills and environmental awareness. See the Youth Section in 'What we do' or contact us.
At the individual level
The 'theory' of environmental protection is plain to all, but Rotarians are particularly good at putting it into practice in smaller scale practical ways and spreading the message by showing visibly how we are doing it with others. But those actions which contribute most to reversing climate change are not always immediately apparent.
These are Project Drawdown's top 10 ways that individuals and groups can make a difference in reversing global warming. Each is ranked (bracketed) in the top 80 solutions scientifically identified to have the most effect globally, and the CO2equivalent Gigatons they could 'draw down' from the atmosphere by 2050:
1) Reduce food waste (3) 70.5G
2) Eat a plant-rich diet (4) 66.1G
3) Rooftop solar energy (10) 24.6G
4) Switch to electric vehicles (26) 10.8G
5) Increase insulation (31) 8.2G
6) Use only LED lighting (33) 7.8G
7) Solar water heating (41) 6.0G
8) Save fresh water (46) 4.6G
9) Use Bioplastics, not Petro-plastics (47) 4.3G
10) Household recycling (55) 2.7G
COME AND JOIN US!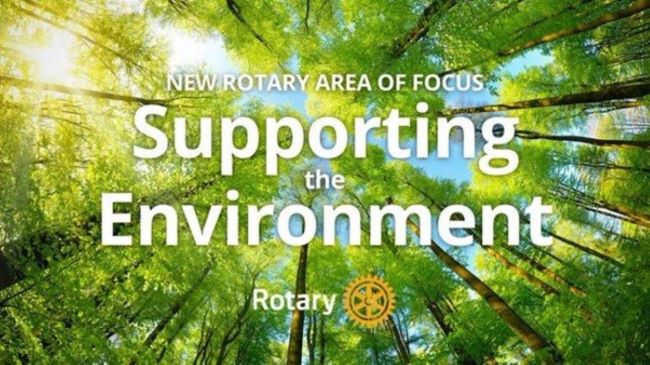 *

DRAWDOWN

THE MOST COMPREHENSIVE PLAN EVER PROPOSED TO REVERSE GLOBAL WARMING

Editor: Paul Hawken, Published by Penguin, 2017/18




Also

:

Project DRAWDOWN 101 report, training webinars press alerts;

see here


Rotary in Great Britain and Ireland's Environment policy can be viewed

here