Rotaract
Rotary International kick-started Rotaract (Rotary in Action) in 1968 as a new club concept for young people who would have the potential to be the Rotary members of the future. Since that time, the number of Rotaract clubs has grown steadily worldwide. The Rotaract logo is :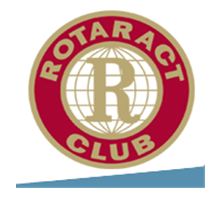 Membership of Rotaract is targeted at the 18 to 30 age band. Clubs must be sponsored, supported and nurtured by a Rotary club on an ongoing basis.The Rotary goals for Rotaract are :
Develop professional skills and leadership skills in young people
Emphasise respect for the rights of others and to promote ethical standards for all
Help support local and international communities
Work with Rotary clubs
Motivate young people to think Rotary
Rotaract clubs are either community based or university based : they operate very much as a Rotary club , are self-governing and are very much key members of the Family of Rotary.Perhaps, most important of all, they provide a means for young people to meet together on a regular basis, get to know each other and have fun together. A close relationship will develop between a Rotaract Club and its sponsoring Rotary club and, by mutual help and support, a strong working partnership will be founded. The exchange is very much two-way : Rotary members have a wealth of experience of life which can be passed on to young people: in return, the young people provide energetic extra hands to Rotary in its community and international projects.
For more information, please refer to www.rotaract.org.uk where there is a store of information on Rotaract. In addition, don't hesitate to lift the phone and have a chat to your District Rotaract Officer who will be delighted to talk through thoughts on establishing if there is a local want for Rotaract.
Rotaract Presidential Citation 2017-18
Contact Peter Mutch about this page: