Membership Services
Membership Services
Membership Team Leader
Sean Fitzgerald (Omagh)
0044 (0) 28 8224 9853 (h)
0044 (0) 7714 233 143 (m)
sean.fitzgerald3@btopenworld.com
Membership..... Rise to the challenge!
Now, more than ever, it is vital that clubs embrace the membership challenge facing us in Rotary. Membership is every Rotarians responsibility. Our district is making membership growth and retention our number one priority in the year ahead and you must do the same in your clubs.
Set your club a target to Attract and/or retain members to achieve a minimum net gain of at least one member in the coming year. Here are some tips for your club assembly and beyond!
Initiate or update a new-member welcome and mentoring program.
Increase the diversity of your clubs Membership
Encourage member engagement by ensuring that every member has participated in at least one service activity and one club social activity.
Organize at least one networking event in which club members can meet other local professionals and introduce them to Rotary.
Sign up least one parent of a Rotary Youth Service of Foundation competition.
You have a great story to tell so use it and go Sell Rotary to your community!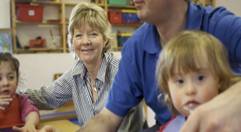 Fun and friendship
* Giving back to the community
* Corporate Social Responsibility
* Personal growth and development
* Business networking
* A Worldwide Community
Meet the team
New Clubs Liaison Officer (North)
New Clubs Liaison Officer (South)
District Mentoring Officers
Compliance Officer North
Safeguarding/Health & Safety/Equality & Diversity
George Pigott (Comber)
Compliance Officer South
Safeguarding/Health & Safety/Equality & Diversity
Attendance Officer
Our extension team are there to help clubs look at opportunities in your area for new club formation. Allied to this are the innovative pilot programmes which are there to be availed of, with the help of the district team.
Opportunities for club Innovation:
Satellite Clubs:Allows clubs to conduct multiple meetings during a week, each taking place at a different location, day, or time. This concept gives clubs the opportunity to start up a small group with the ultimate intention of forming a new club in due course.

Innovative and flexible Rotary club: Allows clubs to self-determine their operations to better fit the needs of their members and community
New members (Recruitment) + Retaining members (Retention) + New Clubs (Extension) = MEMBERSHIP .
See every Rotary event as an opportunity to promote our organisation. Be ready to capture potential new member details.
Finally, please play your part and make Rotary Grow.
Many Rotarians have never introduced a new member. Why not? Encourage your members to invite friends along as guests to your club, especially if you have an interesting speaker or event taking place. In reality, we all know someone we can invite. Are those Rotarians who claim not to know anyone to introduce really saying that they do not know anyone who would want to join this club!! So make it part of each Rotarians commitment to his /her club service to invite guests to the club and rise to the challenge facing us in Membership. Also make sure your membership team and club mentor are working to present your club to potential new members in the best possible light, in other words, a club thats fit for purpose. Ask yourself........
Are meetings enjoyable, lively, interesting , good use of time

Do we leave our meeting feeling that we have had an enjoyable time in every respect, one that was so good that we would not have wanted to miss it?
Are expectations being met? If not, members will become too busy with other things just now and drift away
Download: