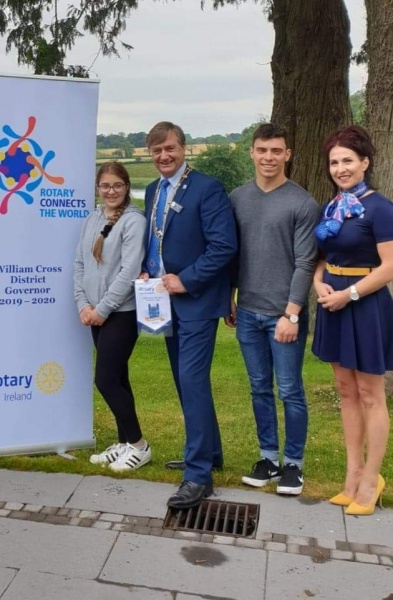 William Cross, District Governor of Rotary Ireland,
with Tedi his wife, Toshko his son and Margaret his daughter.
William is honoured and delighted to have been nominated and elected to the position of District Governor this year for District 1160.
It is his plan to see Family incorporated into the Rotary Life and he would encourage each member to involve family and friends, especially younger people to join you in Service above Self.
Rotary International is a massive organisation and He is proud to be part of the 1.2 Million members worldwide.
He joined Rotary because it was Fun and Fellowship. He wants to see you having Fun and fellowship. You can encourage your friends and family to enjoy the opportunity too.
Looking to the year ahead, he notes, "I can feel the energy of all the members rising this year and I want to encourage you to all pull in the same direction and see District 1160 achieve bigger and better things in the coming months. Together we can Make a Difference in the projects we do, both in our local Communities and also Worldwide.
The United Nations, Celebrate 75 years this year. Let us combine our efforts with this great Organisation and extend Peace together while Rotary Connects the World."
RIBI President Donna Wallbank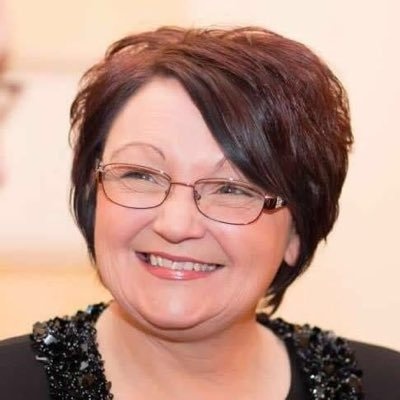 RIBI President 2019-20 is Donna Wallbank - Rotary International in Great Britain & Ireland President 2019-2020
Brynmawr Rotary, Rotary in Southern Wales (D.1150)
Past District Governor (PDG) Donna Wallbank is a passionate creative and proud Hairstylist in her Award-winning business. If not there or enjoying Rotary she can be found in the offices with her husband or daughter who manage their Hair and Beauty business when she is absent. She is a Master Craftsman, a Senior State Registered Hairdresser, and has a PGCE in Education [FE] and is an NVQ Assessor.
Within the community, Donna is an active community gatekeeper. She received A Welsh Woman of the Year 2004 Award, and in 2018 the Gwent Police presented her with A Partnership Award for her work with young people in the Blaenau Gwent community.
Her Rotary career has included various positions in Brynmawr Rotary, which she joined in 1997, being President in 2001/02. She was until recently a Trustee for Brynmawr Water Project. Donna's real focus for Brynmawr Rotary is engagement with young people and is very active with the community RotaKids and Interact Clubs which meet weekly.
Before being District Governor in 2010/11, she enjoyed several 'challenging' but rewarding roles within Rotary in Southern Wales which included being the Secretary for The Rotary DoctorBank.
She served for two years on the Rotary International New Generations committee, and was Chairman of the Rotary GBI Youth Committee, Community Service Committee and was also a member of the Membership Committee.
Donna moved from the Midlands to Wales in 1983 when she married Steve, and both are committed supporters of the Rotary Foundation. Steve is an honorary member of Brynmawr Rotary, they have three children and six grandchildren. Their family is fully involved in Rotary service, including a son who is a Past President of Brynmawr Rotary and 2 grandchildren who are RotaKids and 1 Interactor!
When not found to be 'enjoying Rotary' they will be spending time making memories with their family, watching the Grand Prix, following Welsh Rugby or maintaining their marine fish tank. - Donna says 'If you call us at home, you will probably will also hear Bruce our African grey parrot adding his tuppence to the conversation!'