Nationwide Drop Off Points:
Rotary Ireland has for over 6 years collected bikes and sent them to schools in Africa. In the intervening years over 5000 bikes have been collected by Rotary Clubs across Ireland.
The Irish Prison Service have been involved from the outset, establishing a Bike Shed at Loughan House Open Centre, where the bikes are refurbished. Individuals working in the bike shed not only develop the technical skills required to refurbish bikes, but their personal contribution is a means to improved motivation and has a positive influence on their self-esteem.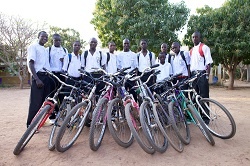 Life is difficult for a child in Africa, especially Sub-Saharan Africa. The early life of a child faces multiple health issues from trying to survive malaria to having a balanced diet. Families are large and children are often sent to live with relatives. Children have to work hard, often having to farm before and after school, sell at the market or manually work in the home to help make ends meet for the family. Education suffers especially for children from rural areas whose families depend on farming for a living.
Many children have to walk a long distance to school, some over 5 km, often without adequate food or water. A typical journey could take at least 90 minutes with children arriving late and tired for school. Having to walk such long distances in hot sunshine to school and face the return journey at 2 pm in the afternoon when the sun is at its hottest is not conducive to students regularly attending school.
Having a bike to cycle to school makes a huge difference for a student. Students tend to be more attentive at school having not had to walk a long distance. Students look after the bikes and they tend to last them for many years. In Africa the advantage of bike ownership in a family can enhance life immeasurably and can significantly improve their lives through access to education, work and essential services.
Having a bike is a huge status symbol for a student and they are so proud of the bikes they receive. Rotary Ireland are now sending bikes directly to the Gambia all that is required is that the wheel size be a minimum of 24 inches in diameter.
Old bikes give new lives to families in Africa. An unused bike in your garage could be life changing for a student in The Gambia.
Contacts in Rotary Ireland
District Co-Ordinator's
Jason Dempsey, Rotary Ireland District International Services Chair
E-Mail: jason.j.dempsey@aib.ie
M: +353 86 0242344
John Trimble, Enniskillen Rotary Club
E-mail: johntrimble642@gmail.com
M: +447710800417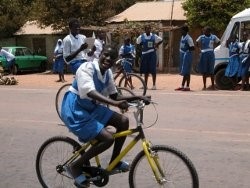 In summary
Only send Strong sturdy bikes that can withstand rough terrain – mountain bikes tyres or similar wheel size minimum 24 inches, bear in mind these are used over rough terrain by school children in the age group 7 years -17 years.
Do not collect Racers with narrow tyres and wheels, kiddie's bikes with balance wheels under 24 inches and rusty old wrecks are not suitable.
Bikes must be in reasonable condition.