Update
Sand Dams Newsletter November 2015
District 1010, having in 2010/11 raised funds and built our own Sand Dam, is now a major contributor to the Multi District Sand Dam Project. Money contributed by our Clubs has been matched by DDF and Global Grant and this has also been matched by British Government aid funding such that the total spend on Dams is 5 times the Clubs' contributions.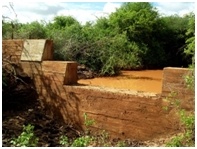 This Plaque, on the recently constructed Ngulai Dam in Kenya, credits the Rotary Clubs of Ellon (in memory of Arthur Watson), Westhill, and East Sutherland, from Rotary District 1010. We are currently awaiting the final report on a further Dam which will credit the Rotary Clubs of St Andrews, Pitlochry, Kinross, Callander, and North Fife.
After a slight delay while we waited to confirm that our previous contributions had produced the hoped for return, we are again hoping for more contributions which will be held in the Rotary District 1010 account pending Rotary Foundation Grant matching for further Dams, with British Government Funding again expected to increase our "Bang per Buck" Thanks to all Clubs in District who have contributed and to any more considering donations.
This update gives background on the history, progress, and future of Rotary use of Sand Dams to alleviate the impacts of drought in drylands. We are posting a number of detailed reports from Excellent Development, the pioneers of Sand Dams, on the RIBI website, www.ribi.org, showing how Sand Dams are making a difference with the help of Rotary. These show the 14 dams currently reported on within the current phase of the project. You can see the dams and agriculture that clubs have financed and the recognition plaques.
To date Rotary clubs in Great Britain and Ireland from around 200 clubs in 20 districts have commissioned 31 dams in Kenya, nine also include food security through a five year agriculture project. We have also triggered UK Government funding for six dams with 13 agriculture programmes alongside our dams.
Rotary interest in this technology started around 2005 with the first dam, involving the Rotary Foundation, completed in 2010. A follow-up global grant came to the attention of RIBI and in January 2012 Drew Hughes and Kevin Pitt, then members of the RIBI International Service Committee, travelled to Kenya to evaluate whether Sand Dams were needed and sustainable. The answer was yes on both counts. They met with the local NGO the Africa Sand Dam Foundation (ASDF), which works closely with Excellent Development, to help community self-help groups in the drylands to build sand dams and develop their agriculture for the benefit of the whole local community.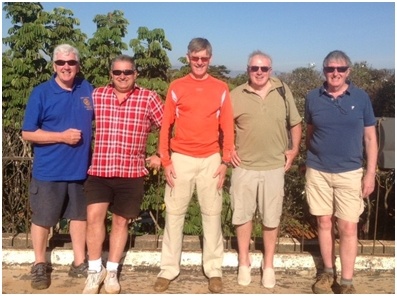 In July 2013 Drew and Kevin were joined by Mike Parry, James Onions and Matt Porter to see mature dams and those under construction funded by Rotary. They also met with ten Kenyan Rotary clubs to establish relations and in particular develop potential grant partners. They were able to visit completed dams financed by Rotary Clubs in Districts 1010, 1040 and 1240, which were completed in 2012, and already back-filled with sand and holding water which tasted very good. The sites of other dams under construction, financed by that first Global Grant for Districts 1140 and 1100 with our chosen partner club, the Rotary Club of Nairobi North, were included. Some had been completed. We met with the communities and understood the value they were gaining. They told us of the huge impact: clean water for them and their animals; crops that brought nutrition; health – people no longer sick or dying from water borne disease; time saved for mothers to look after their families; time for children to attend school; and growing small agricultural businesses. We could see the impact in improving the environment.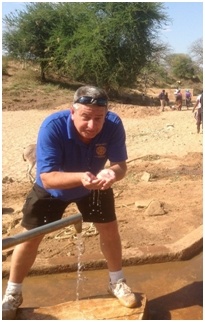 In the drylands, often 20km off any track between Mtito Andei and Wote these isolated people are poor, living on less than $1 a day. The dams which serve these communities of up to one thousand people cost from about £10,000, which is around £10 per person to provide water for life. Where Rotarians have provided funds for farming the communities are growing sorghum, tomatoes, cabbages, kale and mangos which are helping to feed their communities and provides a small income. They are also planting tree saplings which prevent soil erosion and provide shade for animals and kindling for cooking. The group were impressed by the hard work of these self- help groups and the professionalism of ASDF our partners in Kenya.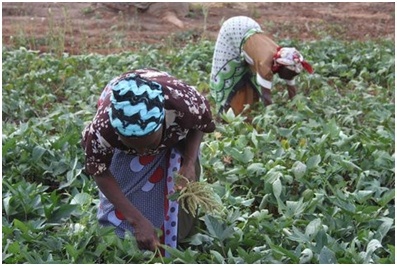 These dams are making a real difference to the quality of life of people in the drylands and their gratitude to Rotary for its role in supporting them was very much appreciated. When the current phase of the project started, Rotary had built 14 dams using funds from several clubs, District Designated Funds and Rotary Foundation funds. Five of these dams also included funding to provide agriculture support and one a school water tank. By autumn this year a further 18 dams will have been completed many with agricultural support. Nine of these will have been funded by DDF and the Rotary Foundation funds with the other eight from direct club funds. A global grant which was approved in May 2015 enables the development of five of these dams. 16 of these dams were built for the Kamba people but two are for the Maasai in Rombo. The site of the first of these was visited in July 2013 where the team joined the Maasai warriors to help them prepare the ground for their first dam and was privileged to stay with Elaine Bannon, founder of the Light of Maasai charity which is supported by District 1160, Ireland.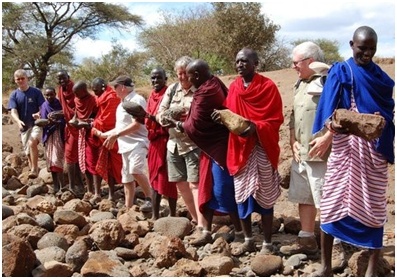 Some of the dams built by Rotary have triggered UK Government funding for a matching dam and agriculture for both dams. This has resulted in seven extra dams and 14 five year agricultural food security projects financed by the UK govenrment.
What next? Another 16 dams are planned with currently committed funds. Three further global grant submissions are in preparation, by David Cross in D1145, and it is expected that this will fund ten dams and agriculture. A further six dams are planned for building with club funds. These will trigger the support of the UK Government and other partners, to fund the building of five dams and seven community farming projects.
The role of Rotary is expanding rapidly. Initially we commissioned dams for the Kamba people and then extended to the Maasai. We are now planning to work in two new areas in Kenya. Firstly with three dams focused on developing peace between tribes who fight over scarce water in the Baringo area. The second is with two dams in the conservation area of Lekurukki. This offers the opportunity for us to do more than water and agriculture as there is little health or education provision.
In addition, Excellent is now working in India. James Onions, from D1145, has visited India this year to promote sand dams with Indian Rotarians. The result has been three fold. Firstly, the district around Chennai in Tamil Nadu has agreed to finance a dam in Kenya, with us, through a global grant. Secondly, they are working to progress Rotary involvement in current projects in Rajasthan, the poorest most densely populated drylands area in the world, and thirdly longer term to look to introduce sand dams in Tamil Nadu.
The expansion of sand dams is exciting and we are keen to work with clubs to commission further dams to be built through Excellent, our selected supplier. We intend to keep clubs and Districts informed with regular newsletters as we progress. We appreciate your continued support which is helping communities in desperate need of water. Thank you Rotary.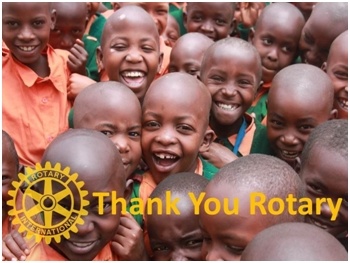 Drew Hughes and James Onions
Multi District Sand Dam Project
John Glascodine
District 1010 Sand Dam Co-ordinator
Contact John Glascodine about this page: