Good Companions Club Visits
Do come and see this Rotary Project in action supporting the older people in Jersey.
The Good Companions Club (GCC) was founded in 1948 by the Rotary Club of Jersey as a club for islanders recovering from the effects of the Occupation who needed somewhere to meet and enjoy one another's company. Initially it took the form of afternoon tea in a local café.

Today it provides quality day care, companionship and a range of activities for older Islanders. The need for what it does is greater than ever before as modern life leaves many elderly folk living lonely and isolated lives, with little or no family support.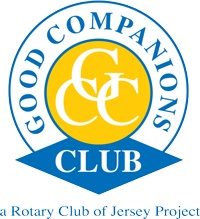 Some 200 members of GCC use the facility each week and are transported there from their homes by two club minibuses. They receive a hot meal at lunch time and participate in all sorts of activities in and around the club premises. And for the more adventurous the occasional trip to France and further afield in Europe.

In the last two years, the club premises have been extended and completely renovated to make it more welcoming and fit for another 30 years. External walls and the roof were upgraded to modern standards, a new club room and a dedicated dining room added, the hall renovated and the kitchen significantly upgraded.

80% of the £200,000 annual costs of running the club is funded by income generated by the GCC itself and by the Rotary Club of Jersey from bequests left to Rotary. The States of Jersey pay about £40,000 a year towards the cost of the day care provided.

The day to day running of the club is in the hands of a well-qualified team of care professionals supported by Rtn. Jerry Ramsden, Chairman of the GCC Management Committee, together with his committee and a brilliant team of volunteers who contribute to the wide range of activities available to members.

Do take this opportunity to visit a Rotary Community Project of 70 years standing providing a vital service to the local community.

We envisage tours of approximately 1 hour's duration with the club minibuses taking you to and from the club from your hotels.

To indicate your interest please email us here and indicate your preferred day. Once we know the level of interest we shall be in touch around September 2018 to confirm the arrangements. In the event of over subscription, those able to visit will be selected on a "first come, first served, basis"

There will be a small charge of £5 per person to cover the cost of transport and drivers' time.

For more information on the Good Companions Club do visit www.goodcompanionsclub.org