Harbour Tour
Captain Brian Nibbs, former Harbour Master and member of Rotary de la Manche, leads a guided tour of St Helier harbour.
This is an opportunity to join a former Harbour Master, a Tourism Bronze Award guide, for a pleasant stroll around St Helier Harbour.
Hear about its history, nautical traditions and recent developments. The tour explores some of the lesser known areas of the harbour and is interspersed with the occasional maritime anecdote!
The walk is 1.5 miles and takes about 2 hours. It includes one set of steps.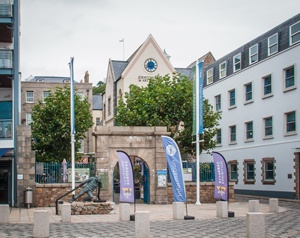 The tour starts and finishes by the Jersey Museum entrance (see photo) where the Museum Brasserie and several other establishments nearby offer refreshments.

Date Tuesday 16th October at 10:30 am

Cost £5 per person all of which will be donated to Channel Island Air Search of which Brian is a Trustee.
Places are limited to 20 per group. It may be possible to run more than one group.

This tour has proved very popular and Brian has agreed to do a second tour in the afternoon of 16th October. Please book your tour now and nearer the time you will be advised about it's timing. Note those booking from 30th November onwards will be allocated to the Afternoon tour.