Clubs are invited to hold a Purple Pinkie Day
Clubs are asked to organise a Purple Pinkie Day in a school, community centre, shopping centre or anywhere suitable. The idea would be to set up a mock immunisation day and offer children or members of the public the opportunity to have their pinkies dyed purple - as would be the case in a mass immunisation event in the developing world.
RIBI have produced a detailed briefing note on this to assist Clubs to think up ideas and plan events.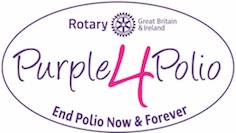 Click here for a copy of the briefing note.