Mayor for the Day
Darlington Rotary enables youngsters to be Mayor for the Day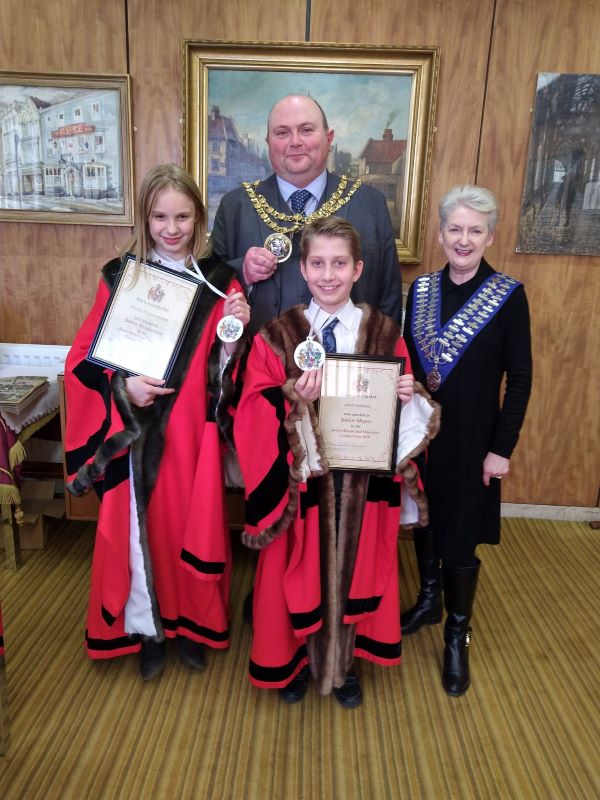 Darlington Rotary President Sue Campbell worked with the Mayor, Councillor Nick Wallis, and the Mayor's Office to sponsor this event, the final which was planned for during Rotary Week in February.
President Sue also helped with the shortlisting and final judging, reading through more than 150 entries from primary school final year pupils from across the town.
The winners were Jakob Kolodziej and Hannah Grzywaczewska, pictured here with the Mayor and President Sue. They received book tokens for their efforts, which described what they would do if they were Mayor for the Day. Their Mayoral day included a visit to the Abbeyfield Society and the Hippodrome Theatre, as well as the council chamber and Mayor's office.
Councillor Wallis said: 'We re-introduced this competition after a gap of about 10 years and are delighted that Darlington Rotary came on board as sponsoring partners, encouraging young people to use their imaginations and writing skills.'
President Sue said: 'The quality and range of the entrants was fantastic and Darlington Rotary was very happy to be involved. Hopefully, we can make this a continuing annual event.'