Foundation Team members -

| | |
| --- | --- |
| Lead | Olive Geddes |
| Depute | John Waddell |
| Foundation Treasurer | Peter Croan |
| End Polio Now | Jim Carmichael |
| Paul Harris Society | Roy Redwood |
| Paul Harris Fellows | John Waddell |
| Global Grants | Calum Thomson |
| District Grants | John Waddell |
| Rotary Scholars - Global Scholars | Lindsay Craig |
| The Rotary Foundation Fund Development | Alasdair Seale |
| Vocational Training Teams | Calum Thomson |
| Peace Officer | Jean Best |
| Team Member | Joyce Waddell |
| Foundation Stewardship Chair | Allan MacLaughlan |
| Foundation Stewardship | Olive Geddes |
| Foundation Stewardship | John Waddell |
| Foundation Stewardship | Alasdair Seale |
| Foundation Stewardship | Peter Croan |
| Foundation Champions - Ayrshire | Andy Slater |
| Foundation Champions - Borders | Olive Geddes |
| Foundation Champions - Central | Kate Keter |
| Foundation Champions - Digital Area | Calum Thomson |
| Foundation Champions - East & Mid Lothian | Calum Thomson |
| Foundation Champions - Edinburgh City | Ken Lindsay |
| Foundation Champions - Glasgow City | Duncan Collinson |
| Foundation Champions - Lanarkshire | Allan MacLaughlan |
| Foundation Champions - North Clyde | John Waddell |
| Foundation Champions - South Clyde | Lindsay Craig |
| Foundation Champions - South West | Maurice Halliday |
| Foundation Champions - West Coast | Alasdair Seale |
Team members can be contacted via DMS
Since it started in 1917 with a $26.50 donation, The Rotary Foundation has spent more than $4 billion on life-changing, sustainable projects.
Our motto is simply 'Doing Good in the World'.The Rotary Foundation is supported solely by contributions from the public, Rotary members and friends of the Rotary Foundation.
Those contributions, gifts and donations are transformed into service projects that change the lives of thousands of people across the world.
With 91% of funds spent on the programmes and projects it delivers, The Rotary Foundation, based at Rotary HQ in Illinois, USA, is globally recognised for its financial efficiency, accountability and transparency.
Rotary Foundation Grants
Each year, The Rotary Foundation gives away millions of dollars in grants to Rotary clubs throughout the world for humanitarian projects, vocational training and scholarships.
Ranging from small-scale, short-term activities to large, international projects, Rotary grants strengthen global partnerships and help tackle some of humanities greatest challenges in Rotary's Areas of Focus: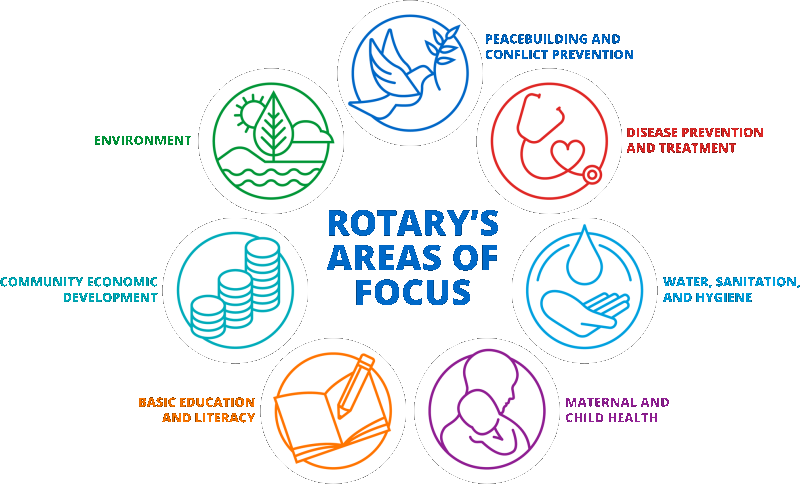 The Rotary Foundation of the United Kingdom
The Rotary Foundation of the United Kingdom (RFUK) is an Associate Foundation of The Rotary Foundation. RFUK supports the aims of The Rotary Foundation by providing funding for its programmes and offering a direct service for giving in Great Britain and Ireland.
RFUK has recovered over £1 million in Gift Aid since 2001, allowing even more communities to benefit from The Rotary Foundation.
Useful Links
Rotary Foundation (RI Website)
Rotary Foundation Grants (RI Website)
Paul Harris Fellow Recognition Transfer Request form (RI Website)
Rotary GB&I Rotary Foundation pages (Rotary GB&I Wesbsite)
Polio Eradication - the latest news
Charity Navigator - see ourselves as others see us