Annual District Conference
Dewars Centre Perth on Saturday 10th June 2023
District Governor Ken McLennan invites every D1010 Rotarian, spouses, partners, prospective Rotarians, Rotaractors and E-Club members to join him for our 72nd annual conference in Perth.
The conference will be held in Perth on Saturday 10th June 2023 at the Dewars Centre with additional activities on the Friday and Saturday evenings. Our Theme for Conference is "Celebrate the Past - Build the Future" and combined with this year's Rotary International Theme "Imagine Rotary".
Dewars Centre in Perth, the Fair City at the heart of Scotland! Opened in 1990 as a state-of-the-art curling ice rink and indoor bowling arena, the Centre has evolved over the years into a first class business and function facility as well as an internationally acclaimed sporting arena. Dewars houses the ice rink where 2022 gold medallist curlers Eve Muirhead and Mili Smith honed their skills.
Dewars Centre is a modern, spacious building offering flexible conference and meeting facilities in the heart of Perth. Situated just off the main Glasgow Road, its central location and plentiful parking made it the ideal choice for our conference this year ensuring ease of access and convenience. The Dewars Centre is located just a 10-minute walk or short taxi ride from Perth's bus and rail stations.
Our programme will include Speakers from Rotary partners and friends of rotaryalready confirmed are:
Steve McKenna
Steve McKenna is a former Olympic gold medal holder. The medal was Sir Steve Redgrave's and he held it for 15 seconds. If you haven't guessed already Steve is quite a silly person. His humour and sense of fun have taken him around the world from presenting the Oscars for BBC News in LA to Cuba's first rock gig for Radio 1.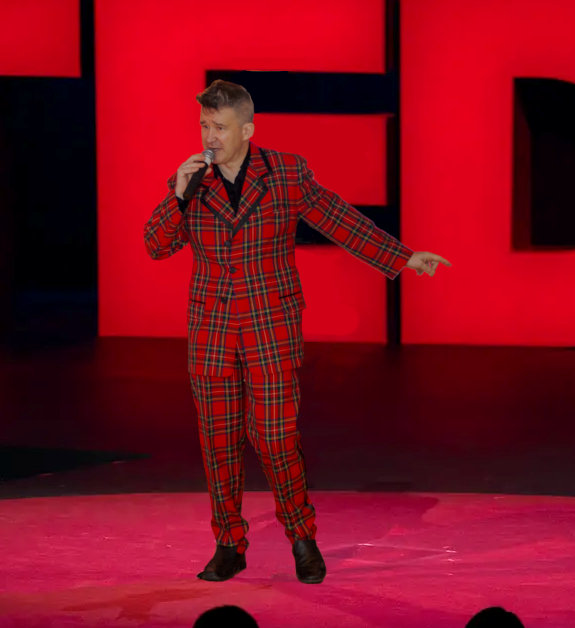 Although he's appeared as a host on every major TV channel fronting shows like the Movie Chart Show on Channel 5 and frequently appearing with Lorraine on both ITV and Sky you may be more familiar with his voice. For 13 years he was the Drivetime host on Real Radio and then for another 4 years on Heart Scotland. He's turned up in everything from video games to movie trailers and regularly features on CBBC. That voice when combined with his wit have led to him presenting radio shows for BBC Radio's 1, 5 and the World Service as well as writing comedy for Radio 2 and Radio 4.
In addition to his radio and television work he's marketed the Spice Girls, spent the day with George Clooney, Brad Pitt and Matt Damon, had hit records, worked as a private detective, introduced Quentin Tarantino to haggis and owns a multi award winning events company. He's friendly, house trained and incredibly approachable.
The morning session will be celebrating our past by showcasing what our district does in communities both here and abroad. Photographs are needed to showcase our great achievements. Send them to Ken McLennan at krmcl@hotmail.com with a short note about them. (JPG files are best quality and don't worry about the file size.)
The afternoon session will look to building our future.
We will also have a performance by one of this year's young musicians and the Presentation of 2 unique District awards.
Costs
Friday 9th June
Evening 7pm - 9.30pm
Fun Casino run by Westhill Rotary Club
Free Entry
Saturday 10th June
Day Delegate 9.30am-4.30pm
£22.50 per Person
Saturday 10th June
Foundation Event 6.30pm-7.30pm
Free by ticket only (please see below)
Saturday 10th June
Evening Ceilidh 7.30pm- 11.30pm
including two course Supper
£25.00 per person
Ticket Links
Friday - pre-conference-casino-night-free-entry-friday-9th-june-2023
Saturday - district-1010-conference-saturday-10th-june-2023
Free Reception with a drink and canapés
DG Ken McLennan and Tom Hunt, Rotary Foundation in Rotary GB&I invite you to a reception in the Dewars Centre at 18:30 on the 10th of June. This is immediately prior to our ceilidh in the same venue.
We have a special award being made. Not least, you will have the opportunity to chat about Foundation opportunities with likeminded Rotarians, both in the opportunity for funding and for supporting OUR charity.
Tom will also have a table in the House of Friendship for more personal conversations.
Reserve your free place now at: foundation-reception-tickets
Accommodation
If you are looking for accommodation for the weekend then Local hotels can be found on the Visit Scotland website Search results | VisitScotland . This link should show the filtered search for hotels closest to the city centre. The first four are the closest but the Travelodge Central and the Sunbank House Hotel are just over the other side of the river.
There are another couple of hotels not listed with VisitScotland which may be worth looking into as well.
House of Friendship
We will be having a full House of Friendship in the main hall giving clubs a fantastic opportunity to showcase their projects and get support from other clubs.
We also welcome stands from external groups who we already support or who would benefit from exposure and support from our District.
Please send any notifications of interest in taking a stall to Alistair Robb at agr200@hotmail.co.uk. agr200@hotmail.co.uk
1010 conference 10.06.23 at the Dewars Centre promises to reinvigorate while also giving opportunities to connect with friends old and new.