The 'main picture'
advice for making the most of your main picture
ALL page types (meeting, event, charter celebration of 'general page') can have a 'Main Pic'.
This picture is important because:
it helps draw attention to the page, encouraging people to read it
we've all heard that 'a picture is worth a thousand words' - choose a good 'main pic'
it is displayed - at different sizes - in different places. For example, an Event main pic is shown on

the home page of the site if the dates are within x days of the event happening.
the 'programme' page
both the future and completed events pages
it might be a 'Featured' ('sticky') page that the administrator wants to highlight in advance of the event, so it appears on the homepage carousel or thumbnail view
When you upload an image as a 'main pic', it is automatically resized for display in different areas:
1200 x 800 (full size) for display on the detail page
300px wide for display on 'lists' (e.g. 'In the next 30 days..'
150px wide for display on lists (often in the admin area, the small size is shown to save space)
The picture should be in .jpg format, 1200 x 800 pixels. (This is a change made April 2015 - previously the size was 800x600 and you may see screenshots or the video referring to this)
If you've an image straight from your multi-mega-pixel digital camera that's huge, it will be resized to 1200 x 800 - but the other resizes may fail, as the server 'gives up' - so try to resize your images to 1200 x 800 BEFORE trying to upload them.
Adding the 'main pic'

Depending where you are, the position of the links is slightly different;

If you are a club or district administrator or a member of a district committee, the links to change aspects of the page are in the menu on the left of the page, as highlighted in red below;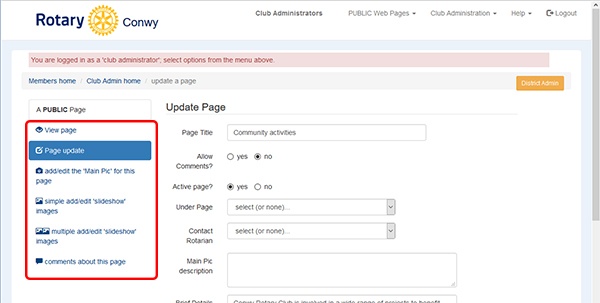 If you are a club member with access to edit pages associated with your committee, the layout is slightly different;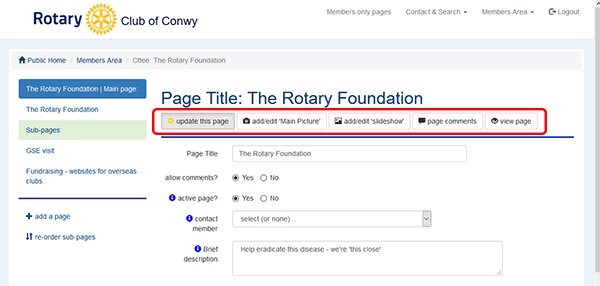 However, once you've clicked on the 'add/edit 'Main Picture'' link, the method is the same.

1) Click the 'Browse' button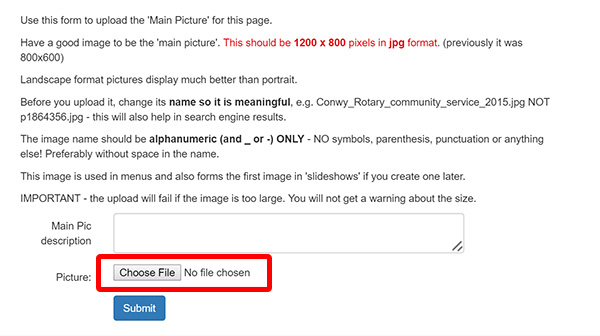 2) Find the image on your computer...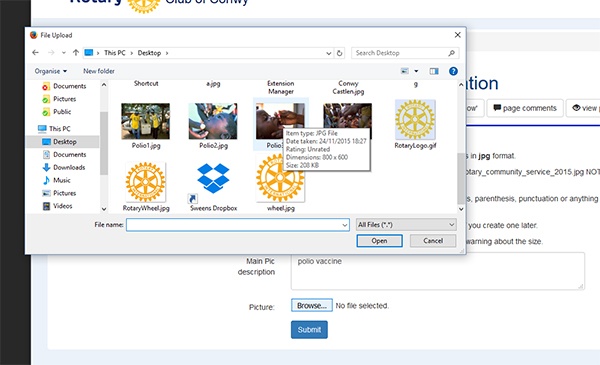 (Note that the image has been named properly first and resized to 800 x 600!)
3) Either double click on the image or click the 'Open' button (or 'OK' button, depending on your browser...

4) Enter a description of the image in the 'description field
5) Click the 'Submit' button.
After a moment, a screen similar to the following will be shown...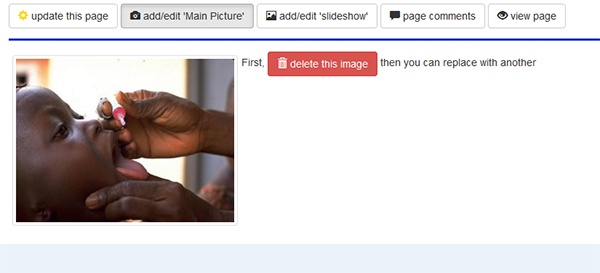 That's it!
Having added the 'Main Picture', you might want to create a slideshow/carousel of more images or edit the page in other ways - just click the appropriate buttons as shown at the top of this tutorial.

If at some point you want to replace this picture, just hit the 'delete this image' button shown and the repeat the process above.

Adding and replacing the 'main picture'
(Note the size of images should be 1200 x 800 not 800x600 and you may see in the video screenshot)