The Members Area
after login, what members see.
When you first log in, you will see a page similar to that shown below. A variety of buttons provide quick links to several Rotary areas, including the club/district/Rotary GB&I/RI home pages on the left of the screenshot below and links to areas where you need to be logged in, on the right, including club/district admin, the DMS pages
Note that only Club Administrators see the 'Club Admin' link and district administrators the 'District Admin' link (and only they have access to those pages).
The drop-down menus are shown on every page in the members area - you don't need to return to the members home page to access a different page.
On the members home page, quite a lot of information is displayed (numbers in the screenshot below)
Note the 'members area' menu will not necessarily be the same - 'district admin', 'club admin' are only displayed if you hold one of those posts..
Menus:
(shown) 'Members Facilities' - for you to update your information, add a new page or update your pages. You can print event 'tick lists' of club members/partners. Some options can be set by the club administrator, so may not be visible in your menu - for example, the facility to make apologies via the system
'Search/Find/Contact members' - contact details for club members, district officersand committee members, 'friends' of the club, email facilities etc
Important messages from your club and district administrators (if the district is using the template)
Links to the most recent club and district 'members-only' pages.
As you scroll/swipe down the page, more information is available, including:
The year's theme, chosen by the Rotary International President
If you are on a district committee or have edit access to a club committee, links to enable you to update your committee pages.
Webmaster's message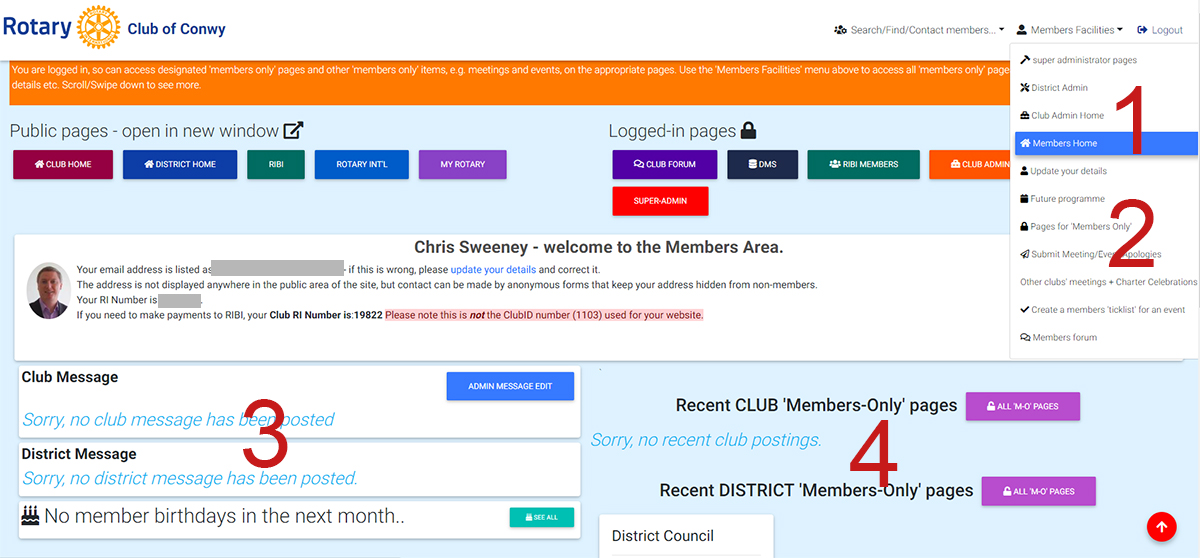 NOTE: the full menu is only available if your club is using the website template and making the ANNUAL payment to the Rotary Foundation for its use.
Registered club members have the facility to:
update their details (including adding a photo of themselves),
see forthcoming Charter Celebrations for clubs in their district (provided that the clubs have entered the information in their admin section!)
view 'Members Only' pages written by other members of their club*
Read 'members only' reports written by district officers*.
Contact other club members
send apologies for non-attendance at club meetings or events.
See what is going on at other clubs in your district in the next 7 days - useful if you can't make your own club meeting or are perhaps on a 'scatter night'
Modify pages associated with a committee (if the club administrator has given them 'edit access' for a particular committee)
Create a printable 'members ticklist' form

*These types of pages are probably of no interest to members of the general public, hence being included in the 'members only' section.
Chris Sweeney
Rotary GB&I Template designer