Club, Meeting and Venue Details
Some of this information will already be in the database - but it is important that if you change meeting venue, meeting day etc that this information is updated here, as this information is used elsewhere (for example, in other clubs' members areas and the district website if they are using the template).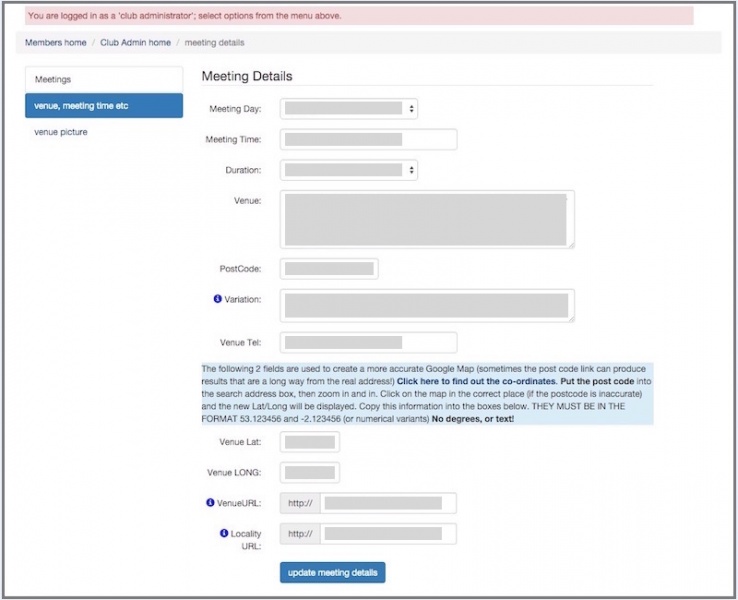 Enter an email address. THE ADDRESS IS NOT SHOWN ANYWHERE ON THE SITE AND YOU WILL NOT RECEIVE 'SPAM' AS A RESULT OF INCLUDING IT HERE! This address is used as the primary point of contact for your club (e.g. another club using the email facilities to contact other clubs). However, it is NOT used for the 'Contact Form'.
Enter the 'short address' for your club website. If you don't have one, see 'your own domain name'
Add your meeting day and meeting time and the venue in the appropriate boxes.
Add the postcode of your meeting place in the appropriate box - this is used to generate a map link, showing visitors how to find your meeting place. It's not 100% accurate - so follow the links to find the co-ordinates of your venue and enter those in the appropriate fields.
(If you wish to upload a picture of your meeting place, click the 'Venue Picture' tab. Click the 'browse..' button then find where the picture is located on your computer and upload it. Pictures must be in either .jpg/jpeg or .gif format, or the upload will fail.)

If your meeting place has a website, you can add it - you might even tell them that you'll put a link to their site and ask for a donation to Foundation!
Similarly, if there is a website giving more information about your locality, add the address in the 'locality URL' box.