Club, Meeting and Venue Details
Some of this information will already be in the database - but it is important that if you change meeting venue, meeting day etc that this information is updated here, as this information is used elsewhere (for example, in other clubs' members areas and the district website if they are using the template).
To set these up, select the "Meeting Details" option in one of the two ways below.
1) If you selected from the main part of the screen the options open up and you should select "Meeting Details"

2) If you selected from the drop down menu pick at the top of the page, the options drop down and you should select "Meeting Details" in exactly the same way.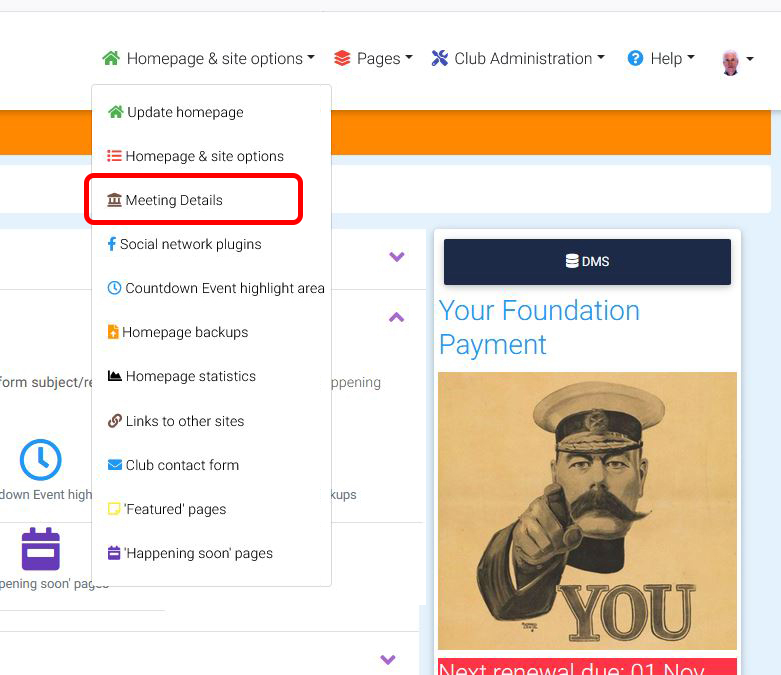 In either case you then get the following screen: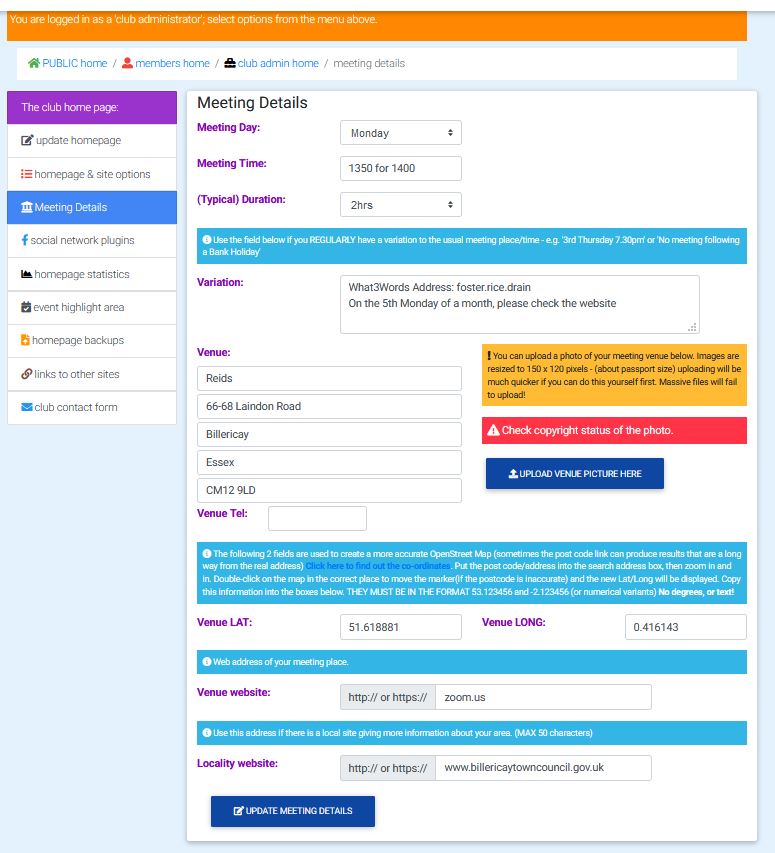 Fill in your meeting day, meeting time and Duration.
Fill in any variation of meetings such as "On the 5th Monday of a month …".
You could use this field to supplement the address of your venue with the "What3Words Address. The surface of the earth is divided into 3 metre blocks each of which has a unique three word address (for details see https://what3words.com which can be useful as a supplemental address
Add the venue name and address in the appropriate boxes.
Add the postcode of your meeting place in the appropriate box - this is used to generate a map link, showing visitors how to find your meeting place. It's not 100% accurate - so follow the links to find the co-ordinates of your venue and enter those in the appropriate fields.
(If you wish to upload a picture of your meeting place, click the 'Upload Venue Picture Here' button. Click the 'browse..' button then find where the picture is located on your computer and upload it. Pictures must be in either .jpg/jpeg or .gif format, or the upload will fail.)
NOTE: There are additional Club details such as Club email address, club domain name etc. which should be added. This is done on the "Club Details" item under "Club Administration". See separate Tutorial.