Club Members
Adding and Updating Members
It is important to realise that no members name can appear on the website, as President, Committee Chairman etc unless they are registered on the database. They can either do this themselves from a Club or District RIBIT site or you, as administrator, can ask them what username and password they would like, and you can add them to the list using the form shown below (on the left of the members page). When you add them, they are automatically authorised, and given the status 'Member' (not 'Club Administrator').When you click the 'Members' link, you would see a window as below, though if you're just starting out, there may not be any other members names showing!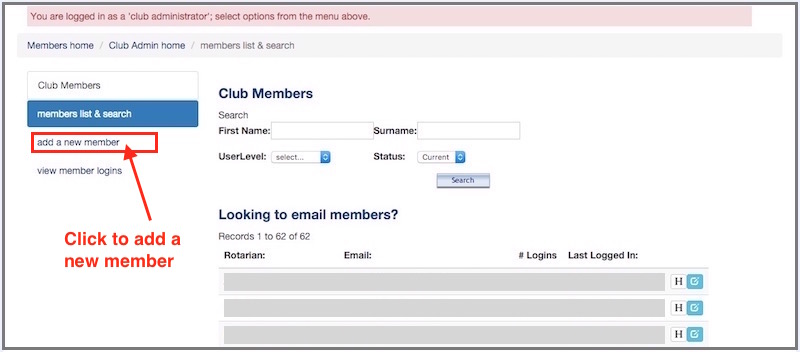 Adding a member
Click the 'add member' button (screenshot above). the window below opens.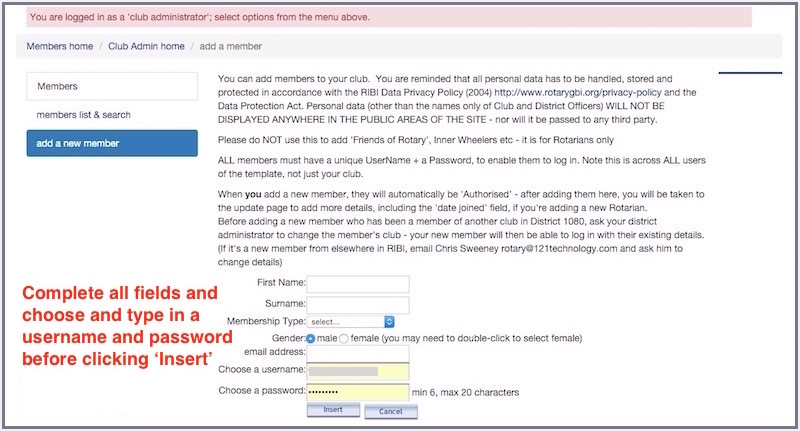 You must ensure that when you create usernames/passwords, you DO NOT give everyone an easy to guess combination, such as firstname.surname and clubname - should someone leave the club under a cloud, they could potentially guess at someone else's login details and enter misleading or scandalous information!
(On that note, when a member leaves a club, there is a procedure in place so they cannot log in again - more of this later)
After you have clicked the 'Insert' button, you will see that the new member has been added to the list.
When you have finished adding members, click the 'main admin page' link. Note only basic information is added here - once the member is listed you (as administrator) can update any member's details or they can update their own, providing more information.
Some members may be listed as 'Pending' - these people have registered via the template site and have not yet had their Rotary membership confirmed. If they ARE members of your club - and the email address is correct - change them to 'Member' as described below.
If you click on the update button (like a pencil) by a members name, you can change them to 'ClubAdmin', upload a picture etc. The details are the same as in the members area though note that an administrator can't override provacy settings made by the member, or change their username/password.
NB Before adding a new member who has been a member of another club in the district, ask your district administrator to change the member's club - he/she will then be able to log in with their existing details. (If it's a new member from elsewhere in RIBI, email Chris Sweeney and ask him to change details)
Similarly, if a member is leaving and joining another club, advise that club and the district administrator, so his existing details can be changed to the new Club. Only tick the 'Left?' button on the form if he has died or left Rotary completely- don't change their User Level to 'Pending' or they appear elsewhere as members awaiting to have their Rotary membership confirmed. Once the 'Left?' box is ticked, they cannot log into any area of the site, be it Club or District.
Using the tick boxes by each members name (if they have an email address) you can select several members to send a group email. This automatically sends a copy to your address