Club Officers
Officers can be added once they have been registered.
Adding Club Officers
To add club officers, click on the 'Club Officers' link on the club administration menu.
PLEASE NOTE - the process for adding/updating club officers has changed; I will produce a video shortly.
I have created the posts shown in a dropdown list. I realise that some clubs may want to display an 'XYZ' officer, but I can't cater for every eventuality. Besides which, clubs can create any committee name they wish, and designate someone as that Committee Chairman!
I have mainly used the posts mentioned in the RIBI directory and shall add more if they are created. Looking to the future, we may want to create email scripts that will send, for example, an email from your District Governor to every President in your district. This facility already exists for those districts using the D1170 Extension Database.
You may wish only to show a limited list of officers and rely on the committee pages instead, as these list committee members - that's a choice for your club!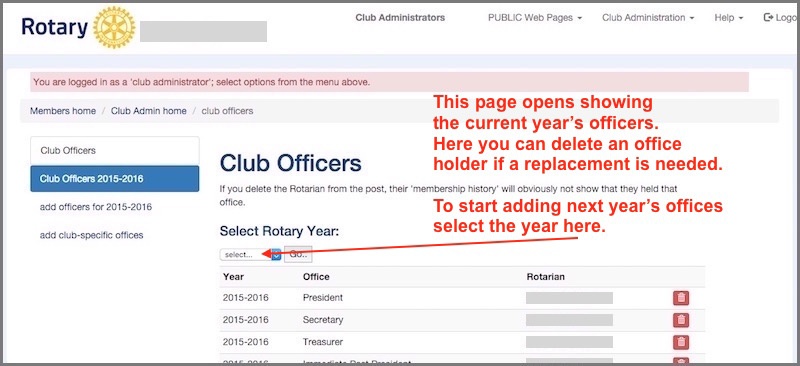 The 'Year' field shows the current Rotary year by default, but probably in June, or earlier, each year you will want to start adding the officers in readiness for July 1st - the start of the Rotary year. On July 1st, all the correct postholders will be displayed for the new year.
Choose the Office from the dropdown list, then choose the member. Then click 'Add Officer"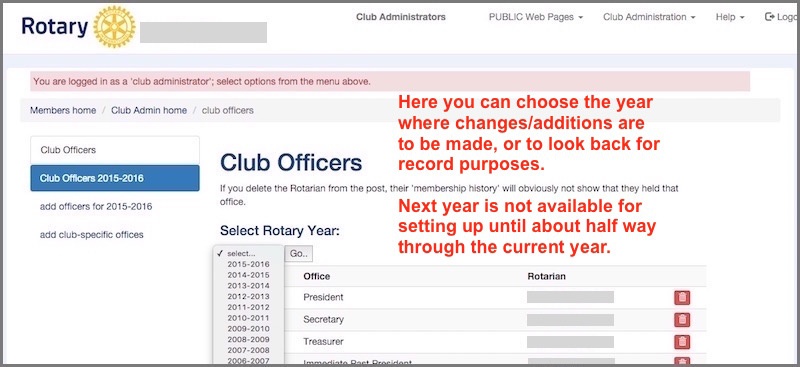 The list of officers for the current - and future years (if added) are displayed. To remove an officer, simply click the 'delete' button then confirm the action on the next page. Members are not deleted from the club, only from that post!