Creating a link to Yudu within 'the Editor'
This tutorial shows you how to link to a presentation that has already been uploaded to yudu - but the process is identical for adding a link to ANY page.
Yudu (www.yudu.com) offers a brilliant, FREE, way to display your club or district magazine. Automatc page turning and other features are available. It is very useful if your pdf file is over the 2Mb limit within the template
Publications using Yudu can be uploaded to your website by creating a weblink
1. Select the publication you wish to upload from your Yudu library
2. Copy the URL that now appears in your browser bar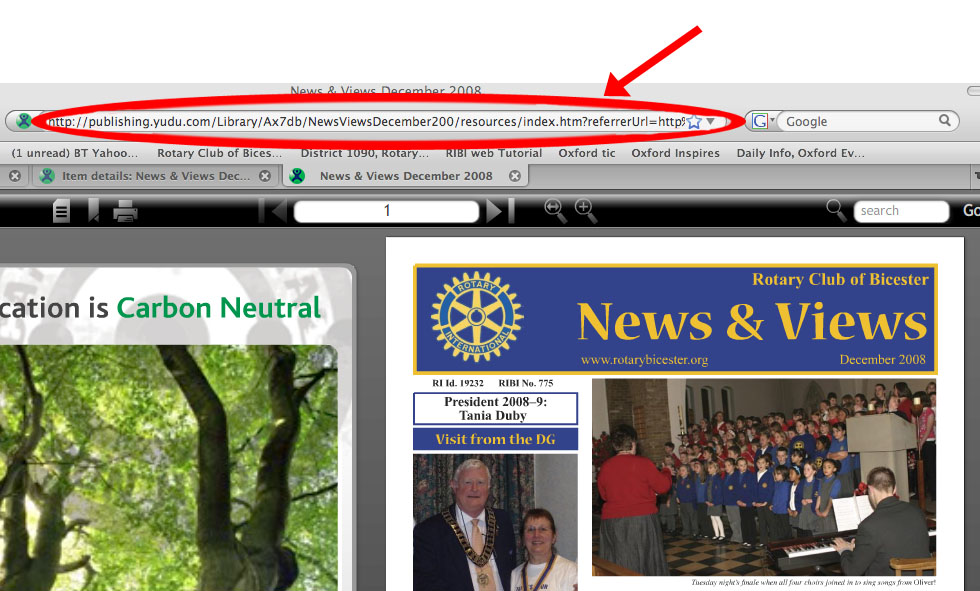 3. In the Club Admin pages of your website, go to update the page where you want the link
4. Write the title of your publication
5. Select the text
6. Click on 'create link' icon. Note you may get message across the top of the screen saying "website is using scripted window to ask for information. If you trust this website click here to allow scripted windows" after clicking a box appears. You then click on "allow scripted windows" and the box closes. You then click on the link button again and box appears in the top R/H of the screen.
7. Paste the URL copied from your Yudu library
8. Update page
(Information and graphics provided by Liz Yardley, RC Bicester)
NB - there is an option in the yudu screen to 'embed' your presentation. Please note that this is not possible in the Rotary GB&I template, as it is a potential security risk.