Future meetings and events around the district
Aireborough - Fri 18th August 2017 at 18.30 - 22.00 Proms Night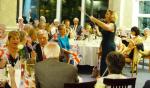 Following last year's resounding success we will be doing it all again with the same cast Joanne Dexter Classical Soprano and Opera North member and the Olicanian Brass Quintet.
Aireborough - Sun 20th August 2017 at 11.30 - 16.00 Charity Canine Capers free entry, donations welcome
The Tailwaggers Team make a welcome return with their obedience demonstration and an opportunity for doglovers to bring their pets and enter a variety of classes
Aireborough - Tue 26th September 2017 at 18.30 - 22.00 Charter Evening 6.30 for 7.00 p.m.
President Heather Read will welcome members and guests with speakers including Tricia Stewart, the driving force behind the Alternative W.I. Calendar and District Governor Robert Morphet of the Rotary Club of Bradford West
Aireborough - Fri 27th October 2017 at 19.30 - 22.00 Annual Brass Band Concert
This is always a treat for music lovers of each and every kind
Picture shows last year's protagonists.