Future meetings and events around the district
Leatherhead - Sun 29th April 2018 at 10.00 - 14.00 10th Anniversary 10k Bluebell Run

10th Anniversary 10k Bluebell Run around Headley Heath.
Open to all ages and abilities … or just come and cheer them on!
Bookham & Horsley - Fri 4th May 2018 at 19.00 - 22.30 More Songs from the Shows

Featuring the Guildford School of Acting Singers
Epsom - Fri 25th May 2018 at 09.00 - Mon 28th May 2018 - 17.00 Camping in Rye

Rotary Associate and Rotaract will camp in Rye for the Bank Holiday Weekend
Ashtead - Sat 9th June 2018 at 11.00 - 17.00 Ashtead Rotary Village Day 2018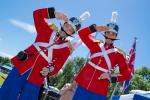 The highlight of Ashtead's summer calendar, with over 8,000 visitors annually. Come and join in the fun with activities for the whole family!
Epsom - Sun 22nd July 2018 at 19.00 - 22.00 Concert at St Dunstan's Cheam, 7pm 22nd July

Primrose Drake and Friends are giving a fund-raising concer Concert at St Dunstan's Cheam, 7pm 22nd July
Leatherhead - Fri 24th August 2018 at 12.00 - 20.00 27th Annual Charity Golf Day

27th ANNUAL CHARITY GOLF DAY in aid of Prostate Cancer UK
Friday 24th August 2018 - 12.00 noon onwards Effingham Golf Club.