Welcome to the website of the Rotary Club of Ewell
Our Club
Our 30 members form a lively club which meets on Thursday evenings and we enjoy debates, quizzes, speakers and other entertainments. Within the overarching 'Service Above Self' principle we believe that the club must be happy and healthy to be able to serve others with enthusiasm. So our full programme has a balance of activities which are purely for enjoyment and activities which serve others less fortunate than us.
Any of the 1.2 M Rotarians world-wide are entitled, and welcome, to visit us (see details on the right). If you are planning to pay us a visit our catering staff would really like to know the day before.
Club Newsletter
Other News
____________________________________________________________________________
Friday 26 April 2013 saw our President Peter at the Epsom and Ewell branch of PHAB where he presented a cheque for 900GBP to Malcolm Rice-Jones. The money was used to take 50 children and carers to see the musical Matilda. Ewell Rotary was instrumental in setting up this PHAB branch and has supported it since then.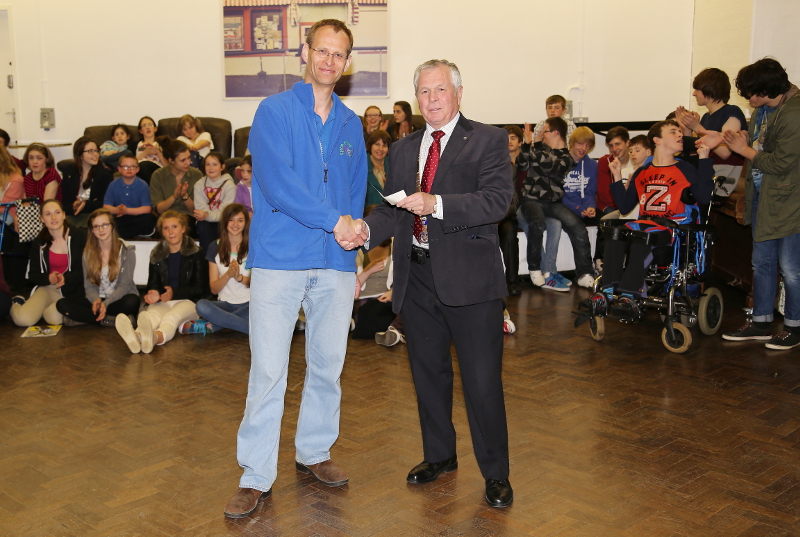 Membersof the E&E PHAB with Ewell Rotarians

__________________________________________________________________________________________
31 members and friends of Ewell Rotary Club enjoyed a sociable evening playing skittles at The Surrey Oaks in Newdigate recently.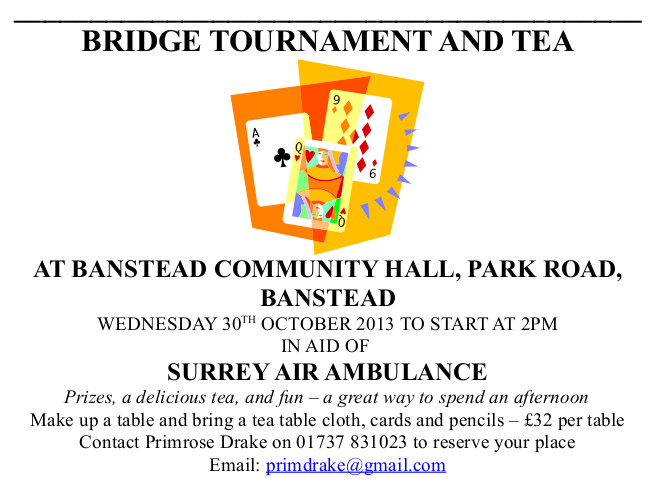 Long Service
Derek Hockin has been a good Rotarian for over 25 years and this was recently recognised by the President of Rotary International by way of a personal letter and certificate awarded on 11 April 2013. Well done Derek. The photo below shows Derek receiving his recognition from President Peter.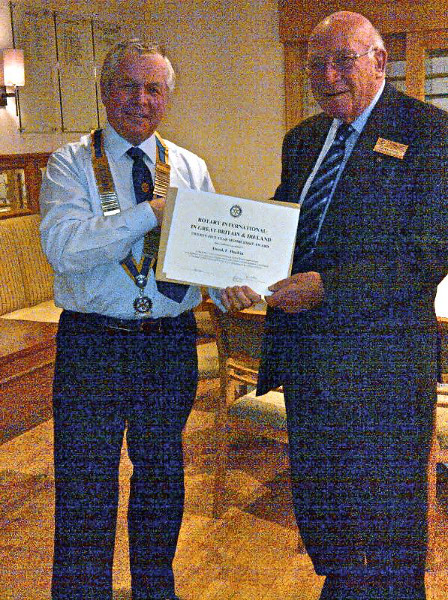 _________________________________________________________
Rotarian Sharon Rolfe got on her bike.
Sharon says:
Could you please forward on my very grateful thanks to the Ewell Rotary club for sponsoring me. We are currently standing at having raised £2,226.00 and we still have some money to receive from pledges.

The day started off at 6.30am with a nice crisp breeze and a hint of sunshine but by the 15 mile mark the drizzle had started – by the time we reached Basingstoke it was pouring with rain and we were all thoroughly soaked through. A few of us took a well-earned rest in the minivan while the tougher and faster cyclists rode on through the hail and rain. The weather cleared a little after Andover so we all jumped back on our bikes and added another 20 miles to our portfolio. At the 100 mile mark we climbed back on our bikes to attempt the next 60 miles but this time were hampered by thick fog, again we jumped in the van and allowed the more experienced and faster riders to navigate this stretch. Despite everything the weather threw at us we succeeded in achieving our goal of riding in relay the 160 miles down to Exmouth - finally getting to the end around 7.45pm.

Thank you very much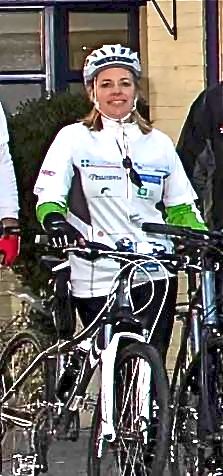 ____________________________________________________
EWELL ROTARY CLUB FELLOWSHIP WEEKEND
Rotary Club of Ewell have a very active social calendar and recently saw a lot of our members, together with various friends, 45 of us in all, down in Torquay, (home of Basil Fawlty!), at the Frognel Hall Hotel, where a Murder Mystery took place on Saturday evening.
We all arrived on Friday in time for dinner (and of course drinks at the bar) and were given a warm welcome by our hosts. The hotel is in a very pretty part of Torquay, a short walk from the shops and harbour. The food is home cooked and very good, with waitress service – included in the extremely reasonable price.
The next day there were various different excursions planned and organised for us, by our Club's resident "tour guide" and organiser, Margaret Martin, and a group of us took the "Round Robin Trip": the bus to Paignton, from there to Dartmouth on a boat, with commentary on the wildlife and among other interesting sights, Agatha Christie's home. In Dartmouth there was time to wander round the shops and quaint streets, and also of course to stop and have a Devon Pasty or fish and chips.
The main attraction of course was the evening's entertainment, which was the Victorian themed Murder Mystery, involving a Lord William and Lady Isabelle (French), a Butler, Scratchit by name, and a rather dubious (but hilarious) flower seller, whose sister had been hit on the head and pushed into the Thames. The poor girl then had a nasty and very long-drawn out death herself after drinking some brandy provided by the butler, (or was it Lady Isabella or Lord William?) It was all very confusing. Lots of the guests wrote copious notes, but only one of them, Wendy Yeates, had the wit to come up with the solution – of course I will not spoil it here, in case any of our readers want to repeat the experience but of course there are many different mysteries, all written by the talented cast.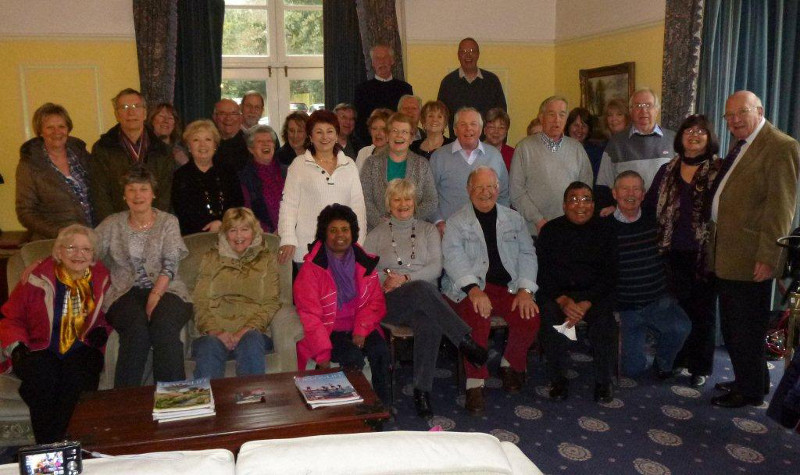 The happy group on Sunday morning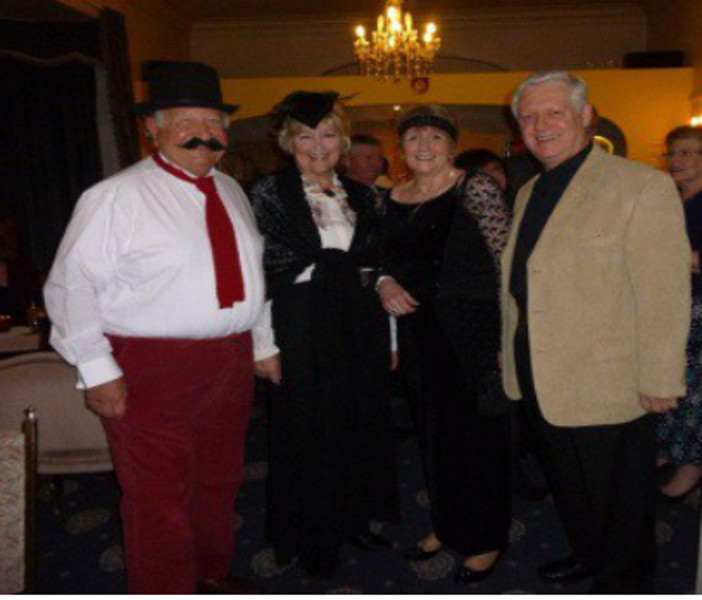 Some got dressed up and some just couldn't be bothered!
Ewell Rotary Club is a growing concern, full of fun as well as helping the community, national and international charities. We organise many fellowship and fundraising events, including bridge drives, race nights, quizzes, our very own detective evenings, "starring" the N.E.R.D.S (New Ewell Rotary Dramatic Society) and last year, to celebrate the 75th anniversary of the Borough of Epsom and Ewell, we started, in conjunction with our sister club, Epsom Rotary, organising an annual Fun Day in Epsom, which featured a dog show, parachute jumping and many varied stalls and raised many thousands of pounds for charity. This is planned to take place again on 22nd September this year. Any help would be most welcome of course.
Our Club welcomes new members and if you are new to the area, it is an excellent way to enter the community and make new friends, as we plan many different events and work with schools and local societies. Our club members come from all walks of life, so we have many different skills to bring to our events. If you would like to know more, visit our website, www.ewellrotaryclub.org.
In September last year the Rotary Club of Ewell and the Rotary and Rotaract Clubs of Epsom organised the very successful Borough Fun Day at the Hook Road Arena and pledged profits to charity.

As a part of that pledge they were able to purchase a cardiac machine at a cost of over £ 5500 which they presented to the charity CRY (Cardiac Risk in the Young) on Thursday 21st February 2013.

These Rotary Clubs are very grateful to all those who attended the Fun Day and made it such a success that this presentation became possible.

The photograph shows the Presidents of the Rotary Club of Epsom & the Rotary Club of Ewell (extreme right) with the two representatives from CRY receiving the heart machine, along with Helena Markan the President of the Epsom Rotaract Club (extreme left).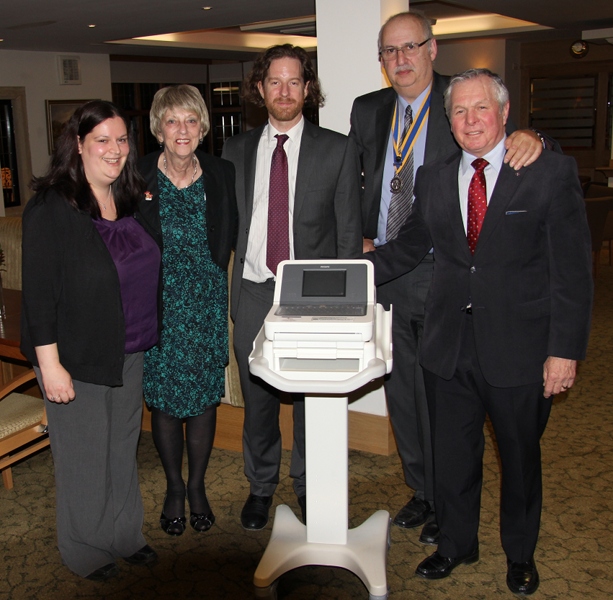 Forthcoming Events

May 17th- 19th Our Friends from the Rotary Club of Conde/ St Amand France will join us for a weekend to see the sights of London and to arrange a joint club Charity Project

EPSOM & EWELL BOROUGH FAMILY FUN DAY 2013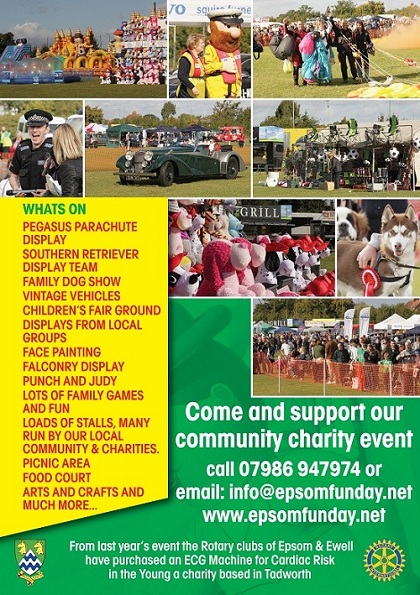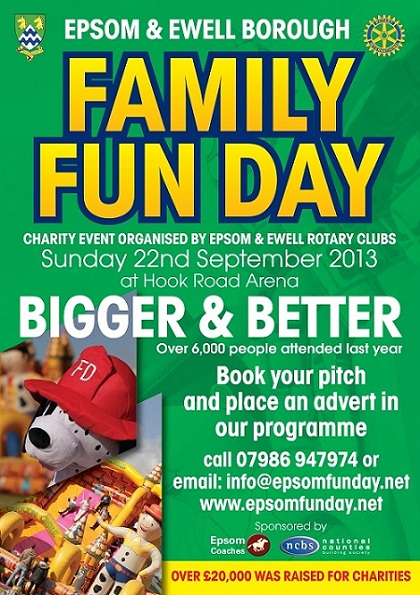 Following the great success in 2012, Epsom and Ewell Rotary Clubs are again organising the Epsom and Ewell Borough Family Fun Day on Sunday the 22nd September 2013 at Hook Road Arena, Hook Road, Epsom KT19 8QG.
We are now inviting local charities, businesses, organisations and community groups to apply for pitches (click here for a pitch booking form) subject to availability, or to advertise in the event programme (click here for an advertising form).
The above flyer gives initial details of what will be happening at the event and more details will follow. You can download this flyer as a pdf document by clicking this linkand if you have any query relating to the event please email info@epsomfunday.net.
Our booking forms also give the option of having a free entry in our new event web site whether as a pitch holder or advertiser and which we plan to have up and running during March, with the added option to link to your own web site.
Local charities will be able to raise funds and awareness and local businesses and community organisations will be able to promote themselves, while providing a fun time for all attending, with pitch holders running family games in conjunction with their promotion. The emphasis is to provide a great day out with lots of family fun, particularly for younger children, at an affordable cost.
The event will be a family fun day with multiple arenas, a dog show, many free presentations, attractions and stalls, a fun fare, vintage cars, a food court and a picnic area. Any surplus proceeds of the day will go to our Rotary Club charities.
---
Our Members
President Peter Heard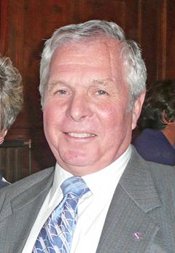 Treasurer Secretary President Elect
Anthony Heath John Smith John Read
To see our Facebook page please go to the 'Links to other sites' section on the left of this page