Future meetings and events around the district
Sat 28th October 2017 at 10.00 - 13.00 District Council
Mountbatten School
Mon 13th November 2017 at 19.00 - 22.00 Rotary Foundation Seminar
The aim will be to tell some local and international stories about Our Rotary Foundation doing good in the world. Also, how Clubs can obtain grants as well as contribute.
At Crosfield Hall Romsey
Tue 14th November 2017 at 19.00 - 22.00 International Seminar
This will be an interesting evening which will showcase a number of international projects which are supported by District and which make a difference to the lives of many thousands of people.
At The Crosfield Hall, Romsey
Mon 27th November 2017 at 19.00 - 22.00 Group 1 meeting
To be held in Shaftsbury. All members of Clubs in Group 1 are welcome
Sat 3rd March 2018 at 10.00 - 13.00 District Council
Mountbatten School
Sat 28th April 2018 at 10.00 - 13.00 District Assembly
Mountbatten School
Fri 12th October 2018 - Sun 14th October 2018 - 23.55 Inspiring Success - Jersey 2018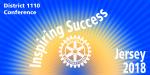 District 1110 Conference Fort Regent Jersey