Completed meetings and events 2019-2020
Wed 17th July 2019 Marlow Refugee Action
Speaker: Tom Doust - Ever wondered what happens to all those 'pop-up' tents when the music festivals are over? Find out here!
read more...
Fri 12th July 2019 Presidents Handover Evening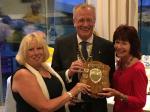 at Temple Golf Club
read more...
Wed 10th July 2019 Club Assembly
First business meeting of the new Rotary Year
read more...
Wed 3rd July 2019 Petanque
at The Kings Head, Little Marlow. Note the earlier start time. There will be a meal at 8.30pm
read more...
Tue 2nd July 2019 Council Meeting
future
calendar
district events
local events