Future meetings and events
Wed 21st November 2018 Antiques and Curios Valuation
Team competition to value the objects presented
Wed 28th November 2018 Nostalgic comedy and singalong
Partners and friends are invited to join us for an evening of fun from earlier years featuring live performances and singing.
Sun 2nd December 2018 at 09.30 - 11.30 Santa's Fun Run
Our annual fund-raising event. This year's target £50,000.
Tue 4th December 2018 Council Meeting
Chez Prout
Wed 5th December 2018 Christmas Dinner
at Flackwell Heath Golf Club
Thu 6th December 2018 Marlow Late Night Shopping

Wed 12th December 2018 Business Meeting
NOT at Flackwell Heath Golf Club. Each Committee will have its own venue.
Wed 19th December 2018 Bangers and Mash
at Marlow Rowing Club
Wed 26th December 2018 Boxing Day
No meeting. Have a Happy Christmas
Mon 31st December 2018 at 10.30 - 12.30 New Year's Eve Breakfast
Monday 31st December 2018 - An informal breakfast/brunch for members and partners at Cote Brasserie. Contact Steve to book a place.
Wed 2nd January 2019 Fellowship
Results of the .2018 prediction quiz and questions for the 2019 quiz
Tue 8th January 2019 Council Meeting
Wed 9th January 2019 Club web-site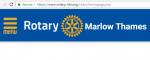 Speaker: Trevor Parkins
Wed 16th January 2019 The Recording Business
Speaker: Stuart Epps (producer for Elton John and others)
Sat 26th January 2019 Burns Night
Traditional supper with haggis, piper and band at Liston Hall
Fri 8th March 2019 - Sun 10th March 2019 District Conference
in Portsmouth Guildhall
Sat 30th March 2019 Progressive Supper
Volunteer to provide a starter or a main course in your own home. Everybody meets up for dessert.
Wed 29th February 2040 - 02.00 Leap Day Celebration