Completed meetings and events 2019-2020
Sat 19th October 2019 Street Collection RWB

Proceeds to "End Polio Now"
Mon 14th October 2019 Council Meeting
Mon 7th October 2019 Speaker Evening - MFH - Conflict Resolution
Sun 29th September 2019 Youth Challenge - RWB Academy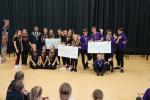 The annual Youth Challenge was won by a team from the RWB School of Dance; RWB WBLETS were second and the School of Dance were third. The photos show a selection of the challenges and all the competing Teams. Contact the Webmaster for copies.
read more...
Mon 23rd September 2019 Fellowship Evening
Mon 16th September 2019 Business Meeting - MFH
Mon 9th September 2019 Council Meeting
Sun 8th September 2019 RWB&DRC Car Boot Sale
Lower Hook Farm - check times!
Sat 7th September 2019 Annual Charity Calendar Launch
Check times and location
Mon 2nd September 2019 Speaker Evening - MFH - Antiphospholipid Syndrome
Mon 26th August 2019 Public Holiday
Mon 19th August 2019 Business Meeting - MFH
Mon 12th August 2019 Council
Sun 11th August 2019 RWB&DRC Pig Roast
Lower Hook Farm - tickets from John Hicks
Mon 5th August 2019 Speaker Evening - MFH - Day in RWB
Mon 29th July 2019 - Barbecue at The Croft
Mon 22nd July 2019 Business Meeting - MFH
Mon 15th July 2019 Council Meeting
Mon 8th July 2019 Speaker Evening - MFH - Debbie Clark
Mon 1st July 2019 Presidential Handover
A 'Black Tie' event at MFH to witness the Presidential Jewel being handed form Ian to Stephen
future
calendar
district events
local events