All photographs on this website are protected by Copyright of WBTRC or the individual photographer
---
Thought for May

Our lives are defined by opportunities - even the ones we missed
Brad Pitt as Benjamin Button in
The Curious Case of Benjamin Button
---
Jane & Nigel's Wedding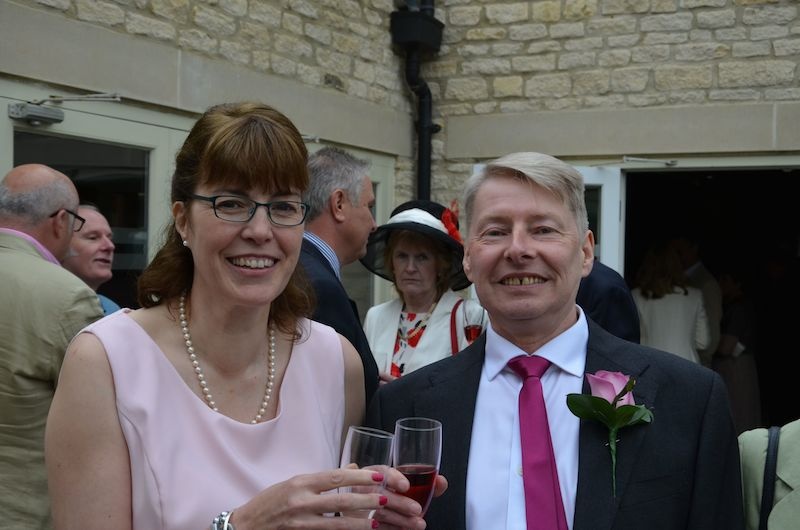 Well, they've finally done it and got hitched! At a lovely ceremony on 25 May, Jane Reddaway married Nigel Ashley and we wish them both every happiness
---
RWBTRC - Best in Carnival 2016
Despite horrendous weather that left the cast members cold and wet, The RWBTRC Carnival Crew retained the "Best in Class" Cup and won "Best in Carnival" for the second time in 4 years. The theme was 'a Victorian Circus' and the photo below typifies the skill, humour, and commitment shown not only by the parade cast members but also by the support organisation of caterers, make-up artists, costume makers, constructors and painters, and a host of Sponsors.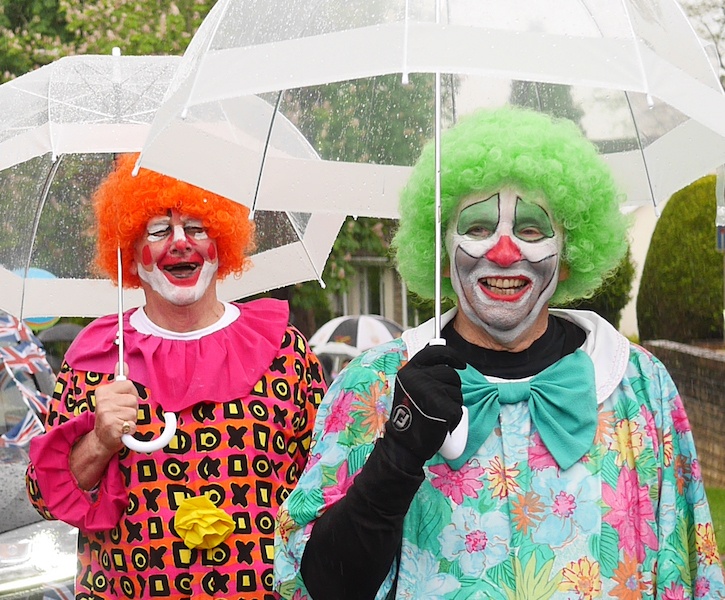 Our float this year carried 'Marvo's Human Cannon and a Fortune Teller's tent. PG events came up trumps again with building materials and signs; WBLOS helped with some costumes and wigs; JW Signs emblazoned Marvo's costume; ABC Electrification donated the cannon's barrel and the whole effort was borne on Rick Rowles' trailer. A huge "thankyou" to all these sponsors for their continued support and generosity.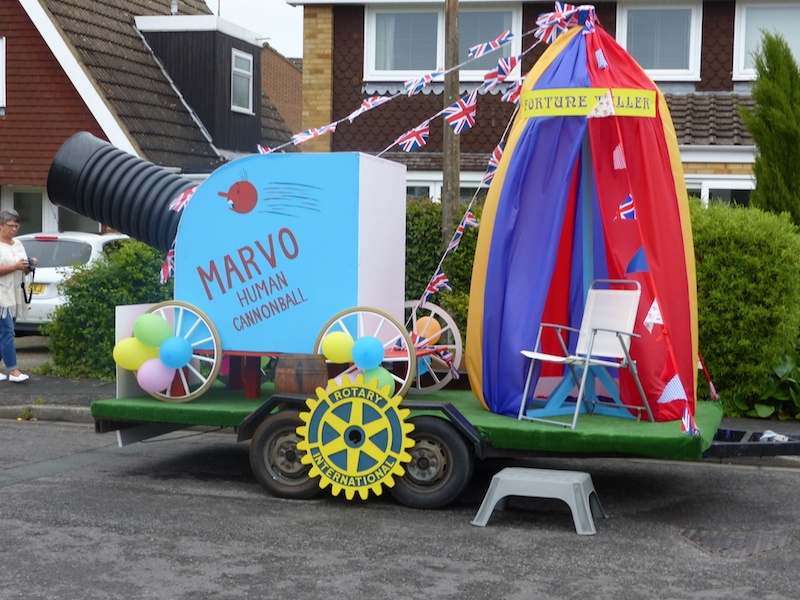 We have donated the cannon and tent to Longleaze Pre-School and Nursery in the hope that they will bring continued enjoyment and pleasure to our younger generations.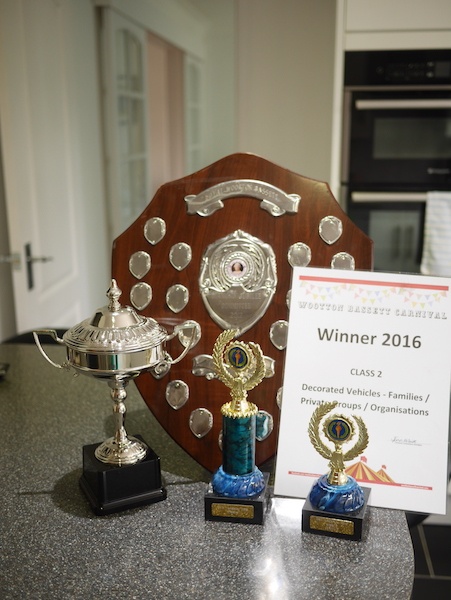 ---
Spring Tea 7 May 2016
Saturday the 7th of May saw the 3rdannual Royal Wootton Bassett Senior Spring Tea, supported by Age Concern and the local Town Council and hosted by The Rotary Club of Royal Wootton Bassett Town. The event took place in the town's Memorial Hall where the 120 guests were greeted on arrival by the newly inaugurated Mayor Mary Champion and a very welcome sherry; all to the sounds of the extremely talented and popular Royal Wootton Bassett Academy Swing Band. The band of over twenty local youngsters, aged 12 – 17, played a medley of popular tunes and show-cased their considerable talent.
High tea, with an abundance of sandwiches, savouries and home bakes was served mid afternoon following a toast to celebrate the recent 90th Birthday of Her Majesty The Queen. After tea further entertainment was provided by the popular local band "End of the Track", the 11 strong male harmony group played tunes spanning the decades.
All at the Rotary club would like to acknowledge that this event benefits from support from the wider local community and therefore we wish to thank all who assisted in any way including our army of home bakers and the extensive support of Gill Collett, the memorial hall caretaker, who supported us in various ways on the day. We would also like to thank our "flower ladies" Kate and Barbara for providing beautiful table centres and Juillet of Guelder Rose florists who kindly provided large floral displays.
The Rotary Club of Royal Wootton Bassett Town is already looking forward to hosting the Senior Spring Tea 2017, for further information please contact us at RWBRotaryevents@gmail.com
Please 'double-click' on the image on the carousel above to see other photos of the Tea Party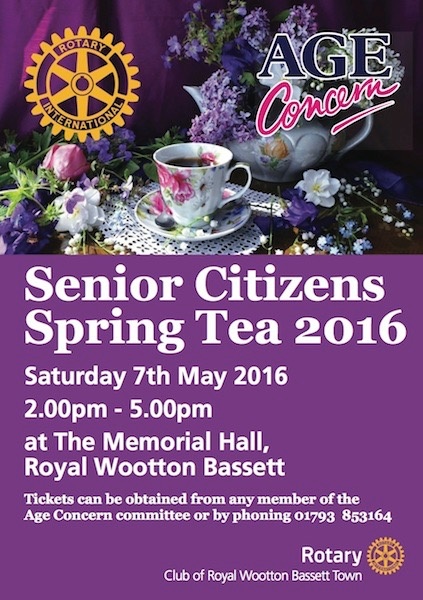 ---
Tiger Sharks win 2016 Youth Challenge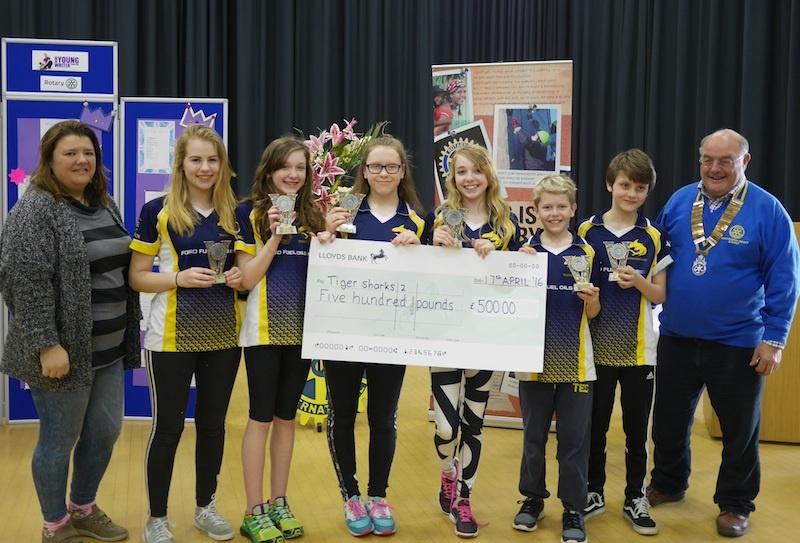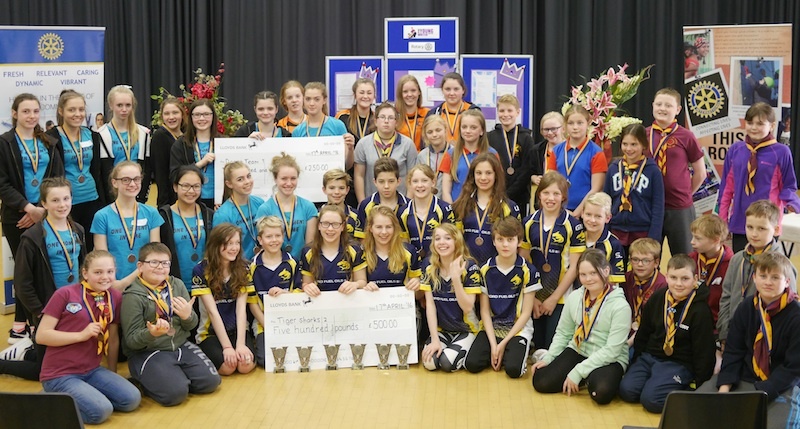 Sunday the 17th of April saw the 4th Annual RWB Rotary Youth Challenge, hosted and funded by both of the town's Rotary clubs. This took place at RWB Academy with the kind permission of G4S.
Teams of 6 from local youth groups including Guides, Otters, Tiger Sharks ASC, Lyneham Air Scouts and Royal Wootton Bassett School of Dance competed head to head for the 2016 winning title and prize money to support their organisation.
The day consisted of a series of mental and physical challenges prior to a provided lunch and the afternoon was rounded off the with a grand decider testing their planning and engineering skills when attempting to get hollow chocolate eggs from the 1stto the ground floor whilst remaining intact and using only the limited provided kit.
This year saw our reigning champions of the last 2 years, The Royal Wootton Bassett School of Dance beaten into 2nd place by the narrowest of margins by a team from Tiger Sharks ASC. The £500 for 1stplace and £50 for their second participating team was a welcome boost to their current fundraising to enable the squad to attend a training camp in Barcelona. The Royal Wootton Bassett School of Dance through achieving 2nd place secured £250 and a further £50 for their second participating team. All further teams were also awarded participation prizes of £50.
Both Rotary Clubs thank all the teams who participated and their Youth leaders for supporting this event and all for their enthusiasm and showing great gamesmanship. We look forward to welcoming all back next year along with entrants from further local youth groups. If you wish to learn more about this event or to register in advance for the 2017 event for one of the limited places please contact Ceri or Kyle at RWBRotaryEvents@gmail.com
---
Local Lad wins "Poem for the Queen" award
To celebrate the pending 90th Birthday of Her Majesty The Queen the Rotary Club of Royal Wootton Bassett Town invited children aged 7-17 to participate in a special poetry competition.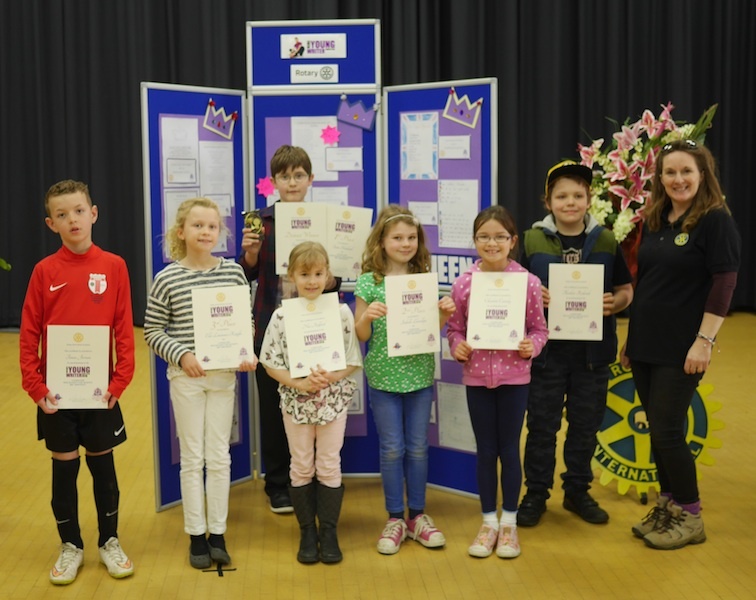 We were very impressed with the response, the quality and the imagination; there is clearly a passion for poetry in Royal Wootton Bassett. We would also like to acknowledge the support of the teaching staff at Noremarsh School and Broad Town School for helping co-ordinate entries to this competition.
A Prize ceremony was held mid-day at the Rotary Youth Challenge event where certificates of participation were given to all entrants and prizes of book tokens were awarded as below;
1st Place to Sam Hartland, aged 9, from Noremarsh School, 2nd Place to Isabelle Llewellyn, age 8, from Broad Town School and 3rd Place to Ella Lawrence-Knight, aged 10, from Noremarsh School.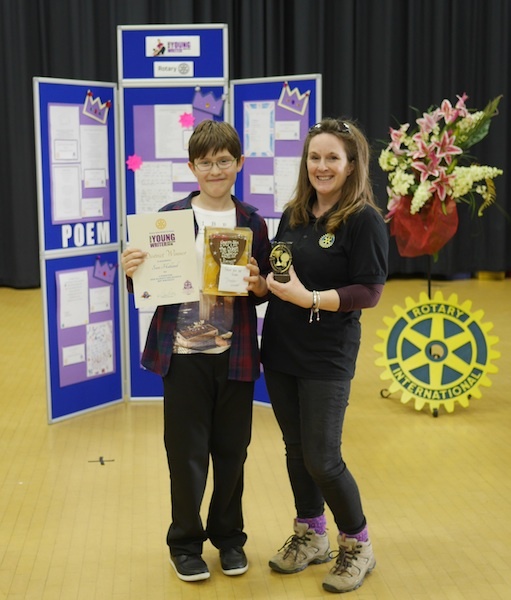 All poems submitted locally were forwarded for judging also at District stage and we are thrilled to announce that our local winner Sam Hartland was also the District judges' choice for which Sam was awarded a further book token and a trophy. A large card containing poems from this National competition is to be presented to the Queen later this week.
---
We're Supporting "Brighter Futures"
RWBTRC will be supporting Swindon's Brighter Futures Radiotherapy Appeal
Each year hundreds of Swindon Cancer patients travel on average 2,500 miles to receive essential Radiotherapy treatment. At one of the most vulnerable times in their lives they make this journey away from their support network.
The appeal needs to raise £3 million in order to equip Swindon with 2 specialist linear accelerators.
Brighter Futures, the charity for Great Western Hospitals NHS Foundation Trust, are running an appeal in order to provide this equipment onsite in Swindon. This is in partnership with Oxford University Hospital who will build the facility. Your donation directly, or through a RWBTRC fund rasing event, will be used to purchase the equipment required to provide local people with radiotherapy in Swindon.
With eight people every day being diagnosed with Cancer most of us either know someone effected or have been personally affected-this is our chance to support the biggest improvement in Cancer care in Swindon for over a generation.
Please help when you see the Brighter Futures logo
---
Welcome
Welcome to the Website of the Rotary Club of Royal Wootton Bassett Town. We are a small but active group of ladies and men committed to changing people's lives through our fundraising activities in the local community. We have supported charities in our own community and as far afield as Zambia, , , and - and alongside our charitable work, we aim to have fun and enjoy each other's company through an ongoing programme of meetings and events.
RWBTRC is proud of its connection with the town of which is situated towards the southern extreme of the Cotswolds and just north of the Marlborough Downs. Now a small market town, Royal Wootton Bassett was originally larger than its neighbour, but has become well known around the world for the dignified respect that was given when the bodies of servicemen killed overseas were repatriated through nearby RAF Lyneham. As a result of these selfless and spontaneous acts of respect and remembrance, Her Majesty the Queen conferred the title of Royal on the Town in October 2011 when HRH The Princess Royal handed the Letters Patent to the Mayor Paul Heaphy. Although the repatriations have now moved to RAF Brize Norton following the closure of RAF Lyneham, the Town - and RWBTRC - maintains close contact with the military in general and has been a proud supporter of Help for Heroes through the annual calendar. More information on the Community and the Local Area may be found on the Town Council website
The Club's annual activities have now become focussed jointly on running a Charity Shop and producing and marketing a Charity Calendar. The Charity Shop depends upon the availability of empty premises in the Town and a more permanent site would be welcomed as it is a very popular 'fundraiser' for the Club's charities raising over £1800 in 2014. If any of our readers knows of a suitable shop that we might use, please get in touch via the 'Contact Us' tab at the top of the page.
We have managed, each year, to secure the generous support of local businesses for the calendar so that the Limited Edition print run can been entirely funded by donations. This has meant that every penny raised has, and will, go to "worthy causes" and the total sum of £5000 raised from the 2013 calendar was divided between Help for Heroes, and the Wiltshire Air Ambulance. Local businesses also help our cause by selling the calendars on our behalf .
In the days leading up to tmas we regularly take "Father tmas" in his sleigh around the streets and neighbourhoods of Royal Wootton Bassett with a band of eager helpers and some joyful seasonal music. In 2013, the wonderful folks of Wootton Bassett donated over £1500 to Rotary charities.
In addition, we hold Street Collections - usually to raise money to support the victims of natural disasters such as the typhoon in the Philippinnes in November 2013 - and the generosity of the Townsfolk is always humbling in its selflessness. We also raise funds to send a local teenager each year on Rotary's own "Leadership Award" course.
But our efforts are not solely geared to fund raising, and we have a regular programme of Speaker Evenings and Fellowship Evenings as well as an entry to the District Quiz, District Skittles and - recently - District Boules competitions. Our motto is 'Service Above Self' but we try to make sure that every 'service' or fundraising activity, is founded on a strong fellowship between the Members and their families. Recently we have enjoyed Dog-Racing Nights at Blunsdon Stadium, a Curry Supper Evenings at the Ganges Restaurant and a Barbecue at one of our Member's home. We also hold an annual Quiz Night and produce an entry for the Town's Carnival.
Reports of our past fun and fundraising activities appear on this page for about a month and are then filed under the major activity groups: International, Community and Youth - and Rotary's own charity - Foundation. These folders, photograph galleries and reports can be accessed through the menus at the top of the page.
---
An Invitation to You
The Royal Wootton Bassett Town Rotary Club (RWBTRC) welcomes visitors to its meetings and is always seeking to increase the Club membership. Please visit our Meetings and Events pages to see what we do, or Contact us if you would like to send an e-mail to the Royal Wootton Bassett Town Rotary Club on any topic.
The direct access website address is www.wbtrc.org.uk and if you would like to visit the website of our 'Mother Club' - the Rotary Club of Royal Wootton Bassett and District (RWB&DRC) - which meets on a Wednesday lunchtime, please click here.
As a final reminder, there are two Rotary Clubs in Royal Wootton Bassett. This is the website of the Royal Wootton Bassett Town Rotary Club (RWBTRC) but the Events calendar sometimes includes events that are being organised by the Royal Wootton Bassett & District Rotary Club (RWB&DRC) and you should go to their Website for more information on these activities.
meeting details

In the next 30 days...
Social Media...
Rotary Club of Royal Wootton Bassett Town
Promote your Page too
Meeting Information...
We meet on Mondays at 1930 (for a 1945 start on the First and Third Monday only - for Second and Fourth Mondays contact Secretary) The Marsh Farm Hotel, Wootton Bassett, Wilts SN4 8ER tel: 01793 842800