Future meetings and events
Sat 24th August 2019 at 12.00 - 16.00 Meet the Sikhs, Saturday 24 August 2019 on the cathedral green

The very successful 'Meet the Sikhs' event is being repeated, but has moved to the Wells Cathedral Green. The same turbans, drummers, dancers and food will showcase the Sikhs. NEW: a chapatti workshop and Sikh storytelling for the children - of all ages!
Mon 26th August 2019 at 12.00 - 15.00 Pop-up shop at Moat Boat Race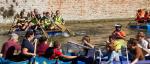 The Rotary Pop-up Shop will appear from 1200 to 1500 on the Bank Holiday Monday, alongside the Great Moat Boat Race at the Bishop's Palace.
Sun 1st September 2019 at 11.00 - 16.00 Emergency Services Day
More than a dozen different, local organisations which provide emergency services will assemble and provide an opportunity to celebrate their work and contribution to the local community.
Mon 7th October 2019 at 19.00 - Mon 24th June 2019 - 21.00 Learn Chinese cooking THIS EVENT HAS BEEN POSTPONED UNTIL FURTHER NOTICE!

A talk will be given by the Nepal Trust about its work to rebuild and equip the Green Pastures Hospital, devastated in the major earthquake five years ago. There will be a chance to learn how to cook Chinese food and then enjoy it.
Sat 12th October 2019 at 09.00 - 18.00 District Conference 2019 in Southampton
The one day format has been adopted again for 2019, with golf and / or a dinner the day before and a celebratory dinner on the Saturday evening. Accommodation will be available for either / both evenings at the venue.
Sun 8th December 2019 at 11.00 - 16.00 Reindeer Parade on Sunday 8 December in Wells Market Place and High Street
The annual Reindeer Parade and associated children's competitions take place in the town's High Street and Market Place.