Future meetings and events
Tue 19th June 2018 at 19.00 - 22.00 Club Dinner meeting: Speaker: Bob Clarke, local historian.
'The Basingstoke Riots' ~
Speakers Host: Tony Pickering, Club Host: Bob Evans
Mon 25th June 2018 at 18.00 - Director of Nursing Awards 2018
The club has been a proud sponsor to these Awards for many years. This year held at Oakley Hall.
Tue 26th June 2018 at 19.00 - 22.00 Club Changeover
Club Host: Annette Meredith
The end of another successful year. President Lindy and her team hand over the reins to Julian Ricketts and his team.
Tue 3rd July 2018 at 19.00 - 22.00 Community Speaker - Kevin Laing, BVA & Basingstoke Sports Council
Speakers Host: Alan Gibson - Club Host: Alf McCarthy
Kevin is chairman of the Basingstoke Sports Council and runs the annual Basingstoke Sports Awards that the club sponsors. He also is acting leader of Basingstoke Voluntary Action.
Tue 10th July 2018 at 19.00 - 22.00 Business Planning : Focus TBD - Speakers Host: Club Host:

Tue 17th July 2018 at 19.00 - 22.00 Dinner - Speaker?? - Speakers Host: Club Host:
Tue 24th July 2018 at 19.00 - 22.00 Dinner - Speaker?? - Speakers Host: Club Host:
Tue 31st July 2018 at 19.00 - 22.00 Special Guest Speaker : Squadron Leader Ian Williamson , RAF Odiham Speakers Host: Club Host: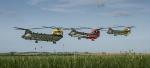 Tue 7th August 2018 at 19.00 - 22.00 Dinner - Speaker ?? - Speakers Host: Club Host:
Tue 14th August 2018 at 19.00 - 22.00 Dinner - Speaker?? - Speakers Host: Club Host:
Tue 21st August 2018 at 19.00 - 22.00 Dinner - Speaker?? - Speakers Host: Club Host:
Tue 28th August 2018 at 19.00 - 22.00 No Meeting PH
Tue 4th September 2018 at 19.00 - 22.00 Dinner - Speaker ?? - Speakers Host: Club Host:
Tue 11th September 2018 at 19.00 - 22.00 Dinner - Speaker?? - Speakers Host: Club Host:
Tue 18th September 2018 at 19.00 - 22.00 Dinner - Speaker?? - Speakers Host: Club Host:
Tue 25th September 2018 at 19.00 - 22.00 Dinner - Speaker?? - Speakers Host: Club Host:
Tue 2nd October 2018 at 19.00 - 22.00 Dinner - Speaker ?? - Speakers Host: Club Host:
Tue 9th October 2018 at 19.00 - 22.00 Dinner - Speaker?? - Speakers Host: Club Host:
Tue 16th October 2018 at 19.00 - 22.00 Dinner - Speaker?? - Speakers Host: Club Host:
Tue 23rd October 2018 at 19.00 - 22.00 Dinner - Speaker?? - Speakers Host: Club Host:
Tue 30th October 2018 at 19.00 - 22.00 Dinner - Speaker?? - Speakers Host: Club Host:
Tue 6th November 2018 at 19.00 - 22.00 Dinner - Speaker ?? - Speakers Host: Club Host:
Tue 13th November 2018 at 19.00 - 22.00 Dinner - Speaker?? - Speakers Host: Club Host:
Tue 20th November 2018 at 19.00 - 22.00 Dinner - Speaker?? - Speakers Host: Club Host:
Tue 27th November 2018 at 19.00 - 22.00 Dinner - Speaker?? - Speakers Host: Club Host:
Tue 4th December 2018 at 19.00 - 22.00 Dinner - Speaker ?? - Speakers Host: Club Host:
Tue 11th December 2018 at 19.00 - 22.00 Dinner - Speaker?? - Speakers Host: Club Host:
Tue 18th December 2018 at 19.00 - 22.00 Dinner - Speaker?? - Speakers Host: Club Host:
Tue 25th December 2018 at 19.00 - 22.00 No Meeting PH
Tue 1st January 2019 at 19.00 - 22.00 No Meeting PH
Tue 8th January 2019 at 19.00 - 22.00 Dinner - Speaker?? - Speakers Host: Club Host:
Tue 15th January 2019 at 19.00 - 22.00 Dinner - Speaker?? - Speakers Host: Club Host:
Tue 22nd January 2019 at 19.00 - 22.00 Dinner - Speaker?? - Speakers Host: Club Host:
Tue 29th January 2019 at 19.00 - 22.00 Dinner - Speaker?? - Speakers Host: Club Host:
Tue 5th February 2019 at 19.00 - 22.00 Dinner - Speaker ?? - Speakers Host: Club Host:
Tue 12th February 2019 at 19.00 - 22.00 Dinner - Speaker?? - Speakers Host: Club Host:
Tue 19th February 2019 at 19.00 - 22.00 Dinner - Speaker?? - Speakers Host: Club Host:
Tue 26th February 2019 at 19.00 - 22.00 Dinner - Speaker?? - Speakers Host: Club Host:
Tue 5th March 2019 at 19.00 - 22.00 Dinner - Speaker ?? - Speakers Host: Club Host:
Tue 12th March 2019 at 19.00 - 22.00 Dinner - Speaker?? - Speakers Host: Club Host:
Tue 19th March 2019 at 19.00 - 22.00 Dinner - Speaker?? - Speakers Host: Club Host:
Tue 26th March 2019 at 19.00 - 22.00 Dinner - Speaker?? - Speakers Host: Club Host:
Tue 2nd April 2019 at 19.00 - 22.00 Dinner - Speaker ?? - Speakers Host: Club Host:
Tue 9th April 2019 at 19.00 - 22.00 Dinner - Speaker?? - Speakers Host: Club Host:
Tue 16th April 2019 at 19.00 - 22.00 Dinner - Speaker?? - Speakers Host: Club Host:
Tue 23rd April 2019 at 19.00 - 22.00 Speaker: ? - Speakers Host: - Club Host:
Tue 30th April 2019 at 19.00 - 22.00 Dinner - Speaker?? - Speakers Host: Club Host:
Tue 7th May 2019 at 19.00 - 22.00 No Meeting PH
Tue 14th May 2019 at 19.00 - 22.00 Dinner - Speaker?? - Speakers Host: Club Host:
Tue 21st May 2019 at 19.00 - 22.00 Dinner - Speaker?? - Speakers Host: Club Host:
Tue 28th May 2019 at 19.00 - 22.00 No Meeting PH
Tue 4th June 2019 at 19.00 - 22.00 Dinner - Speaker ?? - Speakers Host: Club Host:
Tue 11th June 2019 at 19.00 - 22.00 Dinner - Speaker?? - Speakers Host: Club Host:
Tue 18th June 2019 at 19.00 - 22.00 Dinner - Speaker?? - Speakers Host: Club Host:
Tue 25th June 2019 at 19.00 - 22.00 Dinner - Speaker?? - Speakers Host: Club Host:
Tue 2nd July 2019 at 19.00 - 22.00 Dinner - Speaker ?? - Speakers Host: Club Host:
Tue 9th July 2019 at 19.00 - 22.00 Dinner - Speaker?? - Speakers Host: Club Host:
Tue 16th July 2019 at 19.00 - 22.00 Dinner - Speaker?? - Speakers Host: Club Host:
Tue 23rd July 2019 at 19.00 - 22.00 Dinner - Speaker?? - Speakers Host: Club Host:
Tue 30th July 2019 at 19.00 - 22.00 Dinner - Speaker?? - Speakers Host: Club Host:
Tue 6th August 2019 at 19.00 - 22.00 Dinner - Speaker ?? - Speakers Host: Club Host:
Tue 13th August 2019 at 19.00 - 22.00 Dinner - Speaker?? - Speakers Host: Club Host:
Tue 20th August 2019 at 19.00 - 22.00 Dinner - Speaker?? - Speakers Host: Club Host:
Tue 27th August 2019 at 19.00 - 22.00 No Meeting PH