Future meetings and events
Tue 23rd October 2018 at 19.00 - 22.00 Special Guest Speaker : CHIEF INSPECTOR MATT REEVES

PCI Matt Reeves currently runs the police operation serving Basingstoke & Deane . This evening he will talk briefly about himself and then on the challenges facing our local police .
Speakers Host Kevin Vickers : Club Host Jim Lawson
Tue 30th October 2018 at 19.00 - 22.00 International Event : SHOEBOX CHECKING & ASSEMBLY

Around 60 sponsored shoeboxes to assemble, and hopefully 00's to check & despatch. An action-packed fun evening. Hard work but satisfying.
Club Host Bob Lentell
Tue 6th November 2018 at 19.00 - 22.00 Dinner - Special Guest Speaker ROSS HOLIDAY, CEO of Portals Overton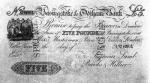 Portals has a long history in the design and printing of special papers like bank notes. CEO Ross Holiday will tell us about the history and current operations of this important local business.
Speaker Host Rod Clark Club Host Gareth Lewis
Tue 13th November 2018 at 19.00 - 22.00 Dinner - Rotary Speaker PAUL PARFREY PHF

We were delighted when Paul transferred to our club following his move to live in Basingstoke. Tonight he shares his life story, including allowable snippets about his job at AWE
Speakers Host Julian Ricketts : Club Host Alf McCarthy
Fri 16th November 2018 at 06.00 - 22.00 Fundraising Event: ROTARY CHILDREN IN NEED COLLECTION AT H/ROW

A group of our members join 00's of Rotarians collecting for BBC's Children in Need appeal at Heathrow, including airside. Pudsey will get around all the terminals and £000's will be raised.
Tue 20th November 2018 at 19.00 - 22.00 Dinner - Youth Event : REVIEW OF OUR YOUTH PROJECTS

Rtns Ruth & Les Jones will lead a review of our Youth Projects, including Rotary Competitions, Peacejam , and our Interact Club from Cranbourne College.
Speakers Host : Club Host Debbie McLatch
Tue 27th November 2018 at 19.00 - 22.00 Dinner - Club Business Meeting : THE SGM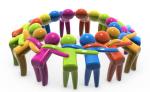 The Annual Special General Meeting when we review accounts for last Rotary Year and elect key officers for next Rotary year.
Club Host : Annette Meredith
Sat 1st December 2018 at 12.00 - 20.00 Community Event: ELVING IN OVERTON

Following last years success we have again been asked to help Overton Business Association providing Elves for their extended Christmas Shopping event and Santa's Grotto. An excuse to dress up!
Sun 2nd December 2018 at 16.00 - 18.00 Community Event : THE ST MICHAEL'S HOSPICE LIGHT UP A LIFE

Car Parking Marshalls required for this moving fundraising event. Couple of hours well spent for a great cause.
Tue 4th December 2018 at 19.00 - 22.00 Dinner - Special Guest Speaker : MALCOLM NELSON, speaker & writer

Malcolm is a member of the British Society of Criminologists. He worked in various roles with HM Customs & Excise. His talk is themed "40 years of catching smugglers".
Speakers Host : Club Host Richelle O'Reilly
Tue 11th December 2018 at 19.00 - 22.00 Dinner - Social Event : CHRISTMAS JUMPERS & HEADGEAR

This evening is about home-made fun, and also you chance to show off your terrific fashion sense wearing your favourite Xmas jumper and headgear. Unbelievable prizes to be won.
Club Host : Tony Pickering
Sun 16th December 2018 at 09.00 - 13.00 Comunity Event : THE PELICAN CANCER FOUNDATION SANTA RUN
We have been asked again to provide peoplepower for this fundraising event. With luck and a fair wind there will be no flying gazebos.
Tue 18th December 2018 at 09.00 - 15.00 Community Event : THE CAMROSE CHRISTMAS LUNCH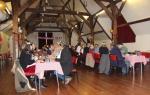 Christmas lunch is provided for the rough sleepers homeless people in Basingstoke and all the team at Camrose Centre Charity who support their needs over the year. Head chef Rtn Ann Fryer and her team prepare the traditional fare.
Tue 18th December 2018 at 19.00 - 22.00 THE CLUB CHRISTMAS DINNER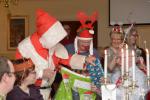 Traditional Fare, Unbelievable Secret Santa Gifts , and of course the usual high level of entertainment . All organised this year by our very own ALF McCARTHY.
Tue 25th December 2018 at 19.00 - 22.00 No Meeting PH
Tue 1st January 2019 at 19.00 - 22.00 No Meeting PH
Tue 8th January 2019 at 19.00 - 22.00 Dinner - Speaker?? - Speakers Host: Club Host:Richardson, Linda
Tue 15th January 2019 at 19.00 - 22.00 Dinner - Speaker?? - Speakers Host: Club Host: Rouse, Jonathan
Tue 22nd January 2019 at 19.00 - 22.00 Dinner - Speaker?? - Speakers Host: Club Host: Simpson, Paul
Tue 29th January 2019 at 19.00 - 22.00 Dinner - Speaker?? - Speakers Host: Club Host: Temple, Paul
Tue 5th February 2019 at 19.00 - 22.00 Dinner - Speaker ?? - Speakers Host: Club Host: Vickers, Kevin
Tue 12th February 2019 at 19.00 - 22.00 Dinner - Speaker?? - Speakers Host: Club Host: Whindle, Brian
Tue 19th February 2019 at 19.00 - 22.00 Dinner - Speaker?? - Speakers Host: Club Host: Willats, John
Tue 26th February 2019 at 19.00 - 22.00 Dinner - Speaker?? - Speakers Host: Club Host:
Tue 5th March 2019 at 19.00 - 22.00 Dinner - Speaker ?? - Speakers Host: Club Host:
Tue 12th March 2019 at 19.00 - 22.00 Dinner - Speaker?? - Speakers Host: Club Host:
Tue 19th March 2019 at 19.00 - 22.00 Dinner - Speaker?? - Speakers Host: Club Host:
Tue 26th March 2019 at 19.00 - 22.00 Dinner - Speaker?? - Speakers Host: Club Host:
Tue 2nd April 2019 at 19.00 - 22.00 Dinner - Speaker ?? - Speakers Host: Club Host:
Tue 9th April 2019 at 19.00 - 22.00 Dinner - Speaker?? - Speakers Host: Club Host:
Tue 16th April 2019 at 19.00 - 22.00 Dinner - Speaker?? - Speakers Host: Club Host:
Tue 23rd April 2019 at 19.00 - 22.00 Speaker: ? - Speakers Host: - Club Host:
Tue 30th April 2019 at 19.00 - 22.00 Dinner - Speaker?? - Speakers Host: Club Host:
Tue 7th May 2019 at 19.00 - 22.00 No Meeting PH
Tue 14th May 2019 at 19.00 - 22.00 Dinner - Speaker?? - Speakers Host: Club Host:
Tue 21st May 2019 at 19.00 - 22.00 Dinner - Speaker?? - Speakers Host: Club Host:
Tue 28th May 2019 at 19.00 - 22.00 No Meeting PH
Tue 4th June 2019 at 19.00 - 22.00 Dinner - Speaker ?? - Speakers Host: Club Host:
Tue 11th June 2019 at 19.00 - 22.00 Dinner - Speaker?? - Speakers Host: Club Host:
Tue 18th June 2019 at 19.00 - 22.00 Dinner - Speaker?? - Speakers Host: Club Host:
Tue 25th June 2019 at 19.00 - 22.00 Dinner - Speaker?? - Speakers Host: Club Host:
Tue 2nd July 2019 at 19.00 - 22.00 Dinner - Speaker ?? - Speakers Host: Club Host:
Tue 9th July 2019 at 19.00 - 22.00 Dinner - Speaker?? - Speakers Host: Club Host:
Tue 16th July 2019 at 19.00 - 22.00 Dinner - Speaker?? - Speakers Host: Club Host:
Tue 23rd July 2019 at 19.00 - 22.00 Dinner - Speaker?? - Speakers Host: Club Host:
Tue 30th July 2019 at 19.00 - 22.00 Dinner - Speaker?? - Speakers Host: Club Host:
Tue 6th August 2019 at 19.00 - 22.00 Dinner - Speaker ?? - Speakers Host: Club Host:
Tue 13th August 2019 at 19.00 - 22.00 Dinner - Speaker?? - Speakers Host: Club Host:
Tue 20th August 2019 at 19.00 - 22.00 Dinner - Speaker?? - Speakers Host: Club Host:
Tue 27th August 2019 at 19.00 - 22.00 No Meeting PH