Future meetings and events
Tue 24th July 2018 at 20.00 - 22.00 Speaker Meeting
Our Speaker tonight is Di Castledine. Her Topic is "Driving for the Elderley"
The Speaker's Host is John Goodgame.
The Visitor's Host is Don Simpson.
The Attendance Officer is Leanne Beverley.
Tue 31st July 2018 at 20.00 - 22.00 Partners' Meeting - Our Speaker this evening is Dr John Clegg.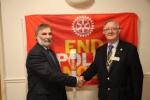 John is well know in Coventry for his work in orthopaedic surgery. He is also well known in the world of Rotary for his practical support of the Jaipur Limb Centre. John had made many trips to India to train surgeons working at the Jaipur Centre.