Future meetings and events
Tue 29th May 2018 at 12.30 - 14.00 Lunchtime Meeting - Club Assembly
A visit from Kevin Mack, Safeguarding Officer District 1145.
Health and Safety - Equality and Diversity - Compliance
Tue 29th May 2018 at 19.00 - 20.30 New Officers Meeting
30A Highlands Drive, Purley
Thu 31st May 2018 at 20.00 - 21.00 Council Meeting @ Oakwood Avenue
Tue 5th June 2018 at 09.00 - 16.30 Kids Out to Chessington Zoo

Chessington World of Adventures Resort, Leatherhead Rd, Chessington KT9 2NE. UK
Wed 6th June 2018 at 18.30 - 20.00 Dinner Business Meeting
Junior Room
Fri 8th June 2018 at 09.00 - Sun 10th June 2018 - 18.00 RC of Arnhem Oost's 55th Anniversary
55th Anniversary
Tue 12th June 2018 at 12.30 - 14.00 Lunchtime Meeting - June Club Assembly
The annual meeting of a Rotary Club at which the members discuss the programmes and activities of the club, Rotary International, the Association and of the district for the ensuing year and determine in broad terms the objectives for the coming year.
Sun 17th June 2018 at 12.30 - 15.00 Joint Strawberry Lunch

A Joint Purley Inner Wheel/Rotary gathering in aid of End Polio Now
at 30 Oakwood Avenue, Purley, CR8 1AQ
Wed 20th June 2018 at 18.30 - 20.00 Dinner Meeting - Ginnie Marshall. St. Giles
Sun 24th June 2018 at 10.00 - 17.00 Classic Car Fun Day (Whitgift RC)
Rotary Field, Purley CR8. UK
Tue 26th June 2018 at 12.30 - 14.00 Lunchtime Meeting - Handover
Thu 28th June 2018 at 20.00 - 21.00 Council Handover Meeting @ Oakwood Avenue
Sat 30th June 2018 at 10.00 - 17.00 Purley Food and Drink Festival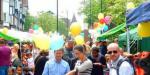 High Street, Purley. CR8. UK