Welcome to the website of the Rotary Club of Cockermouth
Sun 21st April Fairfield D team seen receiving the winners' shield from Pres. George Todhunter
Sun 5th May Touch a Truck Show a first for Cockermouth. On the May Bank Holiday Sunday 38 Rotarians made sure everything ran smoothly.
Play
Pause
Cockermouth Rotary Club was founded in July 1939 and has since then remained at the heart of the local community. The club supports local schools, and local projects and are also participants in International activites.Local community spirt has enabled the club to support various local organisations affected by the 2009 floods from the flood appeal fund.
We meet at Hundith Hill Hotel and the club welcomes any one who wishes to attend the meeting. Contact can be made through .David Collins , the secretary. (Tel. 01900 829948.)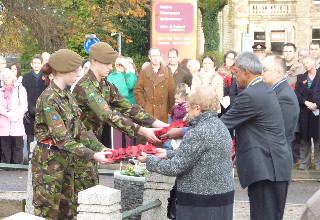 Cockermouth 2012 Remembrance Sunday: The Club installed new floral tubs and cleaned the Memorial setting this year.