Welcome to the website of the Rotary Club of Aberdeen Balgownie
WELCOME TO OUR CLUB IN BRIDGE OF DON
The club was formed in 1993 and currently has about thirty members, many living and working within the Aberdeen suburb of Bridge of Don
Forgotten your Username and/or Password - click here
VISITORS AND NEW MEMBERS ARE MOST WELCOME

---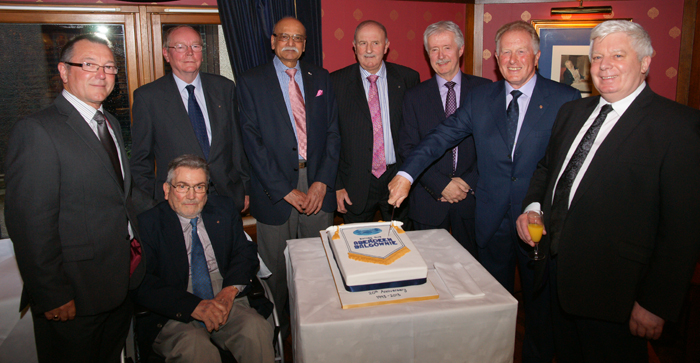 Cutting the cake at the 20th Birthday Dinner by Rtn Lesley Roger - The Clubs 1st President 20 years ago.
---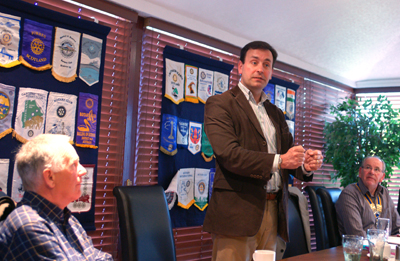 Barry Douglas speaker on Food Banks - click here for full story
---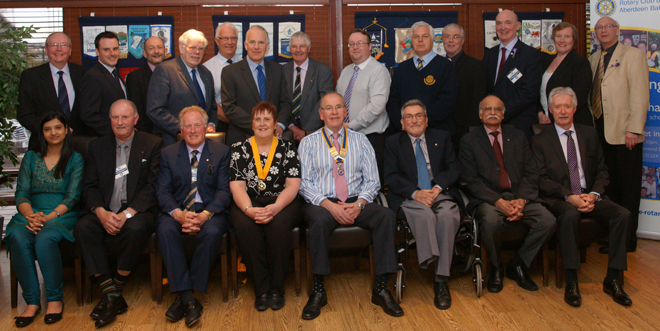 Some of the members of the Rotary Club of Aberdeen Balgownie posing for a group photo before the 20th Charter Celebrations start on the 18th May 2013.

---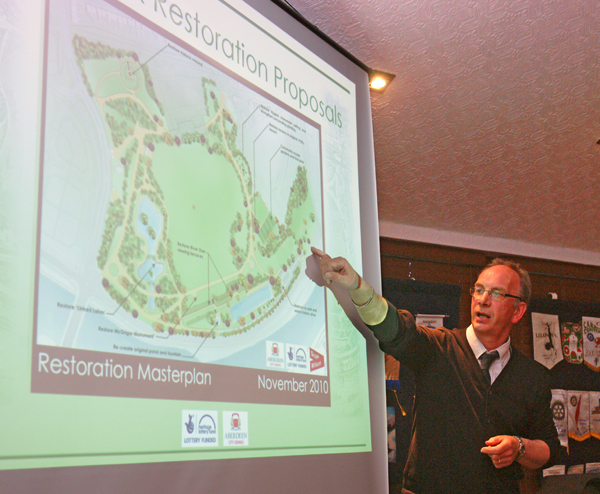 Arthur Gill, Outreach and Training Officer for the City Council, speaking about the Duthie Park Restoration Project. Click here or photo for more.
---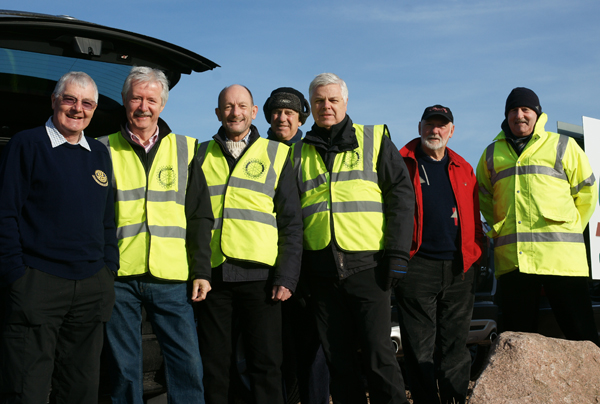 Some of the Rotarians helping at the Granite City Car Rally.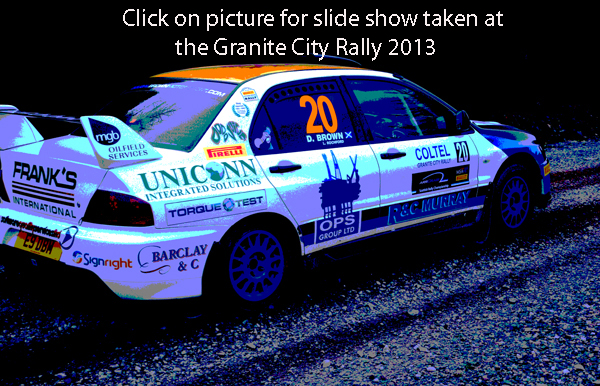 ---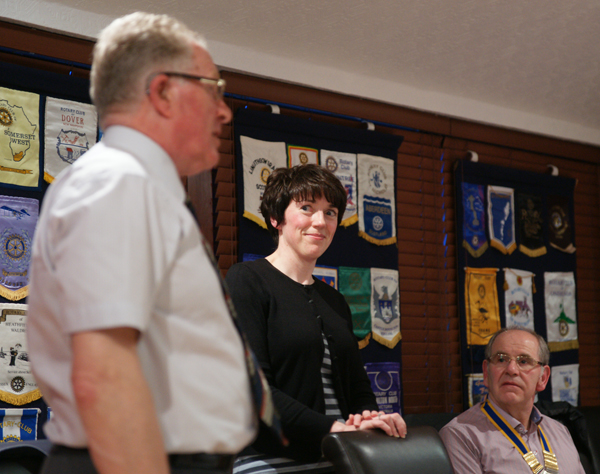 Rotarian Leslie give a official vote of thanks to our speaker Tracy Johnstone with President Bob looking on on the right. Charlie House will be a specialist residential respite centre for children with complex disabilities and medical needs. It will provide specialist care, support and respite for these children and their families.
Charlie House is the vision of North-East childrens charity Grampian Childrens Respite Care. Tracy Johnstone, their chairperson gave the Club a very interesting talk on The Charlie House Appeal.
Click here for their website.
---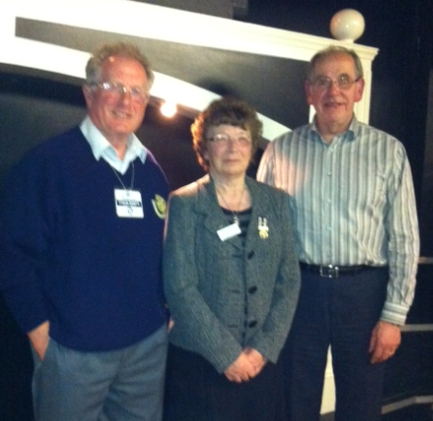 Rotarian Leslie Roger and President Bob of both of our Rotary Club of Aberdeen Balgownie attended the newly formed Rotary Club of Blackburn and District on 16th April to present them with the Secretary's jewel which our Club decided to gift them to celebrate them receiving their charter last year. Also in the picture, wearing the jewel, is Rotarian Dorothy Lamb their club Secretary.
---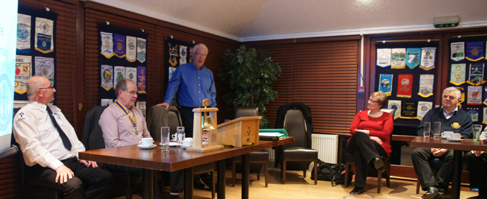 Howard Drysdale link to more . . . .
---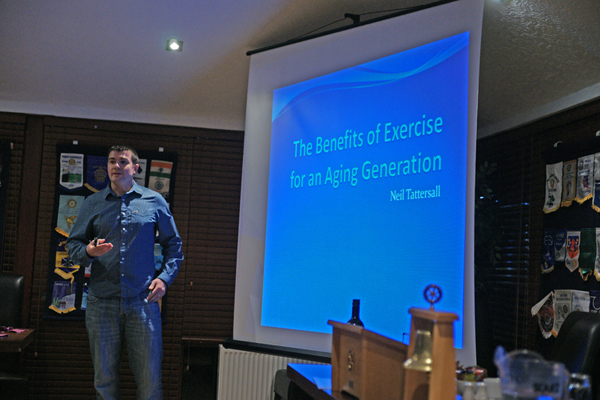 Neil Tattersall - link to more . . .
---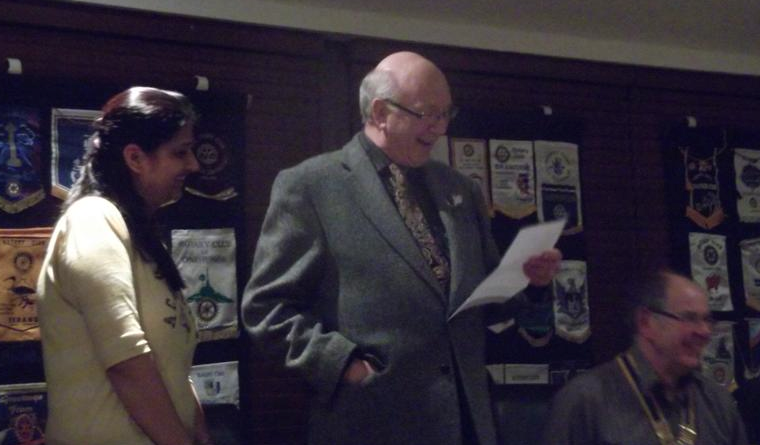 Rotarian Nitika Talwar being inducted into our Rotary Club on 22nd March. A first for our website as she found us and contacted the Club through the Club Website.
---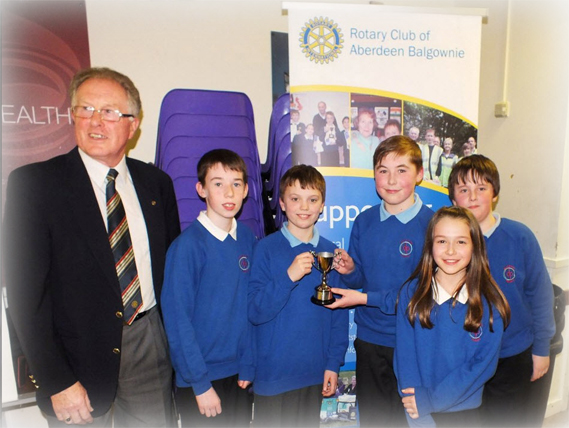 Primary School 2013 Winners - Click here for more photos and results
---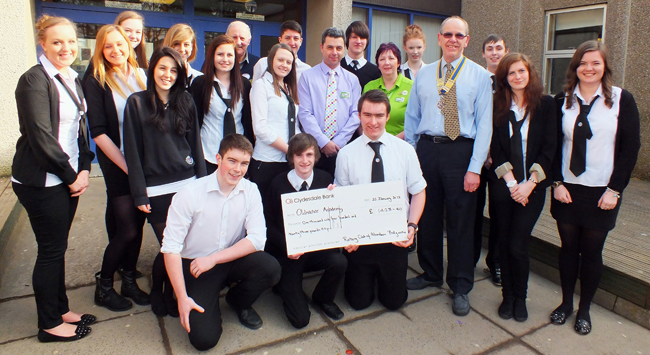 Presentation of Chq to Oldmachar Academy for . . . . (story to follow)
---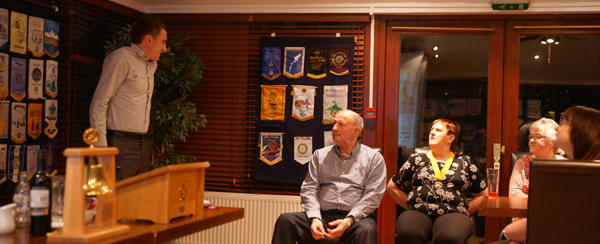 Miles Edwards during his talk to the club - press for full story
---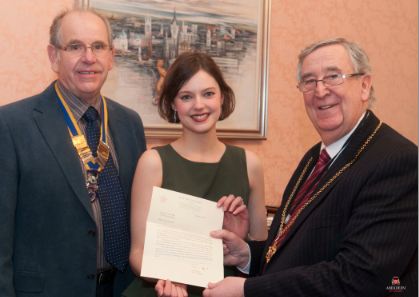 Tanita Maxwell, our Glover Scholar, presenting the letter she received from the Mayor of Nagasaki to Deputy Provost John Reynolds. Looking on is Bob Nicol, President of the Rotary Club of Aberdeen Balgownie.
Photograph Credit:
Norman Adams LBIPP Photographer
Aberdeen City Council
Corporate Communications,
Enterprise,Planning and Infrastructure.
Town House
Broad Street
Aberdeen
AB10 1AQ
Full story re above and report press here
---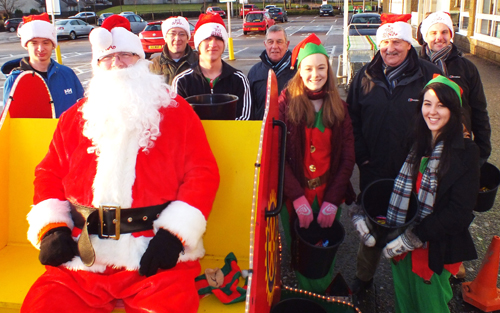 Santa along with his helpers outside ASDA's recently collecting for Charity.
Club members Chris and Bob doing their bit at the Rotary CLAN Raffle
ps - other members also attended!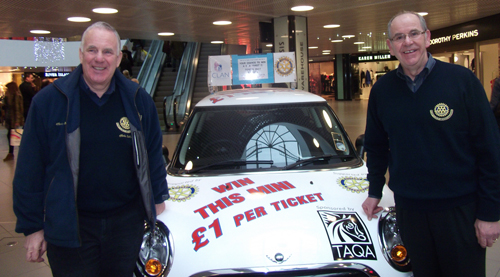 ---
"East meets West" - the Japanese lady is Mrs Miyama.
Click for full story and more pictures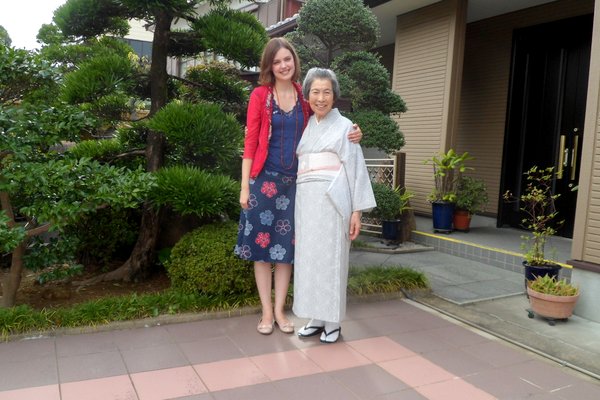 ---
BRIDGE
OF DON COMMUNITY HERO
RECEIVES AWARD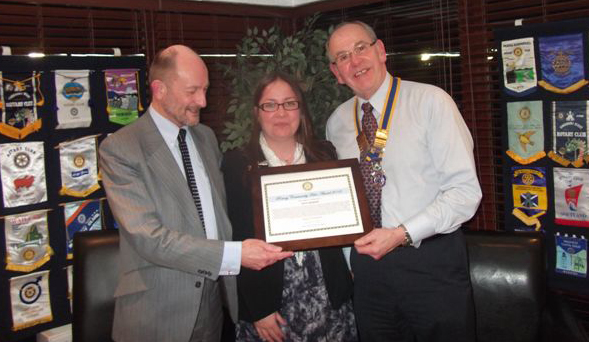 ---
Ryan Nicol Memorial Award for Enterprise Activity
Lewis Parley, pupil at Oldmachar Academy, and 2012 winner of the Rotary Club of Aberdeen Balgownie "Ryan Nicol Memorial Award for Enterprise Activity" as judged by pupils and staff.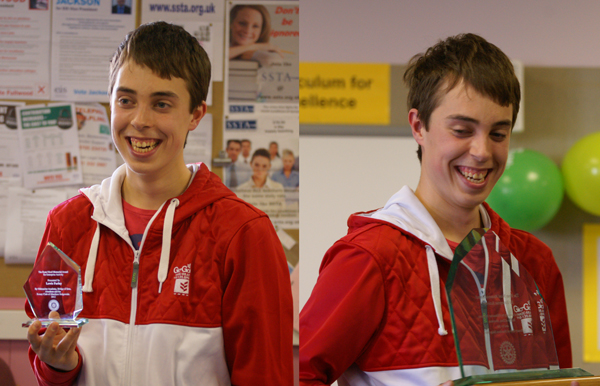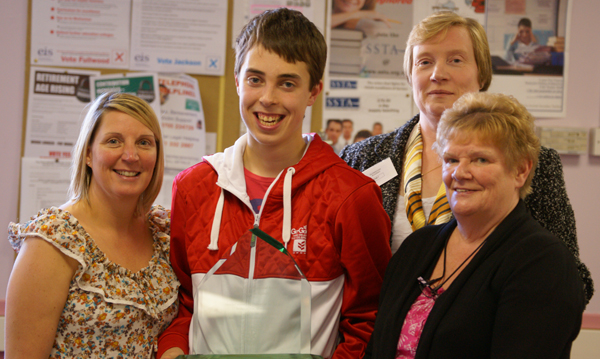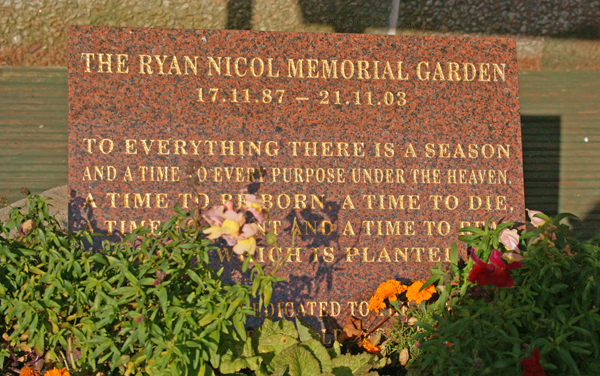 RYLA 2012 Candidates
From left
Bill Bruce, Youth Service convener of Aberdeen Balgownie Rotary, Lucy Fisher, Balgownie president Bob Nicol, Bethany Allan and RYLA district organizer Andrew McCartney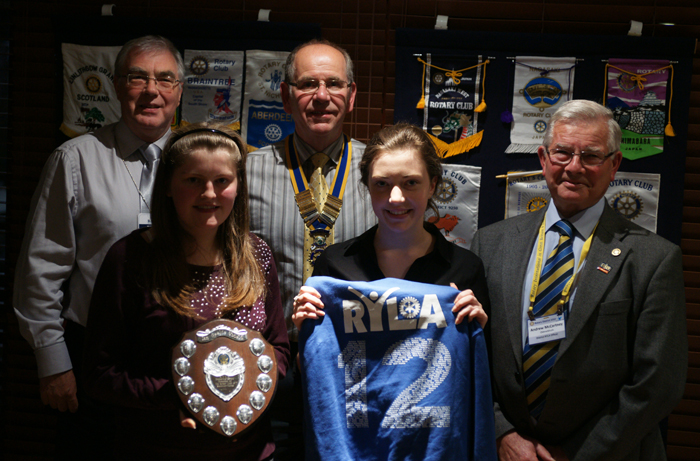 "I wanted to stay there for ever"
These were the words of Bethany Allan describing her memorable week at this year's Rotary Youth Leadership (RYLA) course at Nethybridge Outdoor Centre in July. Bethany (17), a sixth year pupil at Bridge of Don Academy, had been interviewed and selected by the Aberdeen Balgownie Rotary club, which meets in Bridge of Don, as one of two local girls to join a group of 80 teenagers from all over northern Scotland for a week of lectures, outdoor pursuits and team challenges designed to encourage self-motivation, confidence and leadership. Along with another local participant Lucy Fisher from Oldmachar Academy, Bethany gave an enthusiastic account of the week which included hillwalking, rock climbing, canoeing, rafting and gorge walking as well as debating, dancing and home-made entertainment.
"I've learned that I can do a lot more than I ever thought possible" said Lucy, who was chosen by her fellow course members to be the winner of the Ian Geekie shield, an annual award for endeavour. "Sometiimes I felt scared but pushed myself and was really proud when I made it" she said before being presented with the shield by club president Bob Nicol. Andrew McCartney of Oldmeldrum Rotary club, the main RYLA organizer for the district, thanked the club for its participation and commented on the quality of the candidates selected.
The annual RYLA courses are organized, staffed and fully funded by Rotary clubs nation-wide at a cost of some £500 per course member, and each participant receives a certificate and assessment report to add to their CV – a significant advantage in today's challenging jobs market
---
Christine - Community hero
A Bridge of Don resident got a big surprise in church on Sunday when she discovered that she had won a community service award. Christine Mackie from Middleton Park, a member of St Columba's church, was presented with a certificate and a cheque for £100 as a "Community Hero" in a scheme initiated by the local Rotary Club of Aberdeen Balgownie.

In making the presentation during the service David Blair, chairman of the club's community service committee, referred to her lifetime of giving practical help to many people - supporting the bereaved, helping young parents when they were ill, giving hospitality to university students from all over the world and working with the Bethany Christian Trust. "She represents the principle of service above self in a very real way and is a true community hero" he said.

"I had no idea that I was even nominated, but by David's second sentence I began to sink back in my chair" Christine said." I see the award not just for me but for my husband Dennis who has always helped me, and also for all the members of St Columba's church who serve their community."
Click here for pictures and award
---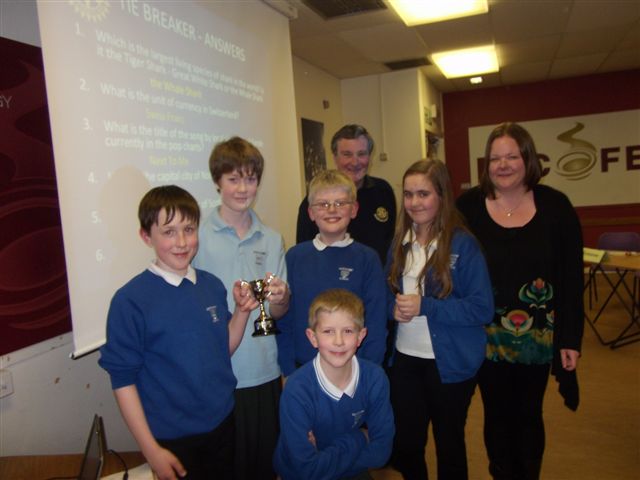 ROTARY SCHOOL QUIZ TEAM WINNERS

Pupils from Scotstown Primary School were victorious in the Bridge of Don area Primary School Quiz hosted by Aberdeen Balgownie Rotary Club on Wednesday 20 March 2012 at Oldmachar Academy. Six of the areas Primary Schools participated in a closely fought competition with Scotstown winning by a narrow margin of six points.

Scotstown's winning team were: Amy Eddowes, Matthew Noble, Andrew Webster, Jake Zebedee and Harris Jaffrey.

The pupils had to answer questions on a range of subjects which included General Knowledge, Science, Sports and Literature.

Quiz organiser Rotarian Dave Cormack said 'The amount of effort put into practising for the Quiz by all teams was tremendous with the depth of knowledge of the pupils of Scotstown edging out the competition'.

Our photo shows the winning team with their "trainer" and quiz organiser Dave Cormack from the Aberdeen Balgownie club
OUR COMMUNITY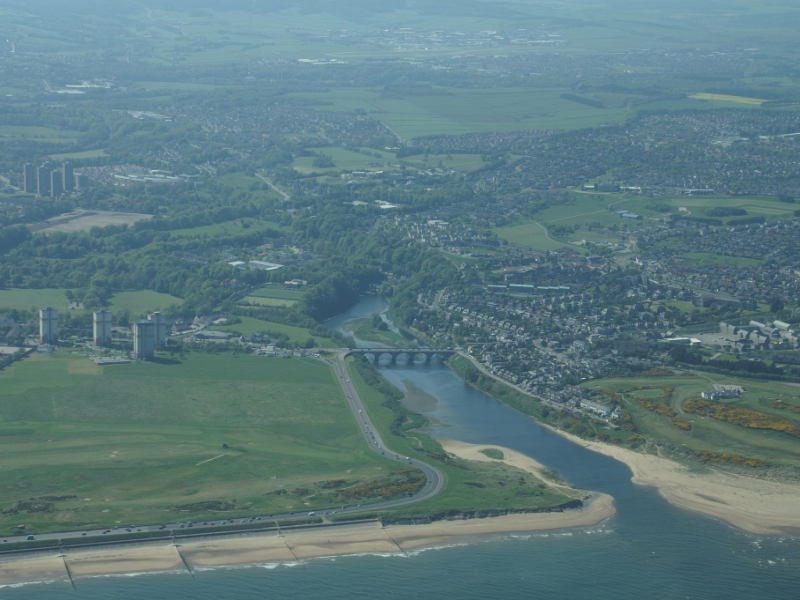 Aerial view of the Bridge of Don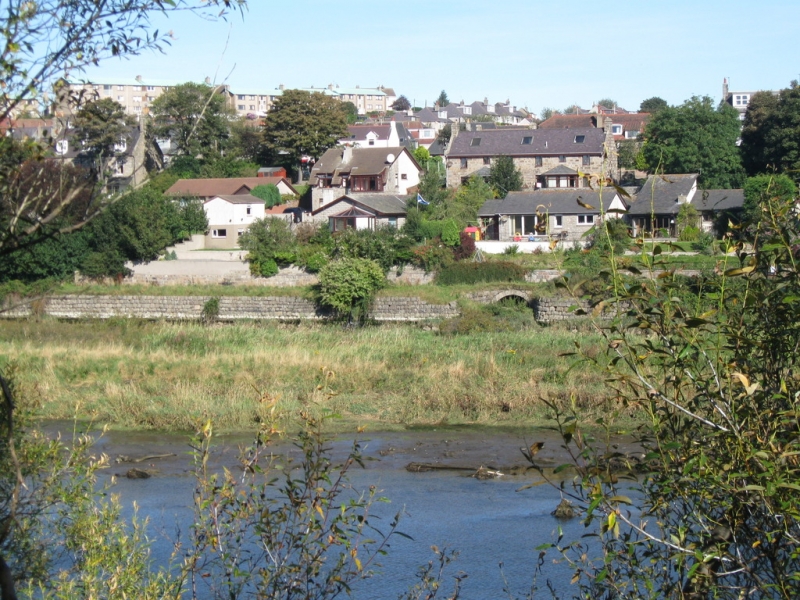 View of the community from a nature reserve on the south bank of the River Don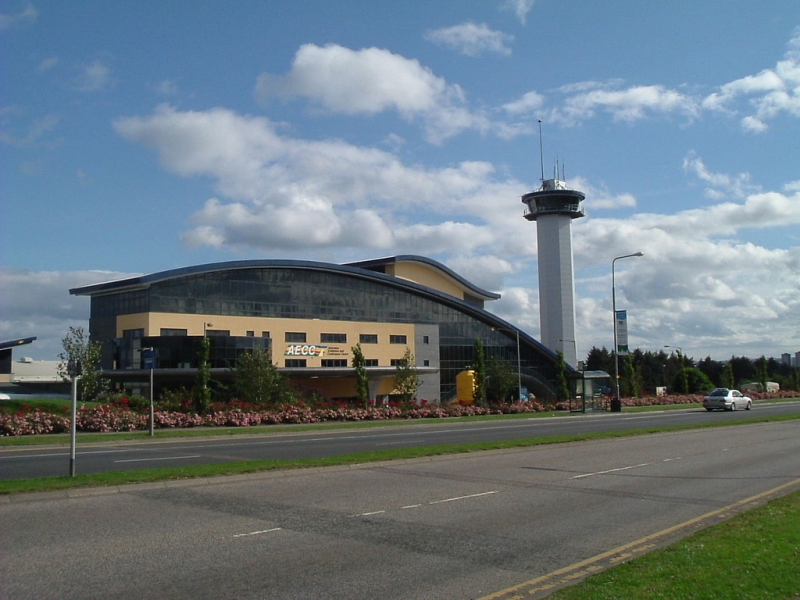 Aberdeen Exhibition and Conference Centre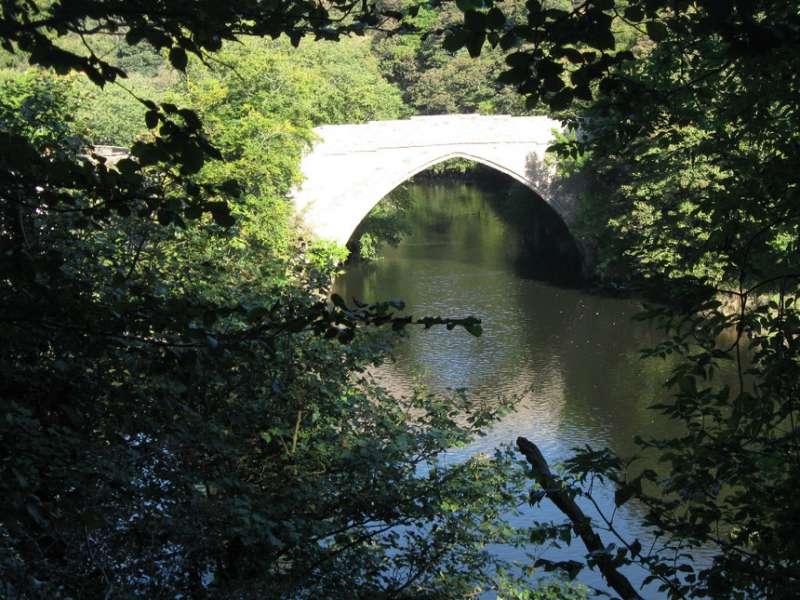 The ancient Brig of Balgownie across the Don is the symbol of our club. It connects Bridge of Don with Old Aberdeen. The bridge was built in the fourteenth century and rebuilt in 1470. It is no longer used for vehicular traffic but it is still a popular spot for walkers.