Welcome to the website of the Rotary Club of Chelmsford Phoenix
About Chelmsford Phoenix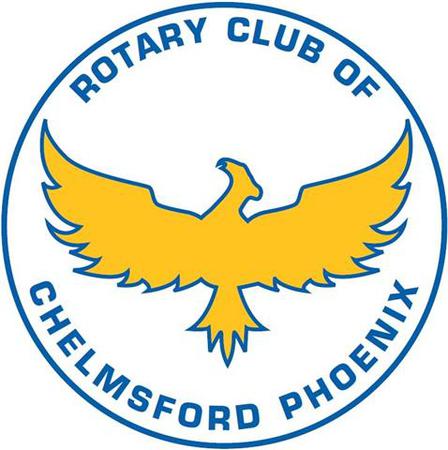 The Rotary Club of Chelmsford Phoenix is Chelmsford's newest Rotary club in England's newest city. It is a fairly informal club which welcomes both men and women as Rotary members from all backgrounds and all age groups. The mixed demographics of the members makes it an ideal portal to Rotary membership for older members of Rotaract or indeed people who have never previously had any involvement with Rotary before.
Chelmsford Phoenix was established and granted its charter on 23rd July 2009. The club is a twilight club which meets on a Thursday evening 6.30 for 7.00pm. During college term times It meets at the Princes Room Restaurant at the Chelmsford College of Further Education. This is our way of putting something back into the community at a local level by allowing the young people the opportunity to get work experience in preparing, cooking and service a meal as well as running the bar. A very worthy cause. The current cost of the meal is £13.00 per week for an excellent 3 course meal. The venue for meetings during college holidays varies so please check for latest details which can always be found on this website.
Rotary also has its own charity - The Rotary Foundation - which throughout the world funds improvements in health, supports education and helps to alleviate poverty. In addition to Foundation, the main charity that the club is supporting for this year (2012/13) is The Smiles Foundation (humanitarian aid to communities in Romania). There are also all the international causes such as Mary's meals which are being supported and of course not forgetting New Generations (Youth), Community, Vocational and Environmental projects.
The club is supporting youth projects in the Chelmsford area. These include the Young Musicians Competition, the Young Writers Competition, the Young Chefs Competition and the Rotary Youth Leadership Awards. For more details click here.
Being part of Rotary is not just being part of a club, but being part of a family – with a district and a national side to it. There are four district meetings a year, normally held at Maltings Academy, Witham. There are also both district and national Rotary Conferences which are fabulous events.
A varied programme of events and activities is organized. Many events raise money for a range of charities but the aim also is for them to be fun! Each year, the club's plans for the coming year are set out in an assembly document. To see the 2012/2013 document please click here
About Rotary
Rotary describes itself as the world's first service organisation, as exemplified in the motto 'Service above Self'. In this context the word 'service' has nothing to do with the armed forces, but refers to a non-profit organisation where members meet to perform charitable works, either by direct efforts or by raising money for other organisations. Rotarians are volunteers who give their time and talents to serve communities at home and overseas, men and women from business and the professions who share a common interest in helping others. A large part of Rotary is the fellowship and friendship which results from the shared enjoyment of business and social networking opportunities.
Rotary in Great Britain and Ireland (known as RIBI) has over 55,000 members in over 1850 clubs and is an integral part of Rotary International, which has about 1.2 million members world-wide in over 200 countries and geographical regions.
To contact us by e-mail; please click here. Details of Rotary in Chelmsford can be found on the following leaflet District 1240 Leaflet.PDF. Click here to see a video all about Rotary in Britain and Ireland.