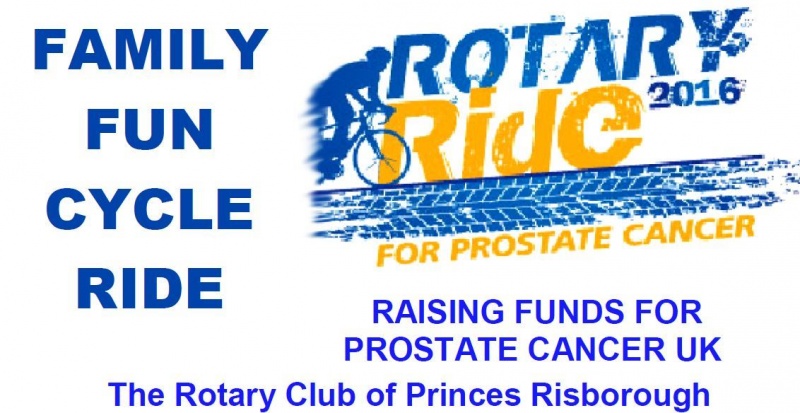 Welcome to the Rotary Club of Princes Risborough
Rotary International, founded in 1905, is the world's largest service organisation, whose stated purpose is to bring together business and professional leaders in order to provide humanitarian services, encourage high ethical standards in all vocations and help build goodwill and peace in the world. We are 1.2 million neighbours, friends, and community leaders who come together to create positve, lasting change in our communities and around the world.
The Rotary Club of Princes Risborough is a friendly club with over 50 dedicated individuals who exchange ideas, build relationships and take action.
As well as raising money for over 25 charities within the local community and abroad, we also join with other local organisations, supporting each other in many ways.
What do we do?
Our activities are many, for example the whole club supports the Kop Hill Climb motoring event in September attracting some 15,000 people to the event. We also hold a large Fireworks and Halloween evening in late October, which is well attended by the community with the focus on fun for the children.
Every year, at the end of November in Dukes Street Garden, and in conjunction with the Rennie Grove Hospice we hold a Tree of Light dedication ceremony in memory of those who have passed away.
We are also very active in supporting Bucks Young Carers by allowing them some respite from their daily tasks by taking them to social functions and giving them a Christmas Party. In the summer we take them sailing for the day (a first for many of them)
We are justly proud of the efforts we have made in supporting the Princes Centre to become an independent care facility for the less able both old and young within Risborough.
We are equally proud of our support to our Interact Clubs at the Princes Risborough Secondary School and the Royal Grammar School in High Wycombe. This introduces young people who are setting out on their careers to the joys of supporting the community and raising money for worthwhile charities. Rotarians take turns in attending Interact meetings every school week.
As a club we support a number of International projects in Africa including the Ebola crisis.
As Rotarians we have many interests within the club, a walking group, weekly cycle group, and many partner evenings enjoying a good speaker.
You can find out more about our projects by browsing What We Do above.
Why should I join?
You will make valuable connections with local community leaders who care about the issues facing our hometown. You will have the chance to apply your personal experience and professional skills to solve these challenges and create positive change.
As a member, you'll find opportunities to network and develop your professional skills. You can take the lead in developing projects, organizing events, and running our club.
How do I join?
If you are interested in joining our Club please click on "Contact".
Latest News
Prostate Cancer Fun Ride 18th and 19th of June 2016

Prostate cancer claims the lives of almost 11,000 men a year in the UK.
The Rotary Club of Princes Risborough is urging members of the public to get involved and join them to raise money for Prostate Cancer UK. By taking part, you will be supporting the national fundraising effort and biggest cycling event of its kind, the 'Rotary Ride'.

Entrance Fee for the Rotary Phoenix Ride is £2.00 per person, with free entry for children at Primary School. All entrants must be at least 5 years old and those aged under 12 must be accompanied by an adult.
A Sponsorship Form can be downloaded from this website. Suggested minimum sponsorship is £20.00 per family.
The Rotary Phoenix Ride is primarily a Fun Ride for family groups, although other groups and individuals are of course very welcome.
Registration and Start: Ercol Furniture Ltd, Summerleys Road, Princes Risborough, HP27 9PX. Ample free parking available. Just turn up from around 2.00 p.m. on either 18 or 19 June to register and take part. Ride as far as you want along the Trail. All rides must be completed by 5.00 p.m.
If you would like to download a sponsorship form please click here
Princes Risborough Rotary Club sponsors a Princes Risborough School student on "trip of a lifetime" coaching trip to Ajax Football Club in Amsterdam.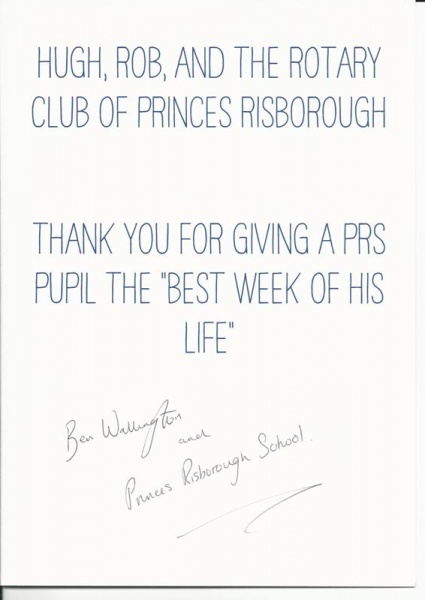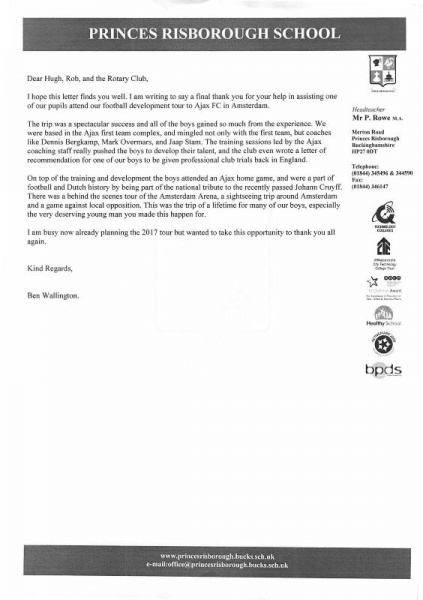 Princes Risborough School Interact Xmas Jumper and Mufti Day 2015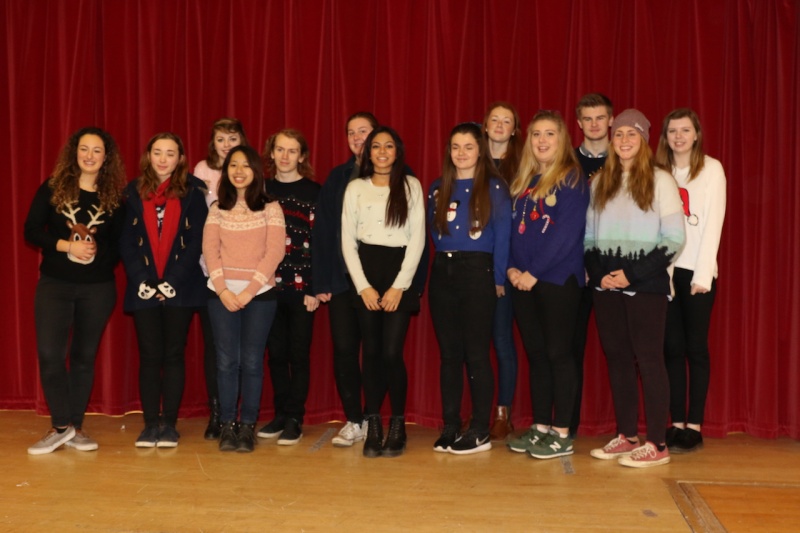 Bucks Young Carers Xmas Party 2015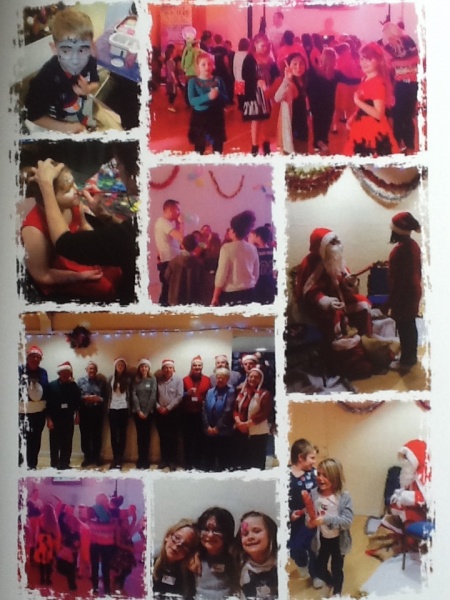 Princes Risborough Tree of Light beats the weather
High winds and the threat of torrential rain were unable to dampen attendance at this year's Tree of Light Dedication Ceremony in Princes Risborough on Sunday 29 November. Nearly 250 people braved the elements to join together to remember loved ones and see the lights on the Tree switched on by Alan Turner, Town Mayor and Chairman of the Council.
The service was led by James Tomkins, vicar of St Dunstan's Monks Risborough, and music was provided by Sally Dussek and Friends.
The Tree of Light is organised by the Rotary Club of Princes Risborough and raises funds for Rennie Grove Hospice Care and Rotary charities. James paid tribute to the Rotary Club for its contribution and generosity to the town through its many charitable activities and to Rennie Grove Hospice Care for the care that it provides to so many people.
This year, additional lights had been added to the tree to meet the increasing support and the Tree's natural growth. This necessitated a trip to the top of the tree on a cherry picker for one brave Rotarian! Nearly £5,000 has been raised so far this year, bringing the total raised in recent years to well over £30,000.
Dedications are displayed prominently close to the Tree and will be published in the Bucks Free Press in the new year. The Tree will remain lit until the end of December.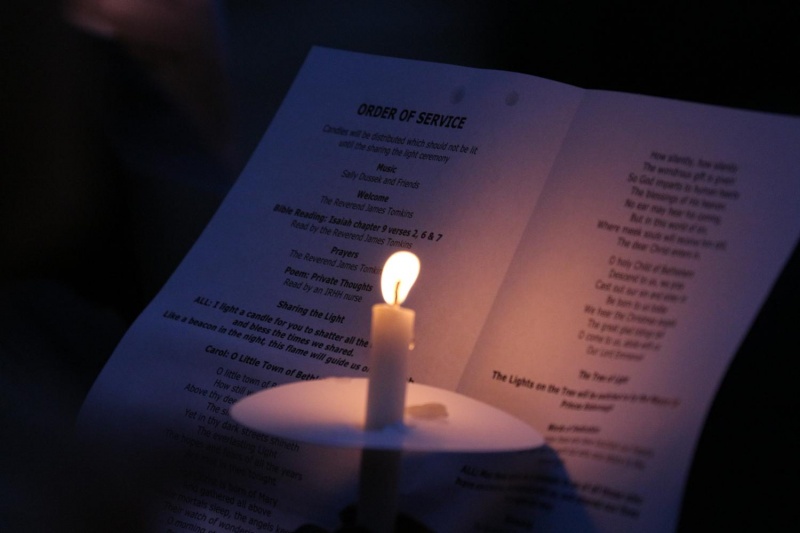 Halloween and Fireworks Bonfire 31st October 2015
Before with the 'guy' and the Interactors from Risborough School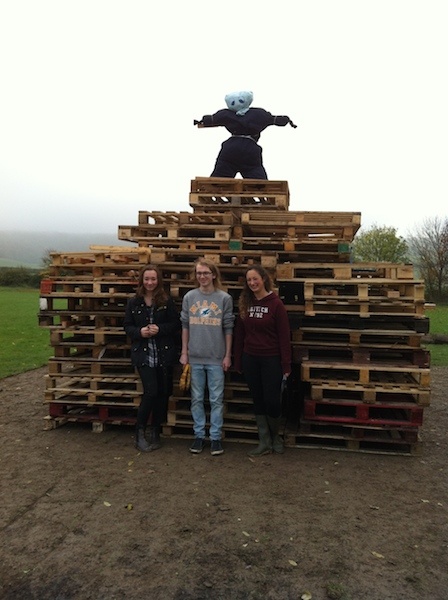 meeting details

In the next 30 days...
Meeting Information...
We meet on Mondays at 20:00 ((1st Monday of month 13:00)) Whiteleaf Golf Club,
Golf Club Lane,
Upper Icknield Way,
Whiteleaf,
Princes Risborough HP27 0LY tel: 01844 343097