Welcome to the Rotary Club of Pinner
Featured pages: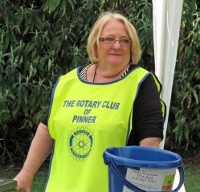 Hello and welcome to the Rotary Club of Pinner. I am Barbara Rees the President for 2016/17. I was invited to become a Rotarian in 2000; sixteen years is a long time, however some of my fellow Rotarians have served their community for forty plus years.
Choosing to become a Rotarian was one of the best decisions I have made. It has made me very aware of the appalling conditions and traumas that humanity have to face in this country and world wide.
Pinner Rotary Club has a good reputation in Pinner and the surrounding boroughs for the regular events and fundraising we do for the local community. More information can be found under "What do Pinner Rotarians do".
Having served as a President before, I know what the next 12 months will involve. I am looking forward to my year and I consider it a great honour to be invited to be the President of Pinner Rotary Club.
My Chosen Charity is the London Air Ambulance. If you would like to find out more then please visit londonsairambulance.co.uk.
If you would like to find out more about Rotary in general and the Rotary Club of Pinner in particular, do email me at barbara.rees@pinnerrotary.org.uk or phone us on 07586 305 314.
What do Pinner Rotarians do?
We are part of an international non-political, non-religious organisation, with more than 1.2 million members in 33,000 clubs worldwide. Rotarians are volunteers who work locally, nationally, and internationally to combat hunger, improve health and sanitation, provide education and job training, promote peace, eradicate polio and much more, all under the Rotary motto of 'Service Above Self'.
The Pinner Rotary Club raises money for local and international charities by organising various events, this includes support for major Rotary initiatives such as Shelterbox and the eradication of polio.
These are some of the local events and charities that we support:
The Pinner Village Show - organised in its entirety by the club, very local and a great family day out.
Meal for Two - annual fundraising event with prizes of meals for two at local restaurants.
Rotary Youth Speaks - schools debating competition.
Pinner's St George's Day celebration including the wheelbarrow race in the High Street.
Santa's Sleigh which visits local streets and raises money for charity
Nower Hill High School - Crumless & Eastman Awards for Music Performance & Composition, and also for Community Service.
Libraries for young offenders - helped to establish two libraries for young offenders.
Pinner Pantomime Night - fun on a dark chilly evening as Christmas approaches, Pinner Rotary organises Santa's Grotto.
Pinner House - provides sheltered accommodation for the elderly.
If you would like to find out more about Rotary and the Pinner club, please contact our Membership Chair Barbara Rees at membership@pinnerrotary.org.uk or phone us on 07586 305 314.
Meeting Details
Interested in joining Rotary
In the next 30 days...
Social Media...
Rotary Club of Pinner
Meeting Information...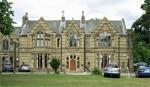 We meet on Tuesdays at 18:30 for 19:00 (Visitors should contact Nigel Shock by email at nigel.shock@pinnerrotary.org.uk ) Pinner Hill Golf Club, South View Road, Pinner Hill, Middlesex.
HA5 3YA tel: 020 8866 0963