President Councillor Sam Budd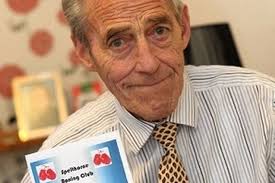 President Sam Budd began his Presidential year by chairing our meeting of 1st July. This was not a new experience for him as he was previously Club President in the 1980s. His life has been pretty eventful since then. He was elected as a Spelthorne Borough Councillor, retired from his profession as a Ladies Hairdresser in Church Street, suffered the tragic premature death of his devoted wife Rosemary in but gutsily went ahead with his planned year as Spelthorne Mayor from 2011 to 2012. He has vigorously organised and supported various good causes in the Borough over the years, most recently his Boxing Academy for young people, boys and girls, from 12 to 18.
Sam used the 1st July meeting to invite suggestions from all members on the club's future direction and projects, and welcomed the prospect of continuing efforts to encourage community interest in Staines Rotary and pursuing this by promoting visits to the club's website.
New Members
The new Rotary year has brought us the welcome addition of several new members.
On 22nd July President Sam led a joint induction ceremony for local lawyer Joe Florish and IT specialist Veronica Chittaro.
This special double occasion was made more special by the presence of Spelthorne's Mayor, Councillor Suzy Webb who had herself been inducted as an Honorary Member on 17th June.
Then on 5th August President Sam inducted Margaret Antony, an economist at Royal Holloway College.
The arrival of these new members breathes new life into the club and we wish them all success and enjoyment in their membership.
More news from Rotary
The Rotary Club of Staines has once again repeated its annual programme to donate a copy of the Usborne Illustrated Dictionary to the current Year 3 and 5 pupils in the schools in Staines and Laleham.
The presentations have been made at schools with a Year 3 and 5, with every pupil in the year receiving a copy of the dictionary. This is an appealing and highly informative book, with full colour illustrations, which is hoped, will prove to be a great hit with the children.
The club has raised thousands of pounds for charities and good causes over the years, and its members give freely of their time and effort to help many organisations.
A number of local charities have benefited from donations made by the club, including Daybreak, Home-Start, the Spelthorne MS Society, the Staines Parochial Charities, the Surrey Community Development Trust and Voluntary Action in Spelthorne (VAIS).
The club also has a strong international flavour being twinned with the Rotary Club of Melun Vicomté near Paris. Just recently the clubs gave another donation to the international charity Espoir de Demain. The charity's main objective is to help orphans and vulnerable children in Porto Novo in Benin to go to school or in some cases to do an apprenticeship, and to receive needed psychological and social support.
If you would like to find out more about Rotary or are interested in joining us, do get in touch using the 'Contact Us' option at the top of this page.
Here are just a some of the charities and organisations that have benefited from donations made by the club over the last few years.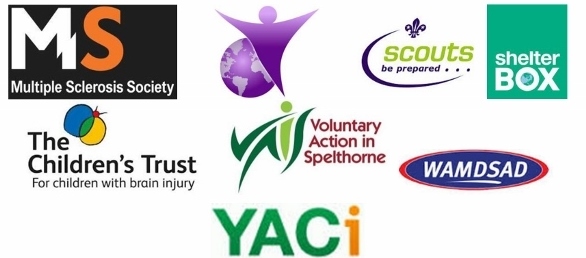 In the next 30 days...
Social Media...
Rotary Club of Staines
Promote your Page too