We act as parking stewards for the VSCC hill climb
Sun 9th October 2016 at 11.00 - 17.00
We supported the Vintage Sports Car Club by helping with the parking at this excellent event in Cwm Whitton near Knighton....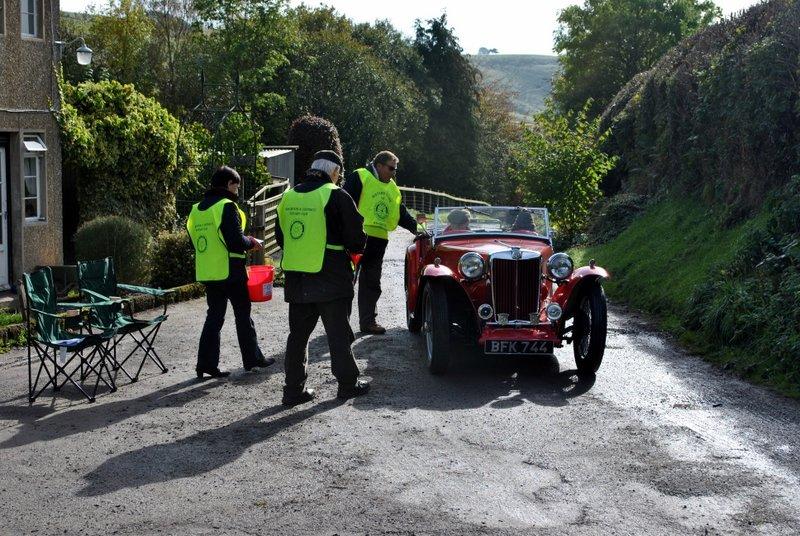 Vintage and historic cars evoke enthusiasm and spark a passion; since 1934 the Vintage Sports-Car Club has provided an arena for people to enjoy Pre-war cars competitively and socially. Active in every aspect of motoring and motorsport for Pre-war cars, the VSCC is one of the largest and best regarded motoring clubs in the world.
The Rotary Club of Knighton and District is therefore honoured to be invited, for our fifth time, to facilitate the public car parking at the annual Cwm Whitton Hill Climb event. We use the event as an opportunity to fundraise for Local charities by asking the public to make a donation at the gate.
Parking cars is easy. Our real challenge comes late in the afternoon when people start drifting home and have to be directed down the single track lane against the incoming traffic. At the same time, competitors in vintage vehicles are driving backwards and forwards across the parking field to the next hill. Adding "concourse" vintage cars, pedestrians, dogs and farm animals into the mix means you need to have a well choreographed system to deal with it all.
Everything went extremely well, we raised over £1000 which will support local charities and the only problem we encountered was a few flat batteries in the walkie talkies. The icing on the cake is that the VSCC have invited us back next year !