Rotary Club of Princes Risborough

Home | archives | RotaKart Competition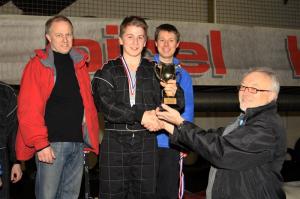 Fri Apr 2nd 2010
The fifth year of Risborough RotaKart event
RotaKart
Organised by the Rotary Club of Prince Risborough
Now into its fifth year, RotaKart held another successful event in recent weeks with the final evening completed on Tuesday. Thirteen teams took part in this challenging competition this year held at Rogue Racing Go-Kart centre in Aylesbury.
6 -10 teams take part, each evening and all necessary equipment was provided. The evening commences with a safety & rules talk, a practice run followed by the Endurance race over 90 minutes with a minimum of 3 driver changes.
The activity is well supported by garage staff from our area, and there appears no doubt that young, light weight drivers enjoy a district advantage to achieve the fastest lap, but consistency always wins the Endurance race. Failure to comply with the Go-Kart rules and instructions, resulted in a cooling period in the Sin Bin!
The winning team representing Downley Garage consisted of Gary & Drew Rush, Rob May and Gareth Roll, who completed 178 laps in the 90 minute challenge.
The fastest lap was achieved By Ricky Newport-Hall representing Warranty Management Services with an amazing time of 27.24 seconds. For this, Ricky was awarded the famous 'Fasted Lap hat'. The RotaKart trophy was presented by the organiser Rotarian Peter Lewis to the Downley team who thanked all drivers and the staff of Rogue Racing for their continued support. As an award for winning the overall event, the team will receive 4 spectator tickets for the Kop Hill Climb 25 -26 September, 2010.
A very enjoyable event which raised a small sum for rotary local, national and international charities