Rotary Club of Wensleydale

A team of Rotarians from Yorkshire, including one from Wensleydale, have taken computers to two schools in Nepal.
The two teams have now arrived at their respective schools- the team going to Rithepani , John Ogbourne, John Proud, John Diggles and Peter Barnes, only had a 30 minute journey from Pokhara. The village is the home of Major Yam Gurung and the families of many Gurkhas. They were almost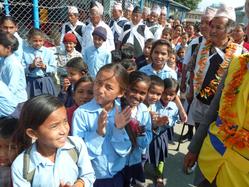 overwhelmed by their enthusiastic welcome. Garlands were presented and 'Namaste' greetings exchanged between the visitors and those meeting the team, amongst much cheering and singing.
The team then proceeded to work on the setup of the computer facilities in the dedicated room being provided as part of the project, including solar panels and battery systems needed in view of the intermittent nature of power supplies in the area.
The other team, Barrie Pollard, Trevor Dale, Mrs Gill Poople, and Mr Andy Morrison, had a much harder trek to Panchamul, the home village of Major Lilbahadur, a retired officer of the British Gurkhas. This involved 10 porters coming down to meet them and carrying their baggage and computers as they all climbed back up to 4500ft.