2010 Link Visit to Lubeck and Hamburg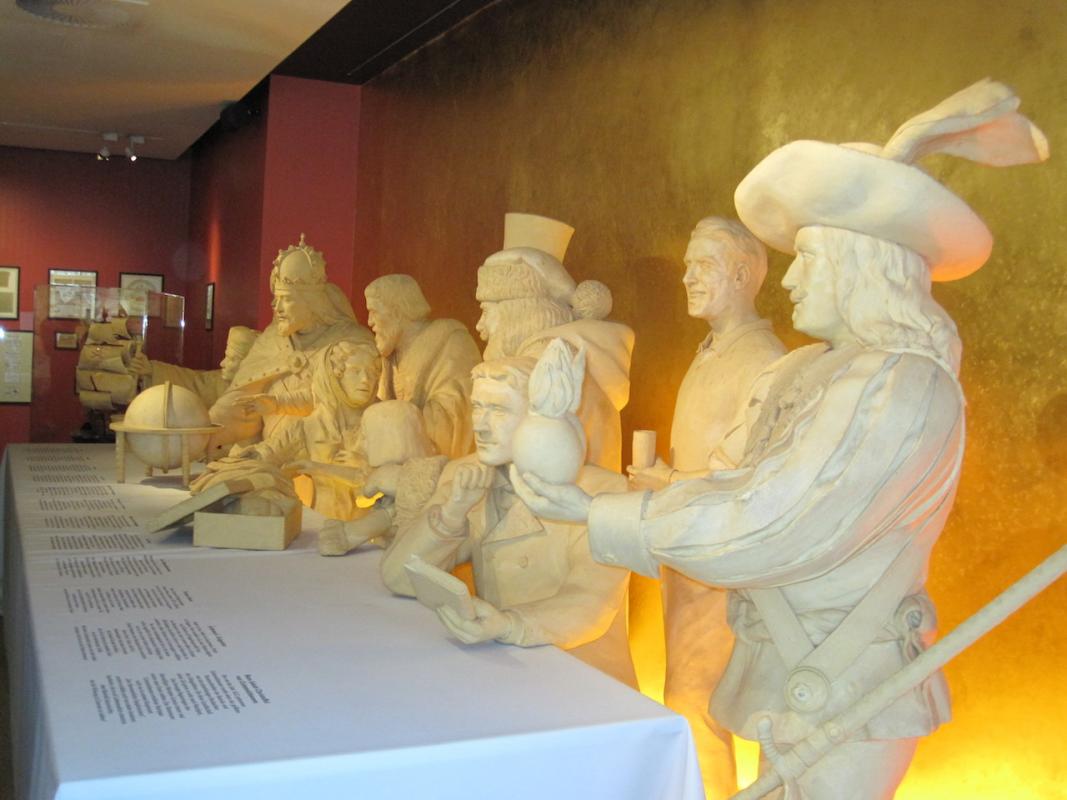 Link Visit to Lübeck and Hamburg May 2010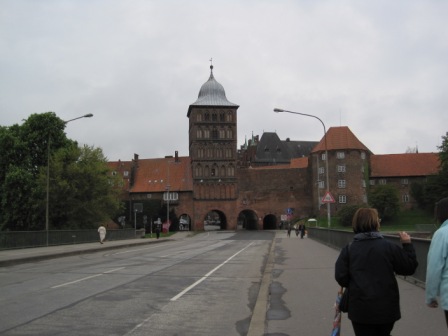 I kept telling myself it was all Tom Cryan's fault. Tom cornered my wife Kate at the Foundation Dinner in March when he was speaking with great excitement about the forthcoming Link Visit to Germany in May. 'You have got to come as it's good fun' he kept saying - all evening ! So 6 weeks later we found ourselves on a minibus to Heathrow with Ann and Tony Moore, Sue and Tom Cryan, Dennis and Magnolia Kearley, Bob Rattenbury, Jenny Flower and Anne Goldsworthy plus Francis and Valerie Spencer-Cotton who we were meeting at the airport. We flew to Hamburg from where, after waiting an hour for others to arrive from Dusseldorf, we were coached to a nice city called Lübeck about an hours drive north of Hamburg.
Entrance to old Lübeck city centre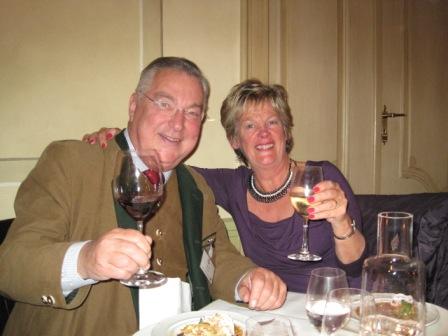 Having checked into the hotel and just about unpacked we were then off to an organ concert in Lübeck Cathedral The concert had already started by the time we arrived. Musically, it wasn't for me though the chairs in the Cathedral were very comfortable and it gave us an opportunity to have forty winks though I'm told my snoring was drowning out the organ at one point ! We then had a very interesting tour of the Cathedral before heading off for dinner to a Michelin star restaurant in Lübeck called Wullenwever where we had a fabulous meal. It also gave us the first opportunity to meet some of our fellow Rotarians from Bruges and Meerbusch. Kate and I were the new kids though obviously for most people the Link Visit was an opportunity to renew old friendships; however a lovely German couple (Jost and Susi) took us under their wing and we all had a great evening.
Kate with Jost on the first evening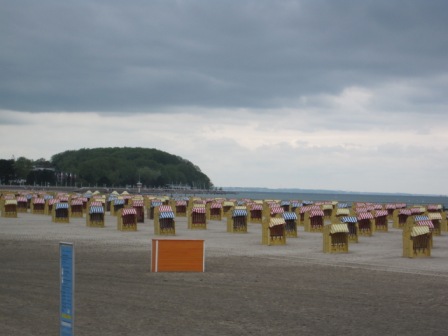 Friday started early with a walking city tour of Lübeck. It's a fascinating city. It was founded in 1143 as the first German city on the Baltic Sea and much of the medieval picturesque town still remains to the extent that parts of the historic Old Town were added to the list of World Heritage Sites by UNESCO in 1987. The Old Town is surrounded by water (like a moat round a castle) that has to be crossed before going though impressive brick built walls and their towering gates. After the two hour city tour we then had a cruise on the River Trave which links Lübeck with the Baltic Sea at an old seaside town called Travemünde. At the end of our cruise we then walked along the promenade at Travemünde where we could see rows of distinctive wicker beach chairs on the beach with their brightly coloured canopies We then had a delicious buffet lunch at the impressive Columbia Hotel overlooking the sea at Travemünde.
'Deck Chairs' on Travemünde beach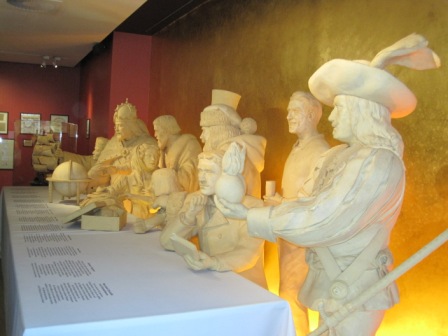 Mid afternoon saw us getting a coach back to the centre of Lübeck for coffee and cake at Café Niederegger which has been a Lübeck institution for many years. It was founded by master confectioner Johann Georg Niederegger in 1806 when he developed Niederegger marzipan that is still famous throughout Germany today. After our tea we then had a talk on the origins and history of marzipan making in Lübeck. Then it was back to the hotel to change for dinner and then off in a coach again to a local restaurant called Haus der Schiffergesellschaft which was once a seamen's house when ships masters came looking for their crew. Another excellent meal with copious amounts of wine and more expansion on the waistline !
Famous Lubeck residents carved in marzipan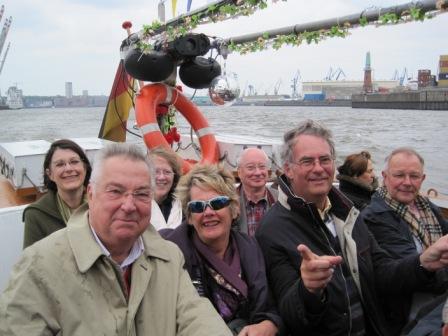 Saturday also started early with a 0900 departure to Hamburg followed by a city tour on our coach. The tour was brilliant for two reasons - the lovely parks, lakes and avenues that we saw whilst driving around and our very entertaining English speaking guide ! She was great fun speaking English better than most of us and having an English sense of humour. Lunch was at Hamburg's Harbour Club with it's amazing views across the harbour. Fortunately, lunch was only one course though it consisted of two man-size pieces of fish (cod and salmon ?) that had been deep fried and served piping hot with potatoes. Very nice. This prepared us for the two hour plus cruise around Hamburg harbour which was interesting at times. Hamburg's Speicherstadt, the largest warehouse complex in the world, is one of the city's most famous landmarks and the main attraction on the great harbour tour. These rows of brick buildings, reaching up to seven storeys in height, house valuable goods from all corners of the world. We also saw Roman Abramovich's yacht, Eclipse.
Hamburg harbour tour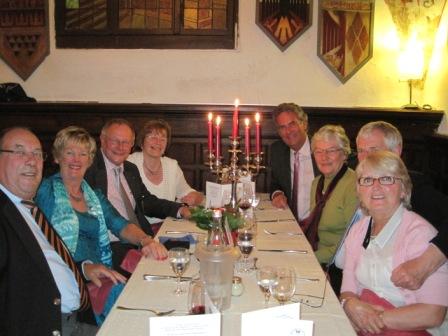 At 5 pm we were off to Hamburg's largest church St. Michaelis and where we had a private demonstration of the church's three organs by Christopher Schoener who is the Director of Music there. Then it was back to the hotel in Lübeck for a quick change before going off to our final dinner in the Ratskeller zu Lübeck which is in the vaults of the town hall building complex that was built between 1230 and 1570. Huge baked hams were bought in on wooden stretchers and presented to us before being carved and served. I was definitely going to need to diet after this trip !
Dinner on the last evening in the Ratskeller zu Lübeck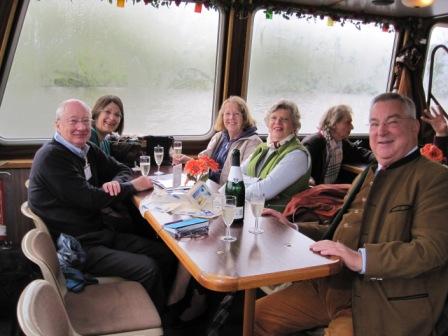 Our last day, Sunday, started even earlier ! We had to have breakfast, check out of our rooms and then be ready to depart at 08:30 for a cruise on River Wakenitz. This was a very civilised trip as the boat was very comfortable having plenty of space and serving a variety of drinks including lovely hot chocolate and champagne ! We meandered slowly though the tree lined river for two hours until we reached our coach waiting to take us to Hamburg airport and then home.
River Wakenitz cruise
It was a fantastic, hectic, trip especially as we never really had any free time to ourselves. Our Meerbusch hosts did an excellent job in organising the programme and gave us some very interesting visits and some excellent meals in some special restaurants. We also made some wonderful new friends.
Brian Glozier