Rotary Club of Furness

Home | New Generations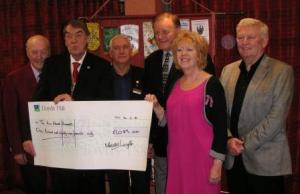 Presentation of cheque to the Ann Hood awards Chair Barbara Lowes and her vice chair Keith Harrison
So far this year we are planning:
To sponsor two pupils from Dowdales School to represent our club at the 2013 Young Chef competition District Final. (See under Young Chef for picture and further details).
Hopefully also enter the Young Musician and Young Writer competitions
Our 2012 Kids Out Day at Brockhall was a great success, 2013 event will be organised by the RC of Barrow.
We are talking to the Head of St. Georges School in Barrow and £200 has been agreed by Council providing initial funding for a worthwhile project. Details to be advised.
Ann Hood Foundation fund raising was a great success and already young musicians are benefitting.
Sub-pages: