Foundation Committee
The Rotary Foundation ("TRF") is the charitable arm of the Rotary movement. Ever since it was established (in 1917) TRF has been supporting Rotary's efforts to achieve world understanding and peace. The programmes, in Great Britain as well as abroad, are humanitarian and/or educational.

TRF finances these programmes entirely through donations generated by Rotarians. Manchester Rotary Club is diligent in sending to TRF every year and the year to 30th June 2016 saw us once again forward around £1,500 for TRF's general charitable aims. This also enables us to obtain Grant funding from TRF: in 2016/17 this hopefully has doubled our support for the WOW Water Project which is a project to fund a water supply for a village in Ghana, Africa whereby the use of a village pond for drinking water which animals also use body-breaking daily task of fetching and carrying water from distant sources is substantially mitigated.

Polio Eradication Campaign

At crocus time in the past few years we have held Crocus planting in local schools and at Styal Mill Country Park . This planting recognises the colour of the dye used to put on a childs finger to confirm that they have been vaccinated with the Polio serum .
Polio is an ancient disease that has plagued the world for far too long. But for the first time in history, we are on the brink of eradicating the disease forever.
Right now the disease is endemic in only three countries – Nigeria, Pakistan and Afghanistan – a testament to the hard work and dedication of thousands of polio workers around the world
Rotary got the project started in 1985 and remains a lead partner; since 1985 an estimated 10 million children have been spared polio-inflicted death or paralysis.
British Olympic and World Champion rower Helen Glover and actress Archie Panjabi have joined the growing roster of public figures and celebrities participating in Rotary's "This Close" public awareness campaign for polio eradication.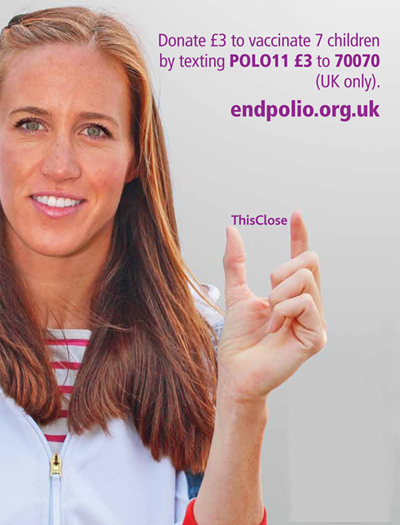 Archie Panjabi of The Good Wife for Rotary with Forbes Contributor Devin Thorpe
A polio eradication news update or two will appear here every month:
Polio Update as at November 30 2016

Year to date worldwide : Wild poliovirus cases (WPV): 34
( Afganistan 12, Pakistan 18, Nigeria 4 )
Circulating vaccine-derived cases (cVDPV): 3
Compared with 2015 Totals: WPV: 74; cVDPV: 32

A review of ongoing and past field studies has provided additional insights into the effectiveness of fractional dose inactivated polio vaccine (fIPV). Various studies have shown that two doses of fIPV are better than one full dose of IPV at boosting immunity. This evidence gives further weight to the recommendation of the Strategic Advisory Group of Experts on immunization for countries to consider adopting fIPV in both their supplementary and routine immunization activities. This approach could significantly improve the global IPV supply situation which is currently constrained, by reducing the volume of IPV needed to cover a population. Countries are increasingly using fIPV, both in routine and vaccination campaigns.