Rotary Club of Pinner

Home | Pinner Village Show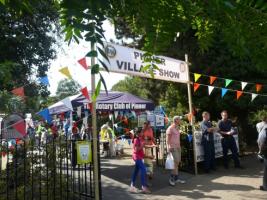 The 2013 Pinner Village Show
The annual Pinner Village Show in 2013 year takes place in the Memorial Park, Chapel Lane, Pinner, HA5 1BA on Saturday 14th September 2013 starting at 11:00. It began in the late 1980's thanks to Pinner Round Table, and has been run by the Rotary Club of Pinner since 2005.
The Show is family friendly and the purpose is to provide an event that allows local charities and good causes to promote themselves to the local community. It provides entertainment of various types including a children's fair ground that has a bouncy castle, miniature railway and lots of other activities to keep youngsters of all ages happy! There will also be various types of refreshments available.
The Show opens at 11:00am and closes at 16:00; before which the draw is made for the Meal for Two raffle, tickets for which the Rotary Club of Pinner sell from July onwards. This raises funds for charities which in 2012 were: Kids Can Achieve, RAFT and Macmillan Cancer Support. Over twenty local restaurants donated Meal for Two vouchers mostly worth up to £40.
If you are interested in participating either by having a stall or providing some entertainment then please email villageshow@pinnerrotary.org.uk or phone 075 8630 5314 for further details.
Any organisation that wishes to take part in this years Pinner Villager Show should do so by completing an application form. All completed forms should be returned to Pinner Village Show, 622 Rayners Lane, Pinner, Middlesex, HA5 5HT
About the Rotary Club of Pinner - If you would like more information or wish to join us at one of our meetings then please call, Trevor Walker, Tel: 07768 966 128, Email: trevor.walker@pinnerrotary.org.uk
Sub-pages: