Community & Vocational
This Committee looks to provide Community Solutions to Community Challenges using our Club's members' Vocational Skills and Expertise to Serve our Community. We want to make a difference in our Community through Rotary...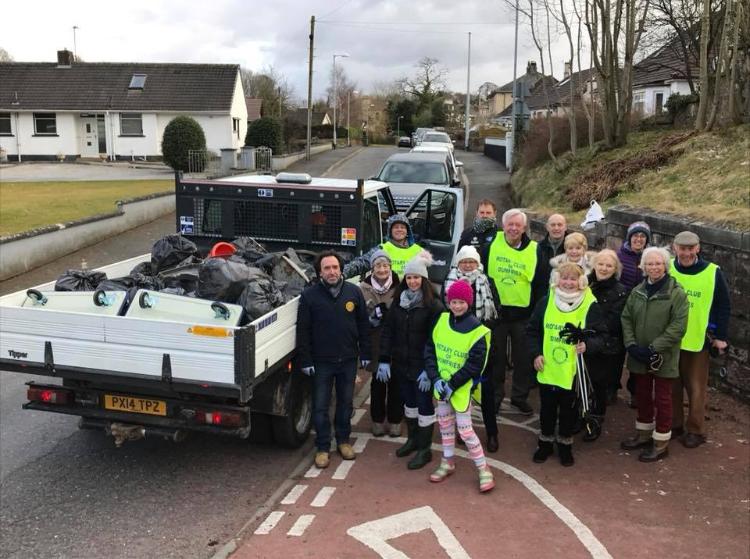 While Rotary clubs are grounded in the same values, no two are the same, because each community has its own unique needs. At club meetings in communities across the globe, our members come together to strengthen their connections to friends and neighbours and their commitment to improving lives.

The Rotary Club of Dumfries has two regular Community projects that improve lives in our Community in two very different ways...

Our members, along with friends and family volunteers clean up a mile of the town's cycle path twice a year... in October and April. Spending two hours on each occasion removing what shouldn't be there, improves the ambience of this community facility for the benefit of all who want to use the path for pleasure: Walking, running, or cycling as individuals or with friends and family.
In late November/early December club members offer a bag packing service to busy shoppers in the Food Hall of Marks and Spencer, Dumfries on return for a cash donation. 100% of funds raised are then spent on making up bags of store cupboard basics and festive treats for disadvantaged individuals and families in our Community. To ensure these food parcels get to the right recipients, we partner with Food Train for their distribution... this project raised over £1,500 which was turned into 72 Christmas Bags of Food Shopping that made a difference to somebody's Christmas.
The Community & Vocational Committee will be on the look out throughout the Rotary Year (July to June) for a Community Project that needs their financial help and hold a Fundraiser between April and June to support the project...
The concept of vocational service calls on Rotarians to encourage and foster:
High ethical standards in business and professions
The recognition of the worthiness of all useful occupations
The dignifying of each Rotarian's occupation as an opportunity to serve society
As a Community & Vocational Committee we are looking at how we can put these ideals into action…
We will talk about our professions in our club, and take time to learn about fellow members' occupations.
We will use our members' skills and expertise to serve our community.
We will practice our professions with integrity, and inspire others to behave ethically through our words and actions.
We will help young people achieve their career goals.
We will guide and encourage others in their professional development.
By undertaking these activities, we will bring vocational service to life. Vocational service is the essence of Rotary and serves as the foundation from which we serve our communities.
Watch this space for our Vocational project…
Our Community & Vocational Committee members this year are: Yvonne Wells (Convenor), David Campbell, John Colbeck, John Henderson (A) and Justin Thomas.