Ways & Means Activites
The Club Tent assembled and ready for action at one of our local fund-raising venues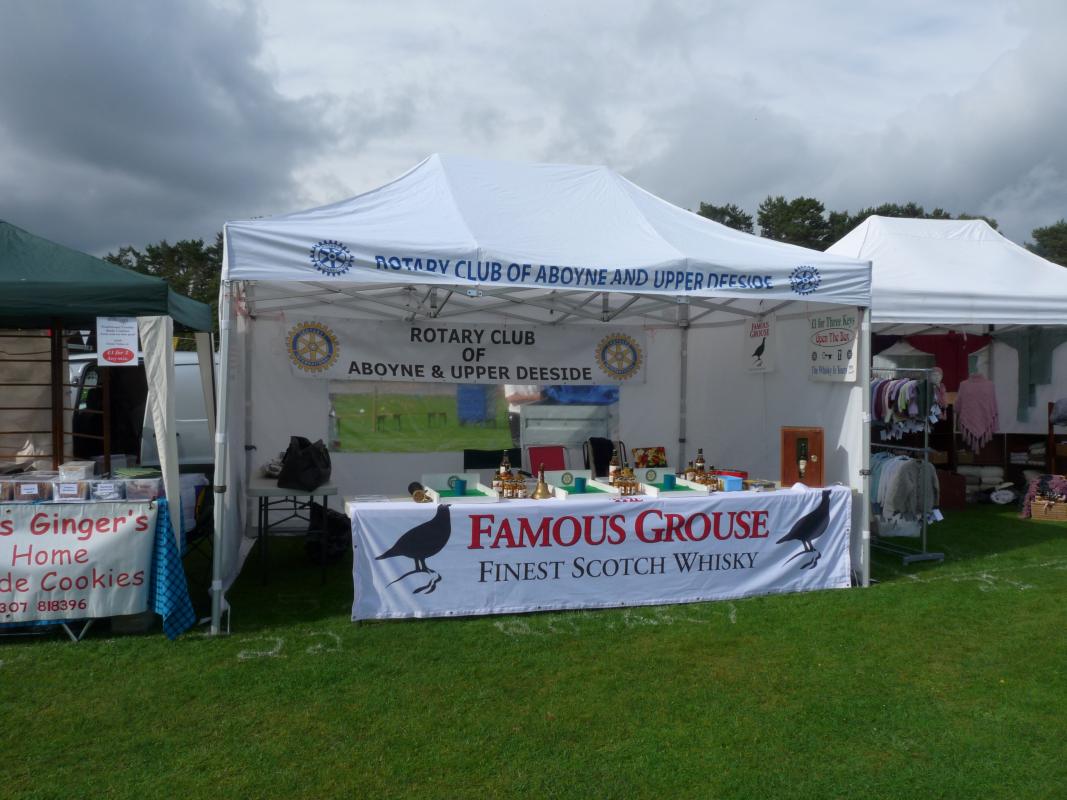 The Ways & Means Team are the main fund-raisers. We staff all the fund-raising events whether for the club itself, those we run events for other local organisations, or to keep a footprint of awareness in the local community. In addition we keep an inventory of the Club Equipment, ensuring it is in good repair, replacing it as necessary, appropriate for each event and transported to the right place, at the right time.
We form a Rapid Reaction Group to respond to any requests for support for fund-raising from local organisations at short notice
Our main Club fund-raising events are:
Dice game at Aboyne, Aberdeen and Ballater Highland Games, the Braemar Gathering and the Tarland Agricultural Show.
Bag Packing at the Aboyne and Ballater Co-ops.
Golf Charity Day at Aboyne Golf Club.
In addition we support local organisations such as:..
Running a BBQ at the annual Aboyne Bonfire/Firewoks night
Running Race Nights in Tarland for the Curling Club, Primary School Parent's Association, and in Ballater for the Victoria & Albert Hall Restoration Fund
Selling tickets for the annual CLAN Christmas Car Raffle both locally and in Aberdeen
Marshalling and providing a refrehment stall for the Stroke Foundation's annual "Walk for Stroke"
Running Quiz Nights, e.g. for the Aboyne Academy's "Trip to South America" in the summer of 2015
Marshalling and running a BBQ for the annual Aboyne Primary School "Fun Run"
Fund-raising by means of a "bucket collection" at the Aboyne Highland Games car park, hal of which goes to the Games Committee.
For 2017-18 the Ways and Means Team continue to arrange staffing for the Club's fund raising events and provide the necessary logistic support, continuing the long standing tradition for our dice game at the local Highland Games, Gathering and shows at Aboyne, Ballater, Garland and Braemar, with an appearance also at Drumtochty. We also will be taking it as well to the Royal Deeside Speed Festival at Kincardine Castle on 20th August where we shall be running the parking to a new plan and bucket collecting in the car park.

We ran a successful tote for the Duck race at the Ballater Duck Festival with a number Rotarians very involved in other aspects of the organisation of the event. Members will have a change to barbeque for the public at the Aboyne Bonfire and Fireworks night in November, probably assisted by a few pupils from Aboyne Academy, our Corporate partner and we hope for more assistance from them at our annual Bag Packing at the local Co-ops in Aboyne and Ballater as Christmas and New Year approach.

A major fundraising event this year will be a Silent Auction of value 'lots' to be held on 29
th
September with the main beneficiaries Aboyne Academy to whom we hope to enhance their It capability, and Aboyne Hospital. The team are, as always, reliant on the willingness of the members and friends to support these many events and are grateful for those many who give their time willingly for these."

Mike Smith

Convener