Message from our new President
Kenny rides again as our President 2017-8
Here are some pics from Handover evening featuring our new President, President Elect and Vice President: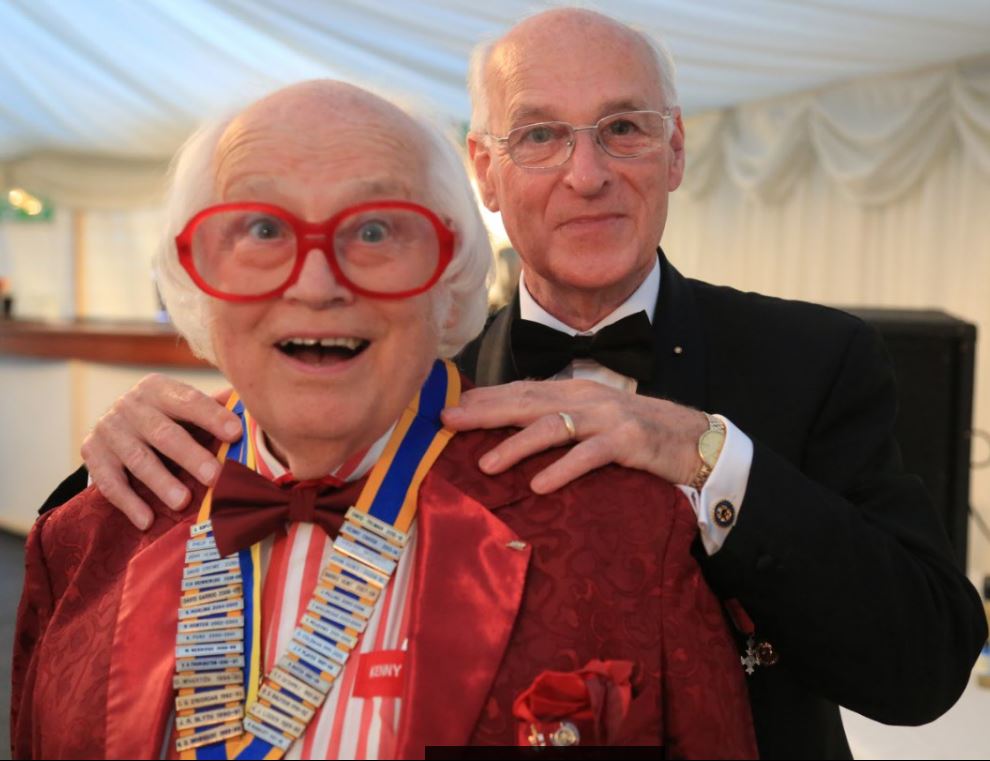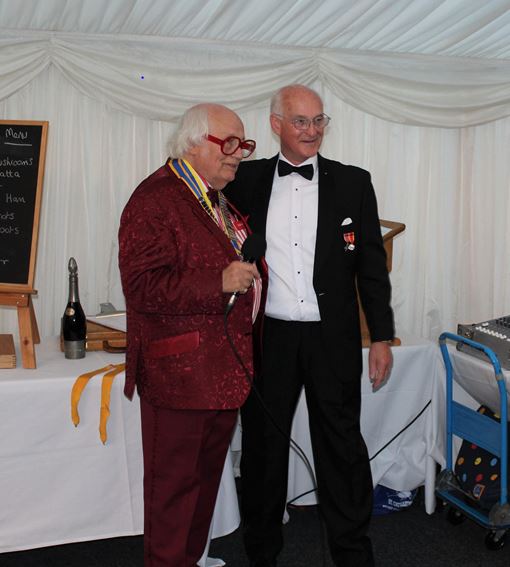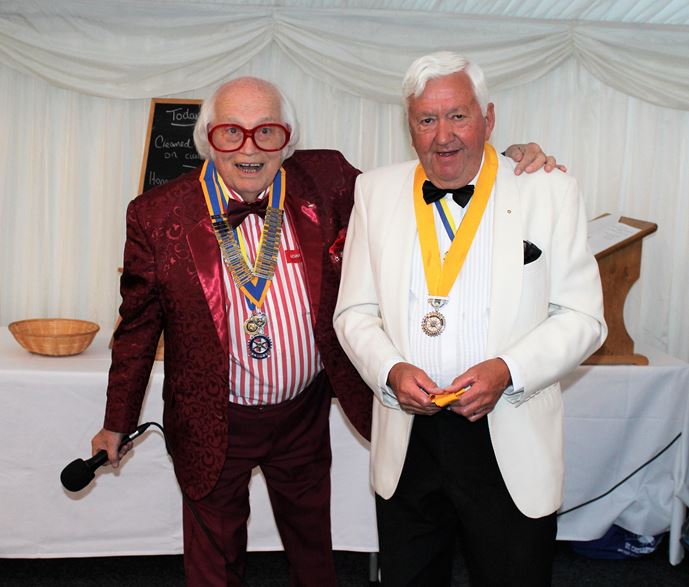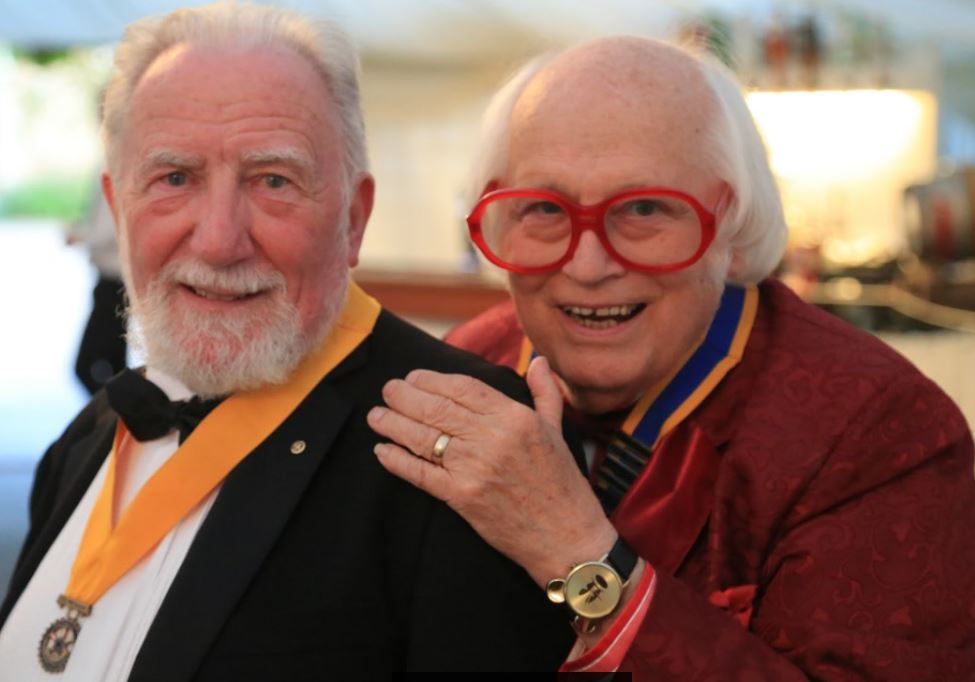 Message from Kenny
EVERYONE SAYS ~ WHY DO YOU WRITE EVERYTHING IN BLOCK CAPITALS? IT LOOKS LIKE YOU ARE SHOUTING ~ I WILL TELL YOU WHY ~ SINCE I WAS BORN I HAVE HAD SOMETHING WRONG WITH MY EYES ~ AT EIGHTEEN MONTHS OLD THEY REALISED THIS AND PUT TWO MAGNIFYING GLASSES IN A FRAME AND PUT THEM ON MY NOSE WITH ELASTIC GOING ROUND MY HEAD AT THE BACK TO KEEP THEM ON ~ THAT WAS UNTIL I COULD WEAR GLASSES PROPERLY ~ ALL THROUGH MY SCHOOL LIFE I HAD TO SIT NEAR THE BLACKBOARD SO THAT I COULD SEE WHAT WAS GOING ON ~ TO CUT A VERY VERY LONG STORY SHORT ~ FOUR YEARS AGO I WAS HAVING MY FOUR MONTHLY TEST TO SEE IF MY OPTIC NERVE WAS OK BECAUSE OF MY DEPENDENCE ON INSULIN FOR DIABETES AND THE DOCTOR (MR) SAID HE COULD SAVE MY SIGHT ~ I HAD TO GO PRIVATE AS THEY DON'T DO THIS PARTICULAR OPERATION ON THE NHS ~ HE HAD TO DO BOTH EYES AT ONCE (WHICH IS NOT NORMAL) AS IF THEY DID ONE ~ MY SIGHT WAS SO BAD THAT THE BRAIN COULDN'T DEAL WITH IT ~ IT TOOK HIM 27 minutes TO DO BOTH EYES AND ALTHOUGH I WILL NOT GO BLIND NOW HE DID AN AMAZING JOB ~ SO ~ BEFORE ALL THIS I HAD TO WRITE IN BIG LETTERS ~ AND TYPE IN CAPITALS AND I HAVE GOT SO USED TO IT NOW ~ SO IT COMES AS A NATURAL WAY OF WRITING AS I HAVE BEEN DOING IT FOR OVER 60 YEARS.
SO THAT IS THAT.
TO BECOME THE PRESIDENT OF THIS PARTICULAR ROTARY CLUB FOR THE 2nd TIME AS AMAZING ~ I COULD THINK OF NOTHING BETTER ~ ALTHOUGH I DID SAY TO JOHN HEMMING THAT IF I WAS GOING TO DO IT I WOULD HAVE TO DO IT NOW ~ OTHERWISE I WOULD BE TOO OLD AND DECREPIT IF IT WAS LEFT FOR ANOTHER FEW YEARS ~ SO ~ HERE I AM PRESIDENT AGAIN ~ BRILLIANT ~ IN MY YEAR I REALLY DO WANT EVERYONE TO HAVE FUN ~ THE WORLD IS IN A TERRIBLE STATE AND WE GET THAT EVERY TIME YOU SWITCH ON A RADIO OR TV THERE ARE ARGUMENTS ~ DEATHS ~ ACID ATTACKS ~ CHILDREN GETTING KILLED ~ SO MANY THINGS ~ SO I REALLY DO WANT YOU ALL TO FORGET ALL THAT WHILST YOU ARE AT A ROTARY "DO"~ IT WILL BE HARD BUT GIVE IT A TRY FOR JUST THE TIME YOU ARE WITH US.
THE WIVES/PARTNERS/GIRLFRIENDS/FRIENDSI AM SURE DO NOT WANT TO SIT THERE IN SOLEMNITY ~ THEY WANT A SMILE ~ A LAUGH ~ A BIT OF ENJOYMENT ~ THAT IS WHAT I HOPE TO PORTRAY DURING MY YEAR OF PRESIDENCY ~ SPREAD SOME HAPPINESS IN ALL DIRECTIONS. I JUST LIVE IN HOPE THAT I CAN ACHIEVE IT.
OF COURSE THERE IS BUSINESS TO BE DONE ~ WE HAVE TO RAISE SOME MONEY TO BE ABLE TO DO WHAT WE DO ~ WE HAVE TO KEEP UP THE MOMENTUM OF FUNDRAISING ~ WITH THAT IN MIND COULD I PLEASE REMIND YOU OF THE FANTASTIC SHOW THAT I PUT ON AT GORLESTON PAVILION THEATRE ON SEPTEMBER 9th~ THIS WAS MY IDEA OF RAISING ENOUGH MONEY TO COMPENSATE FOR THE FACT THAT WE LOST THE LOWESTOFT AIR SHOW. THAT MONEY HAD TO BE REPLACED SO BECAUSE I CAN ~ AND I HAVE SO MANY FRIENDS IN THE BUSINESS ~ I AM ABLE TO PUT ON A SHOW THAT YOU WOULD NOT SEE IN THE WEST END OF LONDON FOR £15.00.OR IF YOU ARE OVER 60 THEN IT IS £12.00. SO CAN I ASK YOU TO PLEASE BOOK FOR THIS SHOW AS IT IS NOW OUR MAIN FUNDRAISER IN THE ROTARY YEAR. WE NEED THE MONEY ~ YOU ENJOY YOURSELVES WHIST WE DO IT. PLEASE BUY TICKETS FOR THE RAFFLE AS THAT ALL GOES TO HELP A LOT OF PEOPLE WHO ARE MUCH LESS FORTUNATE THAN OUR SELVES. I AM THRILLED TO BE ABLE TO SAY THAT STUART AND KEVIN (WHO OWN THE THEATRE) ARE AGAIN LETTING US HAVE TO THEATRE FOR ABSOLUTELY NOTHINGSO THAT WE ARE ABLE TO RAISE AS MUCH AS WE CAN ~ THERE ARE NOT MANY PEOPLE WHO WOULD DO THAT IN THIS DAY AND AGE.
THE ARTISTES/PERFORMERS THAT I GET (CON) COME AND DO IT FOR ME FOR NOTHING MAINLY BECAUSE HAVING BEEN IN THIS BUSINESS CALLED "SHOW" FOR AS LONG AS I HAVE ~ I IN TURN GO AND DO SOMETHING FOR THEIR CHARITY ~ FOR NOTHING TOO SO IT IS A RECIPROCAL ARRANGEMENT THAT I HAVE WITH THEM. BUT ONE HELLUVA LOT OF HARD WORK GOES INTO A SHOW LIKE THIS. SO BOOK NOW NOW NOW ~ PLEASE.
THE NEXT ONE IN LINE IS THE ~ "BAR-B-Q & GAMES DAY"~ THE IDEA OF THIS IS ~ IF YOU WANT TO PLAY THE GAMES PLEASE DO ~ OR ~ YOU CAN SIT WITH EVERYONE AND HAVE A GOOD OLD CHIN WAG ~ SEEING ALL THOSE THAT YOU KNOW IN A CONVIVIAL ATMOSPHERE ~ THEN OF COURSE THERE IS THE ABSOLUTELY FANTASTIC BAR-B-QTHAT YOU CAN HAVE AND PICK WHAT YOU WANT FOR YOURSELF. A BIT OF BINGO ~ A CAMEL RACE ~ AND SEVERAL OTHER THINGS GOING ON ~ IT'S A SUPER DAY.
I COULD GO ON AND ON ~ BUT THE BIG WORD IS ~ PARKHILL IS A BEAUTIFUL PLACEWHICH WE ARE PROUD TO HAVE IT AS OUR MEETING PLACE ~ SO ~ ENJOY ~ ENJOY ~ ENJOY
LOVE TO ALL
KENNY