Dundee Final Young Chef
Sun 18th January 2015 at 10.05 - 13.05
Local area final (Dundee and Monifieth)
Final of Dundee and Monifieth Rotary Clubs Young Chef of the Year
The Final of Dundee and Monifieth Rotary Clubs Young Chef of the year took place in the Home Economics Department of the High School of Dundee on Sunday. 14 young chefs who had battled through school heats went head to head in the Rotary cooking competition to cook a three course meal for two people for under £5 following accepted healthy eating guidelines.
Judged by the five presidents of the Dundee and Monifieth Rotary clubs the young contestants produced some quite outstanding plates of food. Judged on a number of criteria including skills, hygiene, table presentation, food temperature, use of time and presentation the final test was the taste which the judges were delighted with. It is extraordinary what great food these young chefs aged between 12 and 16 can cook, they are a credit to their school home economics teachers' said one of the judges.
After choosing their overall winner the judges went on to select a further four young chefs to proceed on to the Rotary 1010 District final which takes place at Dundee and Angus College on the 7th February.
The contestants all received generous prizes donated by Lakeland's Perth Store. The manager Fiona McMartin said she was delighted to sponsor such a great competition for the third year running and she looked forward to see how the competitors got on at the next level.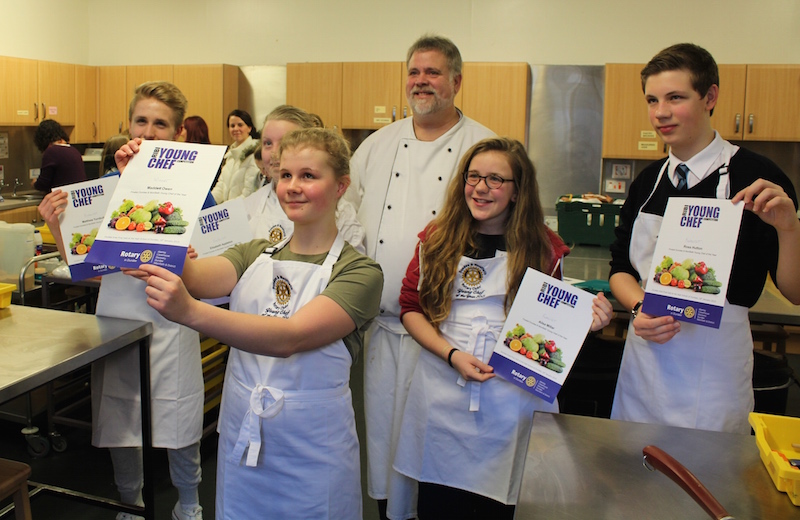 Winner: Maddie Owen Monifieth High School (also a Finalist)
Finalists: to go to District Elisabeth Appleton (MH), Matthew Turnbull (MhH), Ailsa Millar (HSD), Ross Hutton (G)