Presentation to the Penrose Club
Honorary Rotarian Ray Blowers PHF gave our 3rd November meeting an illustrated review of the history and activities of the Penrose club, a club for people with learning disabilities, which is looking forward to celebrating its 50th anniversary in 2016.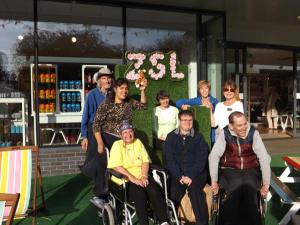 Ray explained that he had first become involved with the club through his late brother Richard who as a youngster with learning disabilities had suffered some of the indignities faced at the time by people in his situation: exclusion from regular schooling, placement in uncaring special schools and little opportunity to have social contacts with other people. Thankfully their treatment had markedly improved since those days.
The Penrose club, named after London University Professor L F Penrose who had taken a close interest in the needs of people with learning disabilities, arranged weekly social evenings for its members, occasional days out and an annual week away at the seaside.
The club received no state funding, relying instead on contributions from Mencap and organisations such as Rotary. Ray himself had taken on the role of club fundraiser.
Ray thanked Staines Rotary for the help it had given Penrose over the years in providing transport to get members to the weekly meetings and for its money donations.
Vice President Peter Pattinson continued the donation tradition by handing Ray a cheque for £300 towards Penrose funds.