Paul Harris Fellowships
As our donations evening on 20th January was approaching its close President Shirdi sprung a surprise by announcing the award of Paul Harris fellowships to two of those present.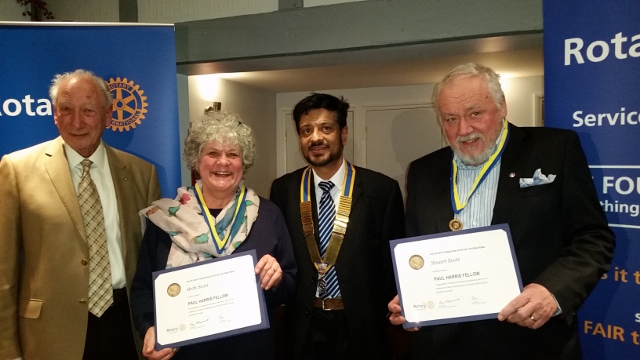 Named after Rotary's founder a Paul Harris fellowship is Rotary's highest honour for individuals, Rotarians and non-Rotarians, who have demonstrated exemplary personal involvement in helping others in line with the underlying Rotary principle of Service above Self.
First to receive the award was Beth Scott, chair of Home-Start Spelthorne, supporter of several other charities and of St Mary's Church and author of articles on Staines history.
Clearly surprised and delighted by her award, Beth was congratulated by the Rotarians on the well-deserved recognition of her great work in the Staines community.
With scarcely a pause President Shirdi then turned to a description of the next award winner, Beth's Rotarian husband Stuart, a Past President of the club, current chairman of the club's Community Service Committee and coordinator of the Christmas collections. Stuart also declared himself delighted and surprised by the award, and confessed to the unusual problem of being left speechless.
The awards brought a happy and well received conclusion to the evening with Beth observing that she and Stuart they would need to return home separately through their front door to avoid the risk of collision between their swollen heads.